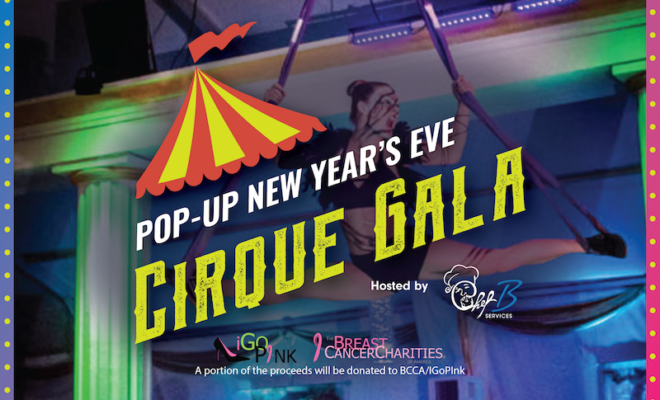 entertainment
New Year's Eve Gala to feature Houston's Cirque La Vie
By |
THE WOODLANDS, TX – Come ring in 2018 in style! Chef B Services will host a New Year's Eve Gala to benefit iGoPink – The Breast Cancer Charities of America.
The Gala will be held at 30420 Farm to Market Road 2978, Suite 480 (formerly known as The Wall Event Hall) The Woodlands on Sunday December 31st, 2017 from 9 P.M. – 2 A.M. This 21 and over event will feature many of Chef B's Classics including a Wagyu Beef Station, Chicken and Waffle Cones, gourmet late night munchies, a liquid nitrogen ice cream station and much more. A cash bar featuring beer and wine, martini bar, classic party favors and champagne toast at midnight are also included.
The event will feature live aerial acts performed by Houston's own Cirque La Vie including trapeze, lyra, rope, silks, acrobatics and contortion along with a contemporary DJ spinning a mixture of Top 40, EDM and Hip Hop.
"We are thrilled that Cirque La Vie will be celebrating this great event with us. The artists are incredibly talented and they have a dynamic show planned for the gala," Chef B said.
Valet, coat check and bottle service will also be available. A portion of all proceeds from the gala will be donated to iGoPink.
"iGoPink is a tremendous organization that helps so many women in our community and beyond. We are grateful that we are able to help the Breast Cancer Charities of America ring in 2018 through our partnership in this event," Chef B said.
The Breast Cancer Charities of America exists to eliminate breast cancer as a life-threatening illness. They do this through education, advocacy and support. The Breast Cancer Charities of America is the only non-profit that brings the integrated cancer care message to the women of America.
Individual Gala tickets are $120 for an individual ticket or $210 for a couple. Tickets for this exclusive New Year's Eve Gala are limited, and pre-paid reservations are required.
For more information and to make your reservation, please visit https://popupnyegala.planningpod.com or contact ChefB@ChefBServices.com. For more information about iGoPink – the Breast Cancer Charities of America visit www.thebreastcancerchartities.org.
Chef B is an award winning Certified Chef who creates unique and delicious meals for his clients using only the freshest ingredients. Chef B provides personal chef services, corporate catering and wedding catering. For more information please visit www.ChefBServices.com.