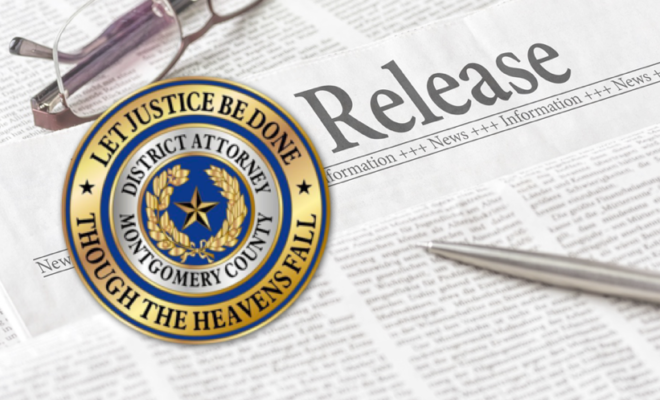 News
Online Predator receives Maximum Sentence
By |
A Houston, Texas, man was sentenced on Friday to 20 years in prison for trying to meet a 13 year old girl for sex. Joshua Andrew Jones, 36, had pleaded guilty to Online Solicitation of a Minor and Montgomery County District Court Judge Phil Grant imposed the maximum sentence after a sentencing hearing.
In April of 2017, Detective Jerry Serratt with the Montgomery County Precinct 1 Constable's Office was monitoring the social media application Kik, which is sometimes used by sexual predators to target children. In a Kik group aimed at teenagers, Det. Serratt saw the Defendant claiming to be an 18 year old, even though his profile picture was obviously of a man in his thirties. Serratt, posing as a 13 year old girl, engaged the Defendant in an online conversation. The Defendant quickly turned the conversation sexual and asked to meet the girl. The Defendant came to an agreed meeting place and was taken into custody. Officers found 4 cell phones, cocaine and methamphetamine in the Defendant's possession at the time of his arrest.
As part of the investigation, Nikki Neeley, a specially trained investigator with the Montgomery County Internet Crimes Against Children Task Force extracted information from the Defendant's phone. At sentencing, prosecutors introduced evidence from the cell phone indicating the Defendant had talked to other underage children on Kik. The phone also contained an image of bestiality and child pornography. The Defendant's internet history showed that he had accessed multiple videos with names including "young" and "rape." Officers also found messages on the phone showing the Defendant dealing drugs and soliciting prostitutes.
While out on bond pending trial, the Defendant was arrested in Harris County and charged with possession of a controlled substance, a third degree felony. After that, the online solicitation case was set for trial in April, but the Defendant failed to appear for his trial and was a fugitive for more than a month.
The case was prosecuted by Montgomery County Assistant District Attorney Chris Seufert. Seufert said, "This case is another example of the how important it is to have specially trained law enforcement officers working to make the internet safer for kids. I hate to think what might have happened if Detective Serratt wasn't there to catch the Defendant before he could get his hands on a child."
Under Texas law, Defendant must serve 25% of his sentence before he is eligible to be released on parole.
Source: Michael R. Holley, First Assistant District Attorney, Montgomery County District Attorney's Office