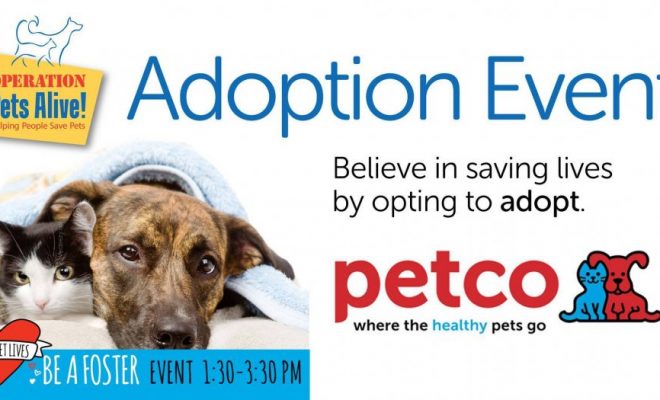 Pets
Operation Pets Alive! Partners with the Petco Foundation to Celebrate Local Foster Volunteers
By |
The Woodlands, TX – Operation Pets Alive! (OPA) is celebrating national "Foster a Pet Month" with the Petco Foundation and Skechers' charity footwear collection, BOBS from Skechers, by participating in the national "Be A Foster" event taking place Saturday, June 29 from 1:30 p.m. to 3:30 p.m. at four North Houston area Petco locations:
Petco Sawdust Woodlands, 522 Sawdust Rd, Ste C1, Spring, TX 77380
Petco Cypresswood, 19507 I-45 North, Ste. 7, Spring, TX 77388-6069
Petco Kuykendahl The Woodlands, 10864 Kuykendahl Rd, The Woodlands, TX 77381
Petco Spring Klein (99), 21348 Kuykendahl Rd, Spring, TX 77379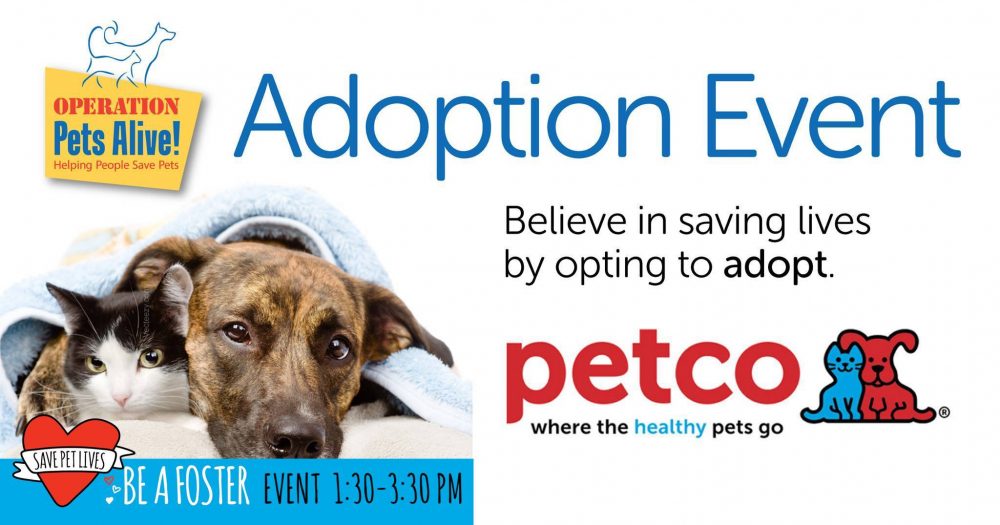 In addition to to encouraging the community to help save animal lives at their 'Be A Foster' events, and sign up new dog and cat, puppy and kitten fosters, OPA and the Petco Foundation will also recognize two of its current local pet foster volunteers at the Petco, The Woodlands, store located at: 10864 Kuykendahl Rd, The Woodlands, TX 77381.
The Petco Foundation is recognizing a select group of dedicated individuals across the country as "Foster Mentors," like OPA Foster Volunteer and mentor, Amy Cullum. Amy has fostered countless homeless animals since joining OPA in 2014, from bottle babies to pregnant mothers, the elderly and forgotten, the injured and the sick. Amy is now serving as OPA's Dog Foster Team Lead and is applying her talents to mentoring other foster families.
The Petco Foundation is also celebrating "First-Time Fosters" who have decided to help make a difference in animals' lives by becoming a foster for the first time, like OPA first-time foster, Emily Price. Emily decided to make a lifesaving difference by fostering an entire litter of puppies for Operation Pets Alive. This litter needed special attention to help them overcome significant upper respiratory tract infections, and required around the clock care.
Both volunteers will be recognized at the Petco Kuykendahl, The Woodlands 'Be A Foster' event on June 29. Operation Pets Alive's First-Time Foster, Emily Price, will receive a $200 Petco shopping spree to help get her started on her lifesaving journey, and both volunteers will receive BOBS from Skechers shoes to celebrate their lifesaving volunteer efforts.
"If less than two percent of pet-owning households in the U.S. fostered one pet a year, we could eliminate unnecessary euthanasia in animal shelters tomorrow," said Susanne Kogut, president of the Petco Foundation. "We believe if more people knew about the lifesaving impact of fostering, and that it can be an easy and fun experience, more people would do it."
Operation Pets Alive is one of more than 600 animal welfare organizations across the country joining together at Petco locations across the country to celebrate the lifesaving impact of fostering pets. OPA's volunteers and staff will be on site to talk to potential new fosters, share their experiences, and demonstrate how to bottle feed kittens. The first four people, at each location, to sign up to foster with Operation Pets Alive, will receive a free Litter Genie® Pail.
Marcia Piotter, president and co-founder of Operation Pets Alive, shares how fostering is important to the community, "Fostering for OPA is the one thing a family can do to simultaneously free up valuable space in our local crowded shelters, all while giving a homeless pet the care and guidance needed to become a valuable family member. Operation Pets Alive is dedicated to helping our community become a safe one for homeless pets, but without a brick and mortar facility of our own, we rely on foster homes and families to work our magic. We simply cannot achieve this goal without the support and participation of the community we serve!"
The 'Be A Foster' event is part of the Petco Foundation's annual 'Be a Lifesaver' campaign, which encourages everyone to help save animal lives by adopting, fostering, volunteering and donating. To create awareness and encourage more people to foster pets, the Petco Foundation has designated June as national "Foster a Pet Month," and will share information and stories all month long to show how fostering pets is highly rewarding and makes a significant impact on helping the U.S. become a lifesaving nation. Community members in Montgomery County TX can also make a difference by making a donation at Petco, at checkout or online, for pets in need.
To learn more about Operation Pets Alive!, visit their website at www.operationpetsalive.org
Follow Operation Pets Alive! on Facebook at www.fb.com/OPATexas
For more on the Petco Foundation and ways to contribute to lifesaving causes, visit www.petcofoundation.org/lifesaver and join the conversation on Facebook, Twitter and Instagram using #BeALifesaver.