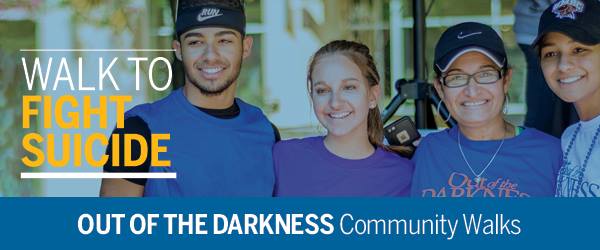 Calendar
Walkers Take To The Streets To Fight Suicide
By |
Suicide is the tenth leading cause of death in the United States, yet suicide is preventable. More than 1,000 people from throughout the Greater Houston areas are expected to participate in the 11th Annual Out of the Darkness Community Walk at 10:00 a.m., November 6th, at Town Green Park in The Woodlands. This fundraising walk supports the American Foundation for Suicide Prevention's local and national programs and its bold goal to reduce the annual rate of suicide 20 percent by 2025.
"We walk to support those who suffer from mental health conditions and raise the money for research and prevention programs that will save lives," said WyKisha McKinney, Board Chair of AFSP's Southeast Texas Chapter.
The Greater Houston Area Out of the Darkness Walk is one of more than 375 Out of the Darkness Community Walks being held nationwide this fall. The walks are expected to unite more than 250,000 walkers and raise millions for suicide prevention efforts.
The keynote speaker at the Greater Houston Area Out of the Darkness Walk is Sahar Paz, author of Find Your Voice. Sahar is passionate about starting critical conversations that impact the emotional health of individuals, schools, and society. She guides students, adults, and educators to understand the relationship between their thoughts and emotions, freeing them – and their voice – from destructive coping patterns. Her passion for this work came from her personal journey of surviving war, abuse, suicide attempts, and professional burnout. Her first book, Find Your Voice, The Life You Crave is a Conversation Away is a critically acclaimed memoir and reflection guide based on her journey, and the tools that ultimately saved her life.
"These walks are about turning hope into action," said AFSP CEO Robert Gebbia. "Suicide is a serious problem, but it's a problem we can solve. The research has shown us how to fight suicide, and if we keep up the fight the science is only going to get better, our culture will get smarter about mental health, and we'll be able to save more people from dying from depression and other mental health conditions."
Local AFSP sponsors for the Greater Houston Area Out of the Darkness Community Walk include Crush Wine Lounge, Montgomery County Hospital District, Word of Mouth Event Planning, The Woodlands Journal, The Tent Company, and more.
Learn more at outofthedarkness.org, or call 888-333-2377.
Register for the walk or donate online at https://afsp.donordrive.com/index.cfm?fuseaction=donorDrive.event&eventID=3876