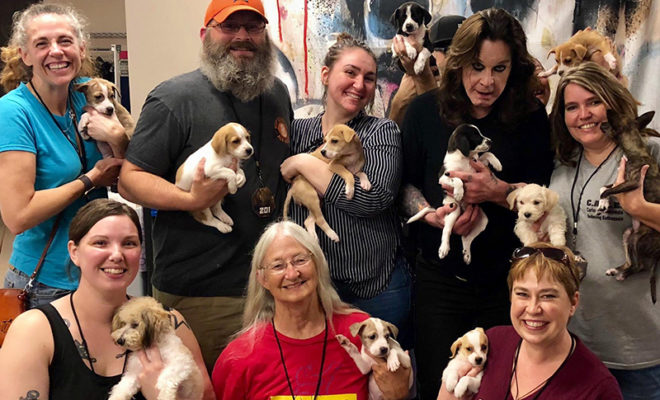 Pets
Ozzy Osbourne Adopts from Operation Pets Alive During Visit to The Woodlands
By |
THE WOODLANDS, TX – Operation Pets Alive visited a special guest recently, none other than the self-proclaimed Prince of Darkness, Ozzy Osbourne. While in town for his concert September 28 at The Cynthia Woods Mitchell Pavilion, Osbourne reached out to fellow animal advocates, requesting some puppy therapy.
Operation Pets Alive was contacted by Jane Holman, Deputy Assistant Director at Mayor's Office of Special Events Houston, who had worked with Osbourne previously, and asked if the organization had some puppies that it could bring by. Osbourne had told Holman that the crew would love the company of puppies to minimize the loneliness of being on the road. Osbourne and his wife Sharon are known animal lovers and strong advocates for pet rescue.
Operation Pets Alive's president, Marcia Piotter, worked quickly to coordinate with other groups associated with animals rescue in the community to make it happen.
The volunteers at Operation Pets Alive, along with Conroe Animal Adoption Center and Texas Litter Control, brought several puppies backstage and were greeted by Osbourne. During the visit, the conversation was light-hearted and all about the animals. "I think it was a refreshing change of pace to have the animals visit, expecting nothing more than a pet and a hug," said Piotter.
Osbourne loves all types of dogs, and had a hard time choosing which one to take home. "It was a hard choice as all the puppies were so adorable and yes they are all very good at selling themselves! Several pups went back so Ozzy could take a second look, but in the end it was Leena that joined the family." said Piotter.
Osbourne adopted the scruffy puppy on the spot and named her Susu. He even sent a few videos of Susu in her new home.
Piotter is grateful for the attention the organization received and the adoption that occurred as a result of hard work and big hearts. "Thank you to Jane Holman for inviting her fellow rescuers to participate in this opportunity and for her undying support of homeless animals. And, of course, a big thank you to Ozzy and staff for realizing what animals contribute to our well-being as humans and supporting animal rescue!"
She added, "And, a call out to local celebrities to encourage them to get involved with local charities. Especially, those all-volunteer groups like Operation Pets Alive, with volunteers that give of themselves daily throughout the year. That support can make such a difference in drawing attention to worthy causes. Finally, all the best to Leena [Susu] and Ozzy."
Inspired by this adoption and how it affected everyone from the crew, the volunteers, the puppies, and Osbourne, Holman would like to create similar events in the future. "We want to be able to establish regular 'puppy playtime' for all traveling tours. You can't imagine how nice it is for crews who may have been away from home for months to get to play and cuddle with wiggly, licky puppies. It brightens everyone's mood. We hope to talk the Pavilion management into making it a feature at the venue! Just another way for the Woodlands and Houston to stand out as the friendliest of tour stops."
Operation Pets Alive is a non-profit, all-volunteer organization striving to elevate Montgomery County to a no-kill community through innovative programs that raise community awareness, reduce the number of dogs and cats that enter our shelters, and increase the number of dogs and cats that leave our shelters alive. For more information, or to learn more about volunteer opportunities, visit www.operationpetsalive.org.
Sources: Marcia Piotter, Jane Holman, Operation Pets Alive Facebook Page