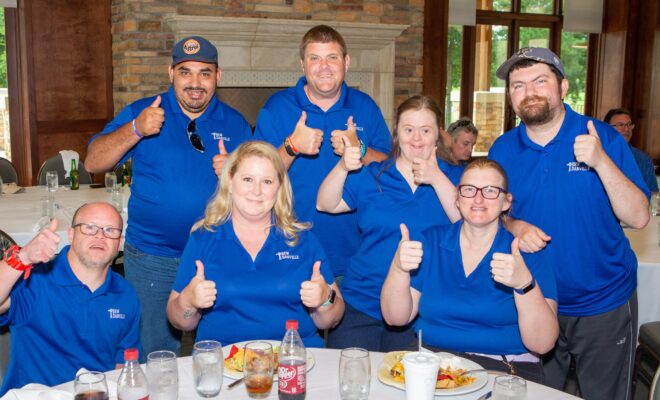 Events
"Play a Round for the Wranglers" Scores an Ace
By |
WILLIS, TX – The first annual golf fundraiser for New Danville, known as "Play a Round for the Wranglers," did not enjoy the excitement of any holes-in-one, but the event was an ace. Starting with opportunities to be photographed with a Wrangler (New Danville's clients) and concluding with a live auction after the event, the tournament grossed more than $150,000 to support the programs and services that New Danville delivers for adults with intellectual and developmental disabilities.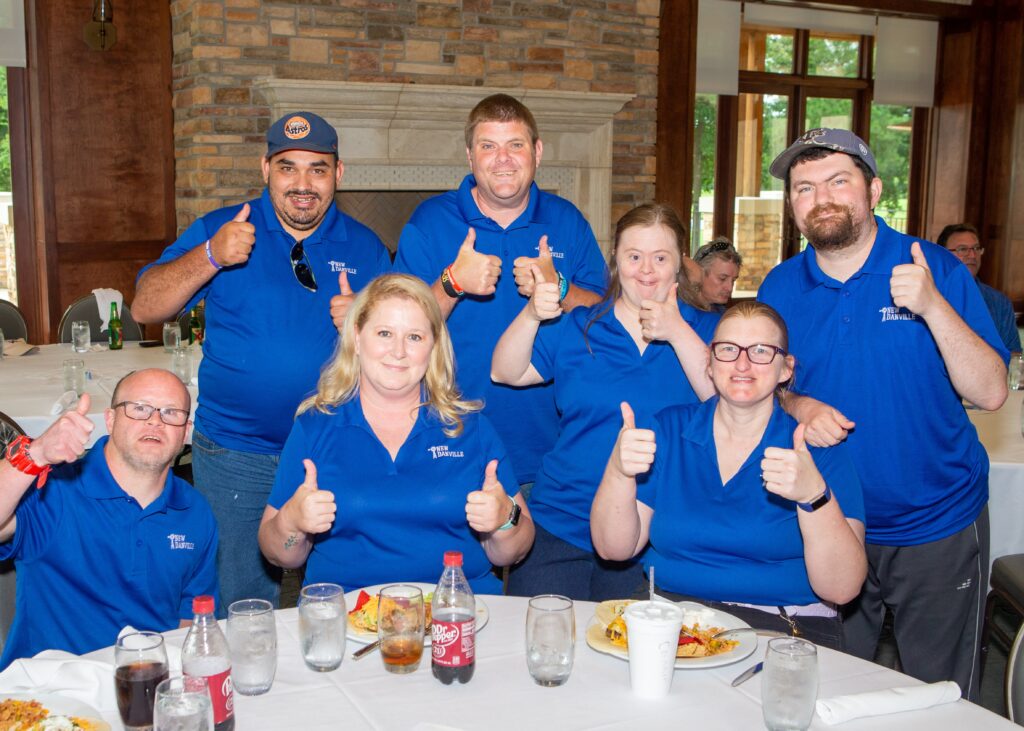 "2020 threw us a huge curve ball, just like every other organization in the country," President/CEO Eva Aguirre said. "Our major fundraising event was cancelled in 2020, and then had to again be cancelled for 2021 due to uncertainties at the time we had to begin planning. Board member Odette D'Agostino and long-time volunteers Brady and Kelly Hull stepped up and put together this tournament. It was a success beyond our wildest imagination, particularly for a first-ever event."
Odette D'Agostino, a long-time board member and supporter of New Danville, along with supporters Brady and Kelly Hull, knew that something had to be done to offset the challenges of 2020. Always one to celebrate the team of volunteers who make events and programs possible, Odette said, "We have a committee of great people who invited great people to participate so we can all support more great people—the Wranglers." Odette is also a co-founder and one of the leads for Jazzy Junque, an upscale home décor resale store in the Outlet of Conroe. Proceeds from sales support New Danville.
"It was a lot of work, but a lot of fun, both putting it together and playing the event," Brady said as his wife, Kelly, nodded in agreement. Kelly added, "We love the Wranglers and will do anything for them. It was great to see so many people come out to support them."
The opportunity to be photographed with the Wranglers set the mood for the day. "She definitely came up with a great idea," Brady said about Kelly's suggestion that helped tournament participants get to know the people for whom they were playing. He said that plans are underway for the next event to occur November 7, 2022.