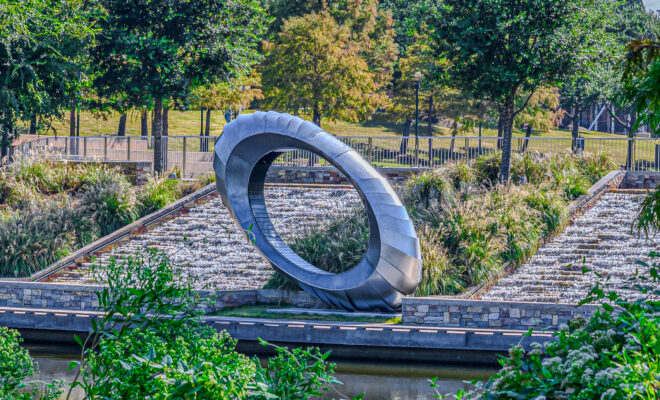 Photo: Mystical Senses Art Bench
Events
Artfeel returns to Market Street Outdoor Stage June 30
By |
Grab your picnic baskets, portable chairs and/or blankets and head down to Market Street's Outdoor Stage for a night of community whimsy as Artfeel celebrates the public artwork "Mystical Senses" by Gaston Carrio from 7 p.m. to 9 p.m. on Wednesday, June 30th. This 6-ton sculpture lives at the base of the waterfalls on The Woodlands Waterway.
Artfeel performers include Harwood Taylor, director of Gremillion & Co. Fine Art, and soon to be the director of Ellio Fine Art, a new gallery opening in October in Houston. Upon visiting "Mystical Senses," Taylor was reminded of a powerful experience he shared with his father, who was also a sculptor and a writer. He told a story about it featured on The Moth Radio Hour for their Father's Day Special a few years ago. A longer version of the story was a TEDx University of Houston talk last year. He's so happy to be sharing this story with Artfeel this month!
Show producer, The Woodlands Arts Council will generously be giving away valuable art pieces donated by festival artists for the Art Dash Party in April as a way of saying thank you for helping Artfeel grow.
"Artfeel is from the community for the community and part of our Because Art Matters programming slate," explains CFEE—Executive Director of The Woodlands Arts Council, Jenny Carattini Wright. "We want to thank our loyal audience and give them a taste of what the Art Dash is like in hopes they will join us next April for this incredible "un-gala" event that helps fund our art scholarship program."
In its 4th year, Artfeel is a quarterly live public art appreciation show in partnership with The Sarah Kelly Music School, Sweekman Artists, and Market Street, where a stage and microphone time are offered up to anyone to share their feelings about a specific piece of public art. Some residents sing, some dance, some share an original
or read a favorite poem or show an art piece of their own in-process — and some say only one word — the emotion the art has evoked in them. The rules are… there are no rules … and that is the fun. Each person has 2 minutes or less to share their feelings and/or perform.
Artfeel creator and host Nickole Kerner Bobley, a local culture and arts writer, is joined by co-hosts Gideon Bustamante, aka "The Painter," and David Deveau, who perform in the show and help get the crowd up on their feet.
"We are incredibly thankful to our partner/performers: The Sarah Kelly Music School, Sweekman Artists, and Market Street," says Kerner Bobley. "David, Gideon, and I couldn't do the show without these incredible people — the heartbeats of the show."
Artfeel aims to strip away elitism and academia from art and get people of all ages to engage with the art around them— specifically public art since The Woodlands boasts one of the country's largest collections of outdoor art. Like the public art it celebrates, Artfeel is free and open to the public. Join the fun!
How to Artfeel: Visit "Mystical Senses" at the base of the waterfalls on The Woodlands Waterway to see how it makes you feel/where it takes your mind to, and then brave the stage and share your thoughts through creative expression!
To learn more about Artfeel and The Woodlands Arts Council, please visit https://www.thewoodlandsartscouncil.org/p/programs/artfeel1.