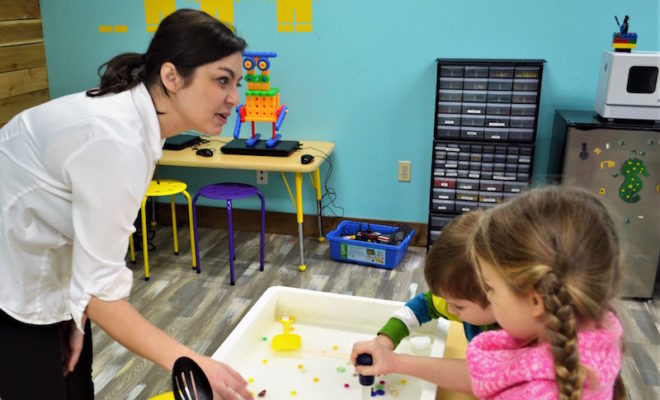 Lifestyle
Play Smarter Kids Integrates Literacy, Science, Technology To Inspire Love of Learning
By |
The Woodlands, Texas – "Good morning, do you want to explore?" Ms. Aurora's patient, calm voice reassures students entering the Play Smarter Kids classroom in Grogan's Mill.
Open since January 2017, the early learning and enrichment center offers science, technology, art, robotics and cooking classes for preschoolers and elementary-aged children. Owner and director Aurora Clarke writes her own story-based lesson for every class.
"When you introduce literacy and STEM together, learning isn't compartmentalized," explained Clarke of her Science, Technology, Engineering and Math programs. "The concepts are blended together, so the learning happens more naturally."
"You can tell Ms. Aurora really loves doing this," said parent Jamie Domann, who believed her son thought he was just having fun—didn't realize how much he was learning. "My four-year-old is learning science concepts, numbers concepts, art and playbotics. We intend to homeschool, so this is a great foundational enrichment."
"Kids are so tactile and sensory at this age," Clarke added. "And they'll remember a story so much more than they'll remember facts. If you give them a chance to explore and introduce the information in different ways, they'll remember and understand so much more."
Consider a recent preschool "Playbotics" class about Petey the Pelican. Clarke invited the kids to see the Lego pelican robot she'd built the day before with an older kids' technology class. Clarke showed them how to use commands on her laptop to make Petey flap his wings.
The Petey story—professionally illustrated in Power Point—talked how hungry Petey needed to scoop up fish in his beak but there was so much trash in his ocean. "Inhibit" was the day's vocabulary word. For preschoolers.
"Rhymes are so important for early literacy," Clarke's enthusiasm radiated. Fish. Dish. Wish.
Then the kids made a miniature version of Petey. Straws for legs because pelicans' hollow bones make them aerodynamic so they can fly. Feathers facilitated a conversation about how the water beads off feathers so they don't get too wet when they dip in the water. Hair gel and cut-out fish in a zip-top baggie taped behind a cut-out beak so they understand that pelicans have a gel-like substance inside.
The class continued with more story and two more hands-on activities, including a chance to program robot-Petey with a motor, switches and battery packs.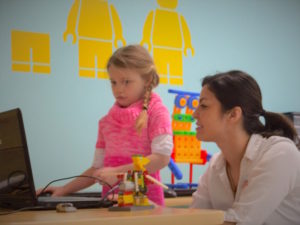 "I wanted something more imaginative," she explained when asked why she left teaching in a traditional Montessori classroom, which already provides a hands-on, self-directed learning experience. "I love when the kids remind me of a previous lesson—they'll remind me about Petey in a few weeks and remember that birds have hollow bones. And the stories are what I remember most from school myself."
Play Smarter Kids offers customized packages, from one class per week to periodic workshops to preschool sessions. Play Smarter Kids's summer camp sign-ups open this week, and Play Smarter Kids plans to offer five-day preschool in this fall. View the full camp schedule and current weekly classes at www.playsmarterkids.com.
By Sarah Greer Bartnick. Sarah Greer Bartnick covers businesses and events in The Woodlands and provides communication strategy services to local clients. After attending Baylor University, Sarah spent a decade in Washington, DC, as an aide at the White House and U.S. Capitol and as a strategic communication consultant to government clients through a large consulting firm. She lives in The Woodlands with her husband, two young children and Havanese puppy.