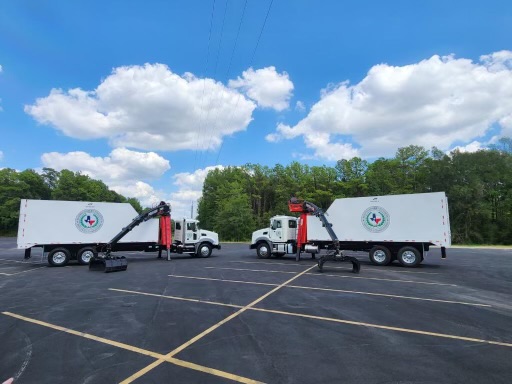 News
Precinct 3 Grapple Truck Investment will Expedite Storm Debris Removal Effort
By |
MONTGOMERY COUNTY, TX – Montgomery County Precinct 3 Commissioner James Noack has taken a proactive step to better serve residents affected by natural disasters and other severe weather events.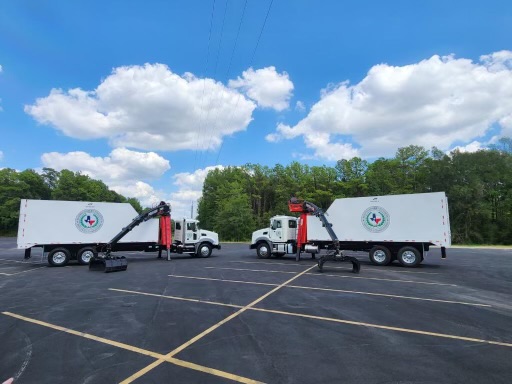 Commissioner Noack recently approved the purchase of two grapple trucks that will enable Precinct 3 crews to more efficiently remove large debris from roadways and other areas in the aftermath of major storms that cause widespread damage.
The investment comes in the wake of the devastating storms that swept through South Montgomery County in June, leaving behind a path of destruction with fallen trees and large branches strewn throughout areas of Precinct 3.
In the weeks following the storm, which brought record-breaking winds across the area, Precinct 3 crews worked with contractor CrowderGulf to remove a staggering 35,000-plus cubic yards of debris.
The recent storm served as a stark reminder of the importance of having effective and reliable equipment at the precinct's disposal to swiftly clear debris and maintain safety and accessibility for our communities.
The grapple trucks will significantly improve the precinct's ability to respond to future storms and natural disasters, especially when help from outside resources is not available.
"The June storms were a wake-up call for us, highlighting the need for improved resources to protect our residents and infrastructure," Commissioner Noack said. "These grapple trucks are a significant step forward in our mission to enhance our storm response capabilities. We are committed to being well-prepared for future challenges, and these vehicles will be invaluable assets in that regard."
Key Features of the Grapple Trucks:
High Efficiency: These Grapple Trucks are equipped with advanced technology that allows for rapid debris removal, significantly reducing the time needed for cleanup operations.
Versatility: The trucks can handle various types of debris, including fallen trees, branches, construction materials and other storm-related clutter.
Safety: Safety is paramount in disaster response. These trucks are designed with safety features to protect both our operators and the public during cleanup operations.
Reduced Environmental Impact: The grapple trucks are designed to minimize their impact on the environment, with reduced emissions and efficient fuel consumption.
Load Capacity: The trash body is 24 feet long, sloped from 48 inches to 72 inches over the first 10 feet and then 72 inches high the remaining 14 feet. This provides a load capacity of 51 cubic yards, significantly greater than the dump trucks normally used to haul bulk debris.
Precinct 3 encourages residents to stay informed about disaster preparedness and response measures and to have their own plans in place for emergencies. The precinct's website and social media channels will provide updates and tips on disaster preparedness.
For more information about Precinct 3 and its disaster preparedness efforts, please visit precinct3.org or follow us on Facebook. Also, go to precinct3.org/p3-works and download the P3 works app in order to report issues 24 hours a day to Precinct 3.