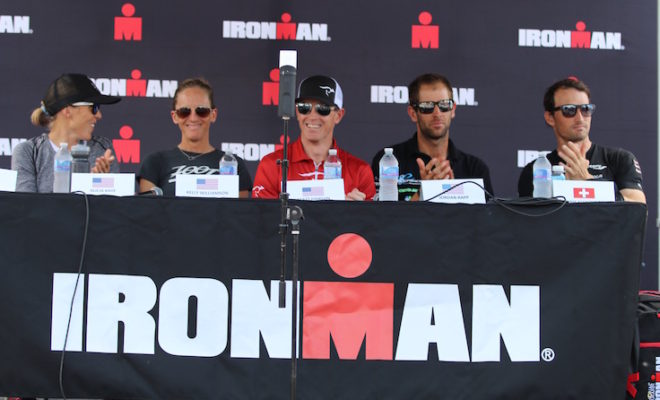 Calendar
Pro Athletes from Around the World Prepare for IRONMAN Texas
By |
This Saturday, April 22, over 2,600 athletes are registered to compete in the 2017 Memorial Hermann IRONMAN North American Championship Texas triathlon that will be held The Woodlands and the surrounding scenic areas in Montgomery and Harris Counties.
Participants will have to complete a 2.4-mile swim, 112-mile bike and a 26.2-mile run. Competitors have 17 hours after the final swim wave begins. IRONMAN Texas offers a $150,000 professional prize purse and 75 age-group qualifying slots for the 2017 IRONMAN World Championship, taking place in Kailua-Kona, Hawaii on October 14, 2017.
Learn more about the IRONMAN Texas Traffic Impact, race route and detours.
75 Pro Athletes will compete in IRONMAN Texas and five shared their stories plus answered questions during the Pro Panel held at noon this Thursday, April 20 in the Waterway Parking Lot. Watch what happened LIVE with coverage from Hello Woodlands:

Pros featured in the Panel: Tine Deckers (Belgium), Alicia Kaye (Clermont, FL), Kelly Williamson (Colorado Springs, CO), Matt Hanson (Storm Lake, IA), Jordan Rapp (Thousand Oaks, CA), Ronnie Schildknecht (Switzerland)
Fun Facts
Athletes' age range is from 18 to 80 years old.
Of the over 2,600 athletes registered to participate, occupations include Attorney, Business Owner, Construction, Engineer, Physical Therapist and Student.
51 countries are represented, United States with 2,304 registered participants.
47 states are represented, Texas with 1,246 registered participants.
The IRONMAN Village (in the Waterway Parking Lot) is now open and offers competitors, volunteers and race spectators the opportunity to interact and engage with companies within the endurance world in the days leading up to the event. Each event features exhibitors showcasing the latest trends in the industry as well as opportunities and services that are of interest to attendees. It also will host informational athlete meetings, partner announcements, and prize giveaways.
IRONMAN Village – Weekend Hours
Friday, April 21, 2017 9:00AM – 5:00PM
Saturday, April 22, 2017 12:00PM – 5:00PM
Sunday, April 23, 2017 7:00AM – 2:00PM
View photos from the Pro Panel and Village on the Hello Woodlands Facebook page!

Learn more about IRONMAN Texas, the IRONMAN Village, Pro participants, athletes, race course and more at https://www.ironman.com/triathlon/events/americas/ironman/texas.aspx