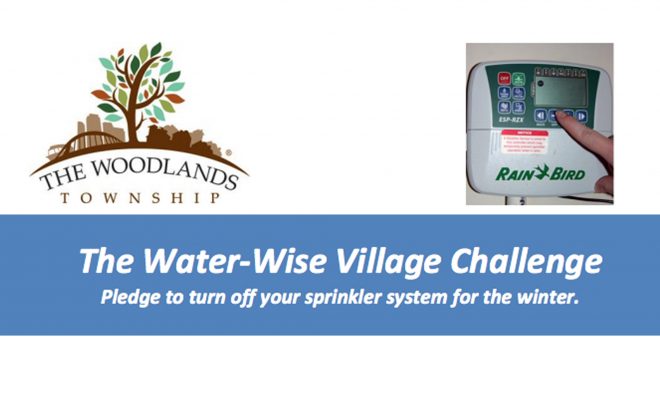 Home & Garden
Registration Open for Water Wise Village Challenge
By |
THE WOODLANDS, TX – The Woodlands Township Environmental Services' Water Wise Village Challenge is now underway. Starting August 15 every year, residents may begin to take the pledge to turn off their sprinkler systems for the winter (from October 15 to April 15) to conserve water. Residents that do not have an automated sprinkler system must pledge not to water their grass. Each year, three out of four residents take the pledge.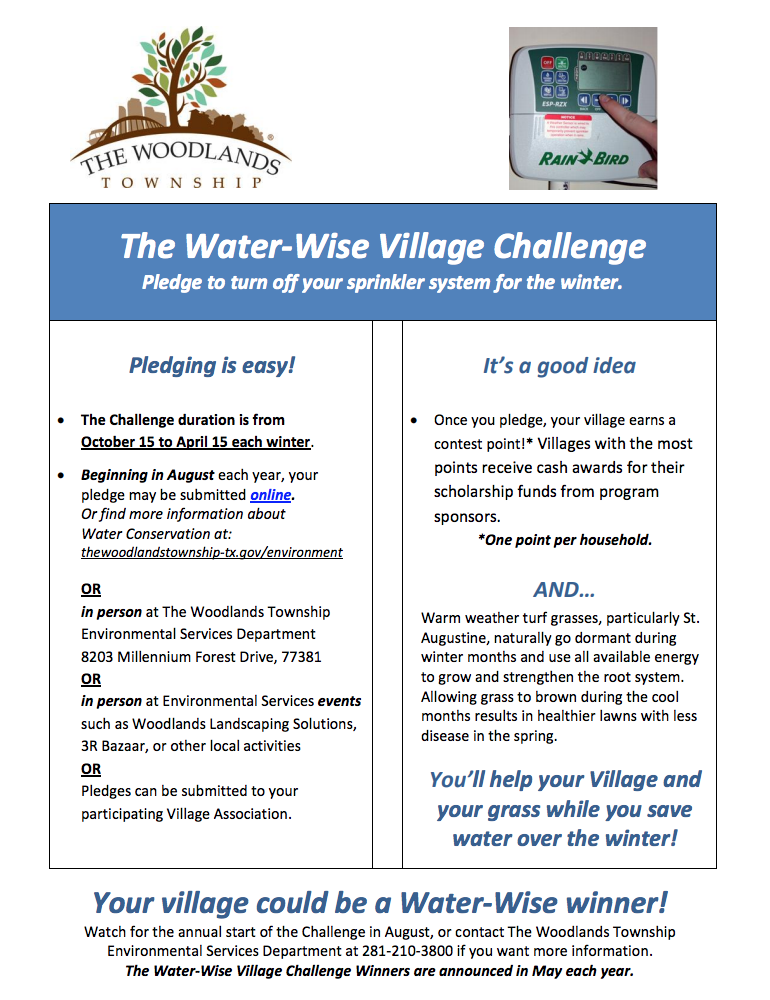 Each village will earn one contest point for a household pledge. The three villages with the greatest number of pledges will receive cash donations for their scholarship funds. The Water Wise Village Challenge winners are announced in May each year.
Pledges may be entered in the following ways:
In person at The Woodlands Township Environmental Services Department, 8203 Millennium Forest Drive, 77381.
In person at Environmental Services events such as 3R Bazaar or other local activities.
At your participating Village Association.
Through the online form.
Warm weather turf grasses, particularly St. Augustine, naturally go dormant during winter months and use all available energy to grow and strengthen the root system. Allowing grass to brown during the cool months results in healthier lawns with less disease in the spring. Participants will help their Village and their grass while conserving water.
In 2019, the Challenge saved 11,600,000 gallons. That equals the amount of water that flows through the San Jacinto River in ten days.
Sign up to take the pledge online here. For more information, contact the Environmental Services Department at 281-210-3800 or by email at enviro@thewoodlandstownship-tx.gov.
To find other ways to conserve water, visit thewoodlandstownship-tx.gov/environment.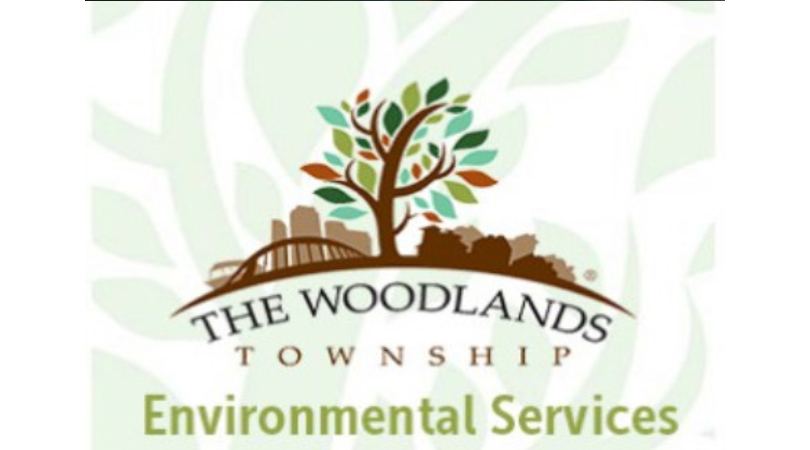 The Environmental Services Department offers free events, classes and seminars for residents to learn tips on incorporating conservation habits into daily routines. Residents may request a presentation on water conservation by contacting The Woodlands Township Environmental Services Department at enviro@thewoodlandstownship-tx.gov or by calling 281-210-3800.
Source: The Woodlands Township Environmental Services