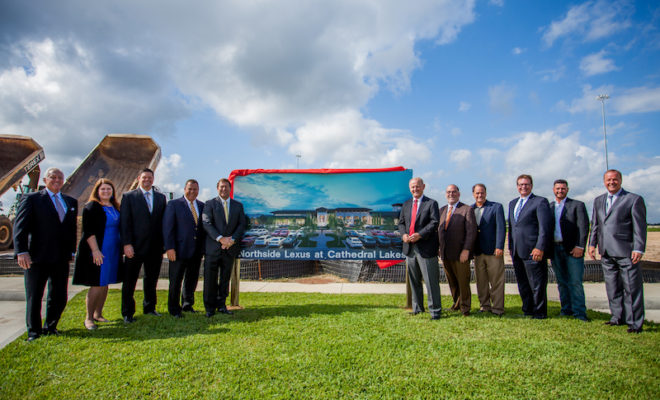 Business
Relocation of Northside Lexus to Cathedral Lakes in The Woodlands
By |
Bret Aldridge, the President of Northside and Westside Lexus, and Dr. Steve Riggle, the Cathedral Lakes Developer and Senior Pastor of Grace Community Church – Woodlands Campus, led an announcement ceremony for the Northside Lexus dealership at the Cathedral Lakes Development on Friday, August 18th.
Other key participants were Todd Stephens, District Chief for Congressman Kevin Brady; former State Representative Steve Toth; David Trice, the General Manager of Northside Lexus; Leslie Hollingsworth, Senior Project Manager for Government Relations, The Friedkin Group; Greg Hillman, the Vice President for Trivium Advisors; Stu Johnson and Blake Jakovich from the Cathedral Lakes Development and Grace Community Church; Scott Covington, the Development broker; and Mark Fowler, the Lexus broker.
The Friedkin Group announced that Northside Lexus, an "Elite of Lexus" award-winning dealership that has served the north Houston community since 1998, has started construction on a new $40 million facility and will relocate to The Woodlands as part of the Cathedral Lakes Development.  Bret Aldridge, the President of Northside and Westside Lexus, said the planned 158,400-square-foot facility is scheduled to open in December 2018 and will allow the dealership to continue to provide a superior Lexus ownership experience in a fast-growing luxury car market.  It will be situated on a 22-acre site at the north end of the Hardy Toll Road, on the exit ramp from the Exxon-Mobile campus and the Springwoods exit for Interstate 45 north/south, about six miles from its current location on the North Freeway.  The new facility will feature state-of-the-art customer amenities, including:
Large display area with more than 1,200 new, certified and pre-owned vehicles on display
Spacious customer reception area providing free beverages and snacks, Wi-Fi Internet, and comfortable work, reading and family areas
Eighty-six service stalls and a large parts inventory allowing for quick one day turn-around for most service repairs
Complimentary wash and vehicle vacuum for all customer service vehicles and free shuttle service to The Woodlands Mall for shopping
Full service Collision Center that has received the Certified Lexus Collision Center Shop of the Year award four times
Modern layout and building flow designed to minimize customer waiting times
Bret Aldridge, the President of Northside and Westside Lexus commented, "For almost 20 years Northside Lexus has been committed to providing north Houston with superior Lexus products and unparalleled customer service.  As we've undergone six facility expansions and experienced increasing demand for Lexus vehicles, we felt the time was right to explore new sites that would allow us to enhance our customer amenities.  The growth of The Woodlands, along with the recent completion of the Grand Parkway and the Exxon-Mobile relocation, made the Cathedral Lakes Development an ideal location for our new state-of-the-art facility.  We look forward to continuing to serve our existing customers and having the chance to welcome new ones to our home."
Dan Friedkin, Chairman and CEO of The Friedkin Group said, "The new Northside Lexus facility is indicative of our growth across our Lexus dealership businesses and strong Lexus product lineup.  We are committed to continuing to make strategic investments in our facilities and operations that will allow us to better service customers throughout the Houston area.  We're excited to have an opportunity to be a part of The Woodlands community."
Dr. Riggle shared that, "Northside Lexus will be a beautiful facility and brings world-class products to the Cathedral Lakes Development.  The Development includes the Church and a scenic mix of commerce, including hotels, condos, multi family, single family, retail, restaurants, offices buildings, and other businesses."
Todd Stephens from Congressman Brady's office welcomed Northside Lexus to Montgomery County.  The stunning and innovative dealership will provide superb luxury automobiles and customer service and will enhance the County's tax base.
Source: Stu Johnson, Grace International Churches and Ministries, Inc.