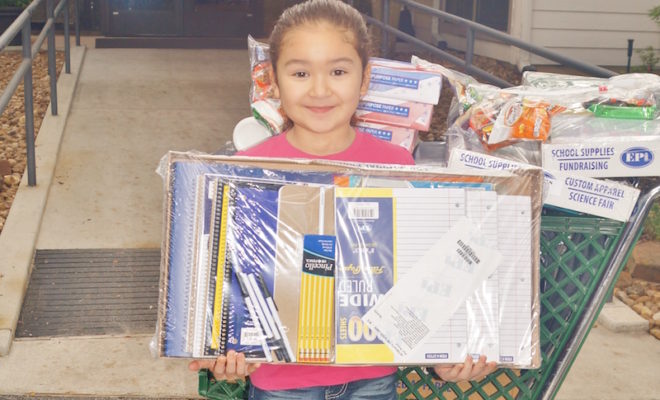 News
Interfaith provides over 2K School Supply Kits to Local Students
By |
With the start of the 2017-2018 school year, Interfaith of The Woodlands distributed more than 2,000 school and grade specific school supply kits to local CISD families as part of Interfaith's Kits4Kidz program. In addition to the required school supply kits, children also received a new backpack and a voucher for a back to school outfit to use at the Interfaith Hand Me Up Shop. Interfaith's Back-To-School program ensures every child has the tools they need for a successful school year.
This is the 33rd year that Interfaith has been providing school supplies to area students.  As many as 35 local schools have students that use Interfaith's Kits4Kidz for their school supplies. "I have been receiving school supplies for my children through Interfaith's Kits4Kidz program for the past 4 years. I am so grateful that my kids and I have a place like Interfaith that takes care of our school supplies because it can get very expensive at this time of the year," shared an Interfaith Client.
"It is truly an honor to serve these children and provide them with the basic necessities so they are able to begin the school year on the same level as their peers. We are very thankful for the many Interfaith volunteers and donors who played an integral role in the success of this program," said Missy Herndon, President and CEO of Interfaith of The Woodlands. In addition to the complete school supply kits, Interfaith also served an additional 700 children during late distribution by dispensing miscellaneous school supplies and a new backpack to other qualified children in our area.
Interfaith of The Woodlands is a non-profit social service agency providing numerous programs and services to meet the needs of The Woodlands and surrounding area.  For more information on Interfaith's programs and services, or to become a volunteer, please visit woodlandsinterfaith.org or call 281-367-1230.