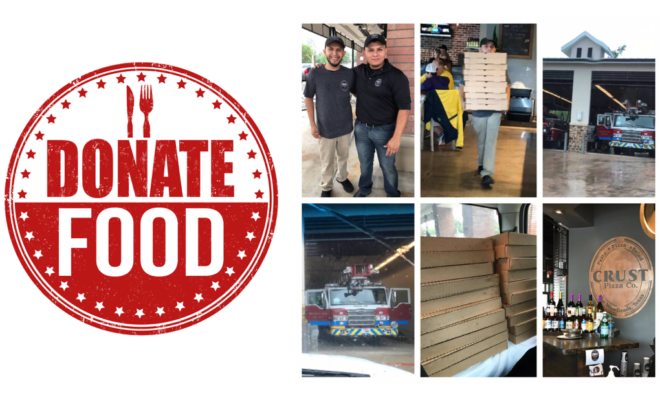 Food & Drink
Residents rise up to feed those in need after Harvey
By |
First responders, county and state officials, businesses, residents, and the whole community is stepping up to the plate to help neighbors in need.
In addition to the many shelters and donation centers that have opened over the past 48 hours, many organizations, businesses and groups are looking in ways that they can help by providing food items, hot meals, supplies, and other necessities in Montgomery County.
Please help us connect these giving groups with Harvey victims, first responders, and those in need:
Whole Foods Market (The Woodlands) is looking for organizations and groups to donate perishable food and items. Phone: 832-246-5600
Crust Pizza Co. is ready to donate to local flood evacuation centers/emergency response teams in need of hot food. Please contact Clint on their Facebook page at https://www.facebook.com/CrustPizzaCo/
The Friends of Conroe, Inc. serving and delivering food to first responders, displaced citizens, city/county employees, and accepting donations at the VFW in Conroe. They are also accepting donations of perishable and non perishable food – specifically water, pork shoulders/roasts, plastic ware, tortillas and bread. They will also accept blankets, toiletries and clothing.
The Abundant Harvest Food Truck is looking for a location to set up and help the community by serving food to those affected and serving as a mobile food pantry. Visit HarvestTruck.org and Instagram at @HarvestTruck.
A local group of 5 have set up a commercial kitchen at The Culinary Courtyard, 32907 Tamina Road, Magnolia, TX 77354 as a place to serve hundreds of first responders to be able to come and get hot meals. Contact the group and learn more at https://www.gofundme.com/hot-meals-for-our-first-responders 
Caroline's Kitchen at 411 W. Main St Suite A Tomball, Texas, TX 77375 is opening Wednesday, August 30 to serve those in need and first responders, and asking for volunteers/assistance at gf.me/u/cgm4p7
Is your business, organization or group serving meals or providing food/supplies to first responders, Harvey victims and our community in the Montgomery County area? Please contact us to be added to the list at info@hellowoodlands.com.
Where can I make donations? Learn how you can help and where to donate in our community here.
PHOTO: Clint from Crust Pizza Company for stepping up to the plate and serving pizzas and meals to first responders and those in need in our community! On Tuesday, August 28, Clint, his team and volunteers helped serve the Timarron community, the local firehouse, and countless others in our community. Photo provided by Kim McCauley.

Watch the Facebook video message from Caroline's Kitchen:

Shout out to Del Frisco's Grille for serving first responders stationed throughout the community today! They also are accepting donations at their location, donating sales back to Harvey relief efforts, and re-opened along with the restaurants in Hughes Landing.

Thank you to those businesses, organizations and individuals who have stepped up and our working hard to help our community and first responders!