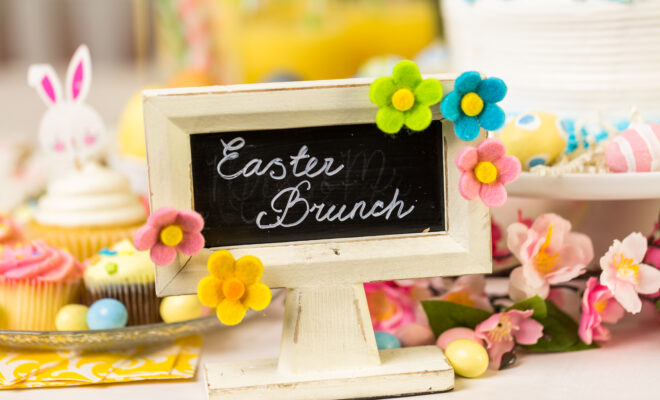 Food & Drink
Restaurants Serving Easter Brunch in The Woodlands Area
By |
Put on your Easter best and celebrate with family at brunch! These local restaurants will be serving special dishes and drinks just for Easter.
Amerigo's Grille – Savor a delicious Easter brunch at this family-owned, upscale restaurant in the Grogan's Mill area of The Woodlands, with traditional brunch fare including mimosas, eggs Benedict, smoked salmon, and other favorites. Learn More
Churrascos The Woodlands – Churrascos The Woodlands will be serving Easter brunch from 9:30 am–4 pm. Reservations required. Learn More
Hearsay on the Waterway – Enjoy an Easter Celebration on the Waterway! Hearsay on the Waterway will be serving brunch and dinner. Brunch will be served from 11 am-3 pm, dinner is available from 4-10 pm. The restaurant will be offering herb crusted lamb chops, gulf red snapper, and carrot cake bread pudding in addition to the regular menu. Learn More

Fielding's Local Kitchen + Bar – Bring your loved ones and celebrate Easter with an unforgettable meal. Chef Edel will be preparing special Easter features and there will be some craft cocktails for pairing. Brunch will be served from 9 am-3 pm Learn More
Fielding's Wood Grill – Join friends and family for a delicious Fielding's brunch or dinner. The restaurant is open for brunch at 9 am and will be serving favorite breakfast treats until 3 pm. Dinner menu starts at 11 am and will be available until 8 pm with special easter cocktails. Learn More
Fleming's – Fleming's will be serving up a 3-course special menu Easter weekend. Enjoy filet mignon paired with your choice of crab-stuffed shrimp or lobster tail scampi. Open at 2 pm on Saturday, April 16 and 11 am on Easter Sunday, April 17. Dinner menu and children's 3-course meal available all day. Learn More
Margaritaville Lake Resort, Lake Conroe – Hop along to paradise and let the sun-warmed Lake Conroe be the backdrop of your family's Easter memories at Margaritaville Lake Resort, Lake Conroe. Enjoy a brunch with holiday classics like rosemary lamb, slow-roasted pork, and a Southern-style grits bar with all the fixings. Then make your way along the bunny trail to snap a picture with the Easter Bunny, or pet your favorite barnyard animal at the kid-friendly petting zoo! Reservations are strongly encouraged. Learn More
Perry's – Perry's will be opening early at 11 am Easter Sunday with its double smoked, triple glazed ham or caramelized prime rib specials, brunch cocktails and more. Learn More
Truluck's The Woodlands – Start a new tradition and celebrate Easter weekend at Truluck's. Sip on a signature cocktail, The Easter Bloom, and indulge in the Lobster Thermidor featuring Florida lobster simmered in a creamy shellfish sauce with Havarti, mushrooms, and tarragon. Available Friday through Sunday in addition to the regular menu. Learn More
The Woodlands Resort – Enjoy Easter brunch at the Resort or Easter dinner in Back Table. The Woodlands Dining Room is serving Easter brunch from 10 am-3 pm. Reservations required, please call 281.364.6250 for reservations. Learn More
CRÚ – CRÚ has got you covered for Easter brunch. Bring your family and friends where they can choose from an array of fabulous brunch items to build their own 3 courses of deliciousness. With so many choices, everyone gets to pick their favorites and be happy and full. CRU Chefs will offer Lobster & Saffron Risotto, Shrimp & Asparagus Bisque, Cru's Signature Goat Cheese Beignet, and Herb Roasted Lamb. Popular brunch plates like the Crab Cake Benedict, Steak & Eggs, and Creme Brulee will be included in this special menu's offerings. Brunch will be served from 10 am-3 pm. Learn More
Looking for some fun Easter activities to do with the family? For a list of local Easter events, visit www.hellowoodlands.com/easter-events-in-the-woodlands-area-2022.
UPDATED: April 2, 2022, 7:09 p.m.