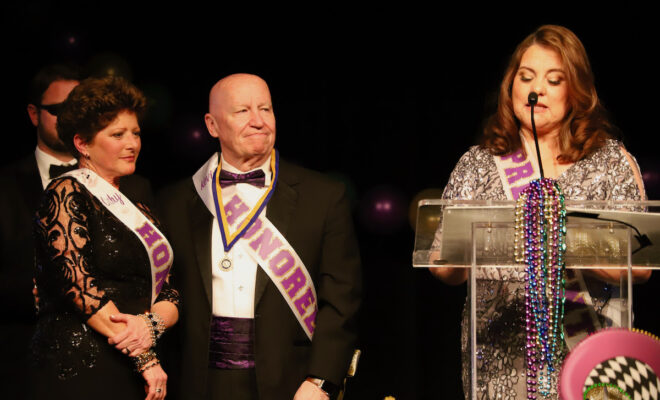 Photo Credit: Rod Prado, Hello Woodlands
Events
Rotary's Evening of Elegance Gala honors Congressman Kevin and Cathy Brady in The Woodlands
By |
Rotary Club of The Woodlands' annual fundraising gala, An Evening of Elegance, was held on Saturday, February 12, 2022 at The Woodlands Waterway Marriott Hotel & Conference Center. The gala's theme was Mardi Gras with the tagline "Laissez les bon temps rouler" and honored U.S. Congressman Kevin and Cathy Brady for their decades of service.
View photos from the event taken by Rod Prado on the Hello Woodlands Facebook page below and here:
In the true spirit of Mardi Gras, Rotary named Tammy and Danny Schroder as King and Queen of the Mardi Gras Ball and they accepted the role of co-chairs to lead the committee for this year's event. This event reflected the pageantry of a Mardi Gras Ball, replete with costumes, floats, and the sounds of brass from a second line. The evening featured a bid board, live auction, dinner, and a program paying tribute to the Bradys, as Congressman Brady closes the chapter on his many years of service.
Theresa Wagaman, president of the Rotary Club of The Woodlands, led the Legendary Service Presentation including videos from community members and members of congress that was followed by Congressman Dan Crenshaw on-stage sharing words of tribute, honoring his mentor Congressman Kevin Brady and his wife Cathy.
As noted in the event program, "Residents of The Woodlands for 40 years, [Congressman Kevin and Cathy Brady] each has contributed immensely to the success and enrichment of our community, and each has embodied and exemplified Rotary's credo 'Service Above Self'."
Rotary Club of The Woodlands was established in 1975. The cornerstone of Rotary is service – in the community and throughout the world. Rotarians build goodwill and peace, provide humanitarian service, and encourage high ethical standards in all vocations. The Rotary motto is "Service Above Self" and is based upon the Four Pillars: is it the truth, is it fair to all concerned, will it build goodwill and better friendships, and will it be beneficial to all concerned?
Rotary Club of The Woodlands is committed to both service in the community and fellowship and friendship among its members. Rotarians can be found ringing bells for the Salvation Army at Christmas, sharing meals with the kids at the Yes to Youth shelter, making home improvements for a family in need, donating blood, mentoring elementary school students, hosting international exchange students, funding polio eradication, and participating in disaster relief and response. Through The Woodlands Rotary Club Foundation, Rotary raises funds and provides tens of thousands of dollars in annual scholarships to local high school and Lone Star College students. In 2018, the Rotary Club established Rotary House which provides a place to stay for out-of-town families and patients receiving extended medical treatment in the Woodlands area. Funds from the Evening of Elegance Gala will support this and the many programs of Rotary.
Learn more about Rotary Club of The Woodlands by visiting woodlandsrotary.org.