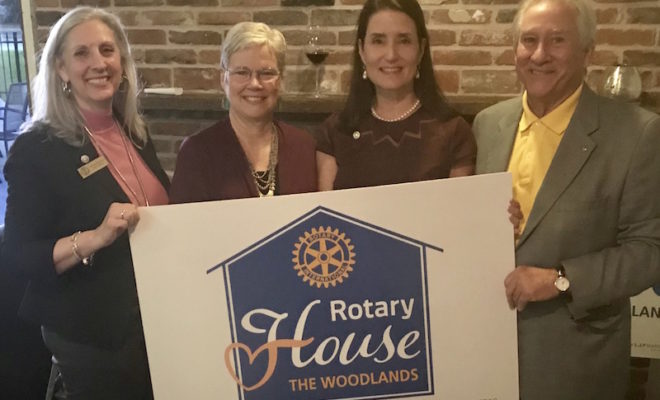 News
Rotary House provides temporary Housing for Patients and Families
By |
The Woodlands TX – The Woodlands Rotary Club launched their promotion of the Rotary House of The Woodlands at their annual Woodlands Wine Dinner with the unveiling of their new logo created by LJF Marketing.
With Montgomery County evolving to be the North Houston Medical Center, Rotary House of The Woodlands was created to provide temporary housing for individuals and their families who are receiving treatment at one of the Montgomery County's five local hospitals that operate within 10 miles of each other.
The hospitals include CHI St. Luke's Hospital, Conroe Regional Medical Center, Memorial Hermann The Woodlands Medical Center, Methodist Hospital The Woodlands and Texas Children's Hospital. An MD Anderson treatment facility is under construction.
"With the growth of our Woodlands medical center, the time was right to create a support infrastructure for our neighbors who come here for treatment," noted Julie Martineau, Rotary House of The Woodlands president.
In describing why LJF Marketing was chosen to create the branding for The Rotary House of The Woodlands Martineau said, "Linda Freede and her LJF Marketing team are well known for their community involvement in The Woodlands area. We wanted to create a brand that brings together the emotions of service that all Rotarians enjoy providing, and the hope of a temporary home for patients and their families undergoing treatment."
The new logo for Rotary House of The Woodlands will be used on flyers and other collateral pieces as well as signage for the temporary facility until a larger facility can be built.
Rotary House of The Woodlands currently has two furnished, ground floor, one-bedroom apartments at The Plantation Apartment Community. Hospital social workers are the contact for families in need of low cost temporary housing during treatment.
Families should live outside of the immediate area, with preferences given to those living more than 25 miles away. The cost to guests is $130.00, regardless of length of stay, with a 3-month maximum stay. Background checks are required before guests are accepted. Rotary House services will also include: welcome bag of food and flowers, housekeeping every other week, information about local amenities and one round trip a day to the hospital from the housing, when transportation is a challenge.
To arrange to use Rotary House of The Woodlands, patients or families can contact the hospital or medical treatment facility social workers to see if the situation is eligible. The social workers will provide a simple application, including credit card information for payment of one time fee.
For more information about the Rotary Club of The Woodlands, visit www.woodlandsrotary.org.