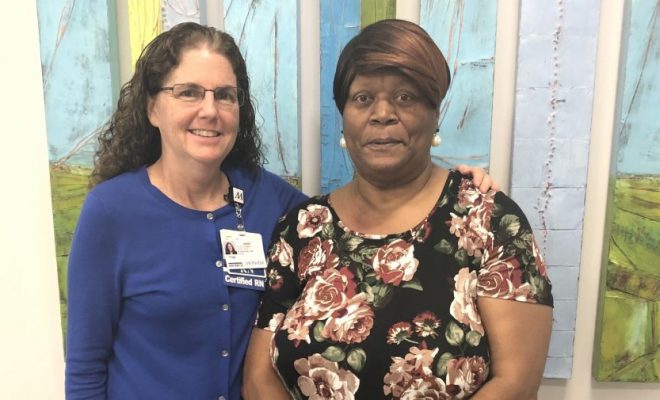 Health
Rotary House Steps in to help Houston Methodist The Woodlands Cancer Patient
By |
THE WOODLANDS, TX — Late last year, Sandra Moss learned she had colon cancer. This grandmother of ten has fought this battle before. In fact, she battled stage four breast cancer ten years ago. Luckily, this time, doctors caught the cancer early.
"I knew I had to get my mindset ready to battle it all again," said Moss. "Cancer is cancer, no matter what kind. You have to deal with so much – all your emotions, your thoughts and the pain."
Moss chose to receive care at Houston Methodist Cancer Center at The Woodlands. At one of her first appointments, she mentioned to a nurse that she did not have a dependable way to make the frequent hour-long drive from her home in Trinity to The Woodlands for treatments.
"I told her I would come when I could, but was sure I couldn't make all my appointments because I didn't have someone I could fully depend on to get me from Trinity to the hospital," Moss said.
The nurse then reached out to Peggy Reinhold, RN, Houston Methodist The Woodlands' oncology nurse navigator. Reinhold immediately contacted Rotary House of The Woodlands.
The Woodlands Rotary Club, a Texas nonprofit organization, created Rotary House to provide temporary housing to out-of-town patients receiving extended medical treatment in The Woodlands. Established a year ago, it currently offers free temporary housing in two, one-bedroom apartment units. Their goal is to offer more units to help more people in the future.
"I heard about the Rotary House because The Woodlands Rotary Club is a very active organization in our community, and I couldn't wait to tell Sandra," explained Reinhold. "It is such a great resource for our out-of-town patients who are going to have trouble getting here regularly for treatment."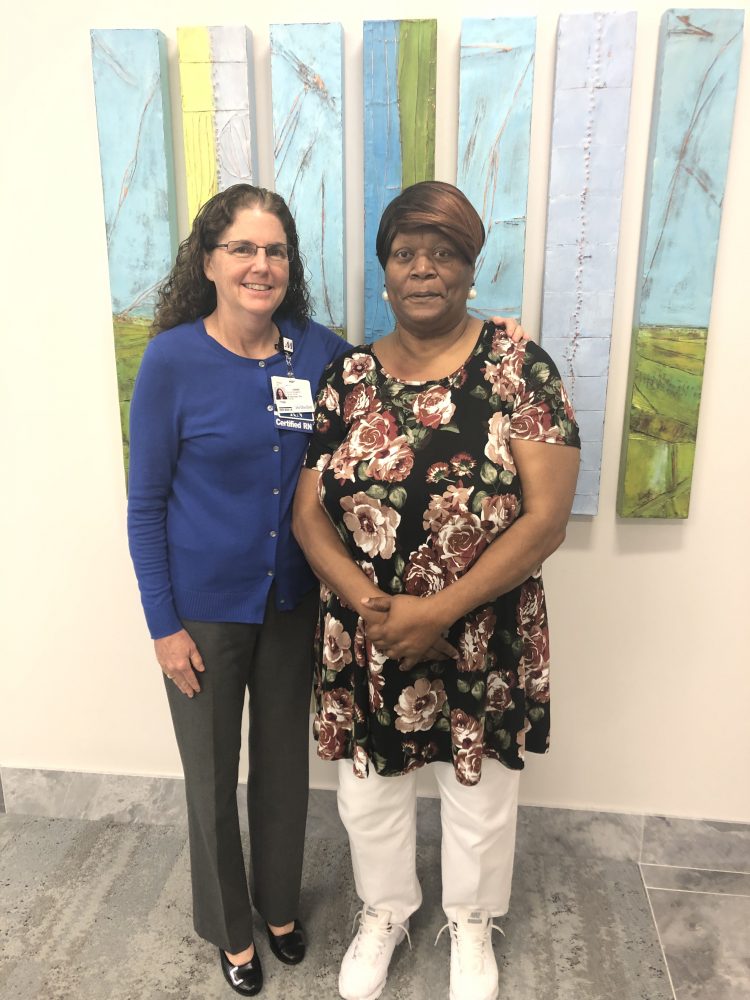 Reinhold worked closely with Rotary House board member W. Marshall Guy, MD, a local facial plastic and reconstructive surgeon. "Dr. Guy was amazing," she said. "He would respond to my email inquiries right away and stayed in constant communication to make it happen for Sandra, which was so unbelievably helpful. The Rotary House is simply lifesaving for patients of limited resources. We are so grateful for the volunteers who make this possible and we respect all they do. It's a great mission and a great service to the community."
Dr. Guy said, "At the Rotary House, we are very pleased to be able to assist Houston Methodist The Woodlands Hospital in their mission of delivering value to the people they serve. We continue to strive to help the area hospitals with short to medium stay accommodations for their patients and families so they can continue to deliver high-quality health care and we are very excited to have just been approved as a 501(c)(3) nonprofit community organization."
Dr. Guy continued, "Through the Rotary House, we provide complimentary stays to families in need who are recommended through the hospitals' social workers. We look forward to continuing our wonderful relationship with Houston Methodist The Woodlands Hospital and receiving more applications from their social workers."
Moss added, "Moving into the Rotary House helped me get the help I needed to be stable and stress free and get into the right state of mind. Knowing someone else out there cares about you enough to find a way for you to get the help you need… that is such a blessing."
"The Rotary House is very quiet and relaxing. It is a healing place where you can truly rest, and I sure needed every break I could get. It offers charity, love and most of all, hope," Moss continued. "It's wonderful knowing there are people out there wanting to help somebody else, which is what God wants us to do."
Moss recently completed her cancer treatments, as well as a follow-up surgery at Houston Methodist The Woodlands.
Houston Methodist The Woodlands Hospital opened in 2017 with 187 beds and occupies 470,000 square feet, including a 150,000-square-foot-medical building. Located at the intersection of Texas Hwy. 242 and Interstate 45, Houston Methodist The Woodlands is the eighth hospital in the Houston Methodist system, offering The Woodlands community a full-service, acute care hospital providing services similar to those of the flagship Houston Methodist Hospital in the Texas Medical Center.

For more information on Houston Methodist The Woodlands campus, please visit houstonmethodist.org/thewoodlands. For more information about Houston Methodist, visit houstonmethodist.org. To find a physician, call 936.270.3333.