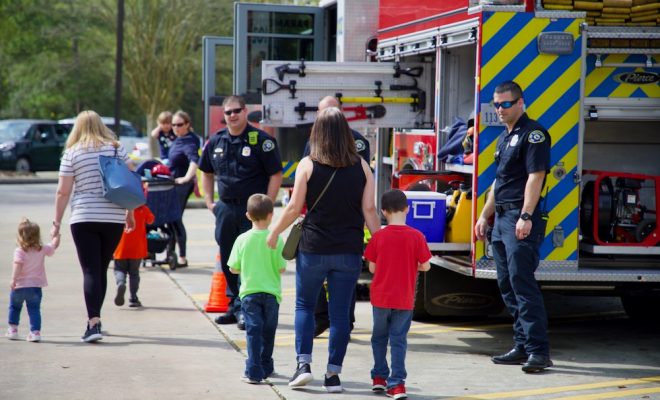 Events
Safety Day held at The Woodlands Children's Museum
By |
Little ones can delight in performing birds, marionette puppet shows, celebrate Donald Duck's Birthday, and much more during The Woodlands Children's Museum's Spring BreaKation this week until March 14, 2020.
On Tuesday, March 10, The Woodlands Children's Museum hosted The Woodlands Township Safety Day. At the event, The Woodlands Fire Department brought a fire truck to the museum and invited children to climb aboard. Safety Day activities also included Friendly Fireman demonstrations, performances by Tom's Fun Band, a Montgomery County Hospital District ambulance, the Lone Star Groundwater Conservation District's Mobile Lab, and more.
View photos from the event on the Hello Woodlands Facebook page!
Spring BreaKation activities are included in the museum's regular $7 admission price for visitors age 1 and older. The Woodlands Children's Museum is recommended for ages 7 and under. Children must be accompanied by an adult at all times.
Spring BreaKation activities also include:
March 11: Today children had the opportunity to hold and play several musical instruments when the Musical Instrument Petting Zoo visited the museum. This hands-on activity is a presentation of The Pavilion Partners, the volunteer organization of the Cynthia Woods Mitchell Pavilion.
March 12: Audiences can enjoy Le Theatre de Marionette Silly Strings Puppet Shows at 11:00 a.m. and 1:00 p.m. This musical variety show features clowns, roller skaters, jugglers, dancing skeletons, teddy bears and even an Elvis Presley puppet.
March 13: Visitors can meet Donald Duck and sing "Happy Birthday" to him at 10:30 and 11:30 a.m., and 12:30 and 1:30 p.m. Donald, who turns 86 this year, also is happy to pose for pictures.
March 14: Join Maguire Academy of Irish Dance for an Irish-at-Heart tribute to St. Patrick's Day at 10:45 and 11:30 a.m., and 12:45 p.m. Also that day, Claude Sims will delight guests with his juggling skills noon-2 p.m.
March 7-14: Science Palooza is featuring a different floor activity every day, from Magnetic Fairy Wands to Blasting Volcanoes.
All activities will take place at 4775 W. Panther Creek Drive, Suite 280, The Woodlands, Texas 77381.
For details about the performances and individual show times, visit woodlandschildrensmuseum.org, or call 281-465-0955.
The Woodlands Children's Museum, a 501(c)3 nonprofit organization, was founded out of a desire to meet the community's proven need for a positive environment where children and their families can learn, play and make special memories throughout the year. At the museum, fun and learning go hand in hand, whether children are creating art, singing along to a musical performance or conducting a science experiment. The museum also has made it a priority to bring children multi-ethnic and multicultural experiences that celebrate cultural and global differences and strengthen common bonds. Programs frequently are delivered in partnership with other nonprofit organizations, always with the goal of making a positive difference in the life of a child. Learn more at woodlandschildrensmuseum.org.