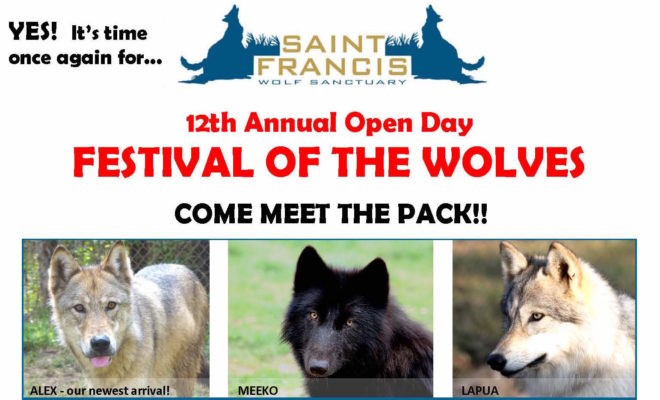 Calendar
Saint Francis Wolf Sanctuary to hold Open House
By |
Montgomery, TX — Saint Francis Wolf Sanctuary (SFWS) will hold its annual "Open Day and Festival of the Wolves" event at the sanctuary on Saturday, October 14th, 2017 from 11:00am to 4:00pm.
Visitors will have the opportunity to observe and learn about wolves and wolfdogs. There will also be educational programs, door prizes, a silent auction, face painting, a bake sale, and delicious food.
"We're very excited to be holding our twelfth annual Festival of the Wolves," said founder Jean LeFevre. "For fifteen years SFWS has been rescuing and providing sanctuary to wolves and wolfdogs in need. We love to share our beautiful animals with the people who come to visit, and hope they will be inspired to donate generously."
There is a requested minimum donation of $10.00 per person, and any amount donated beyond the minimum will be greatly appreciated.
Last year's event drew a record turnout, and SFWS is hoping for even more visitors in 2017. The Festival is one of SFWS's most important fundraisers of the year, and a successful event this year is especially important, says manager Brittany McDonald, because the sanctuary will need to move to a new location in the Montgomery area within the next few years. "It's important for us to have the flexibility to grow and succeed while developing greater long-term sustainability," McDonald explained. "Moving will enable us to build even larger and better enclosures and facilities for our animals; it will help Saint Francis Wolf Sanctuary realize its full potential."
SFWS is a 501(c)(3) nonprofit charity in Montgomery, Texas which is dedicated to rescuing and providing a loving, exceptional home to non-releasable wolves and wolfdogs, and to educating the public about these animals. For more information, including driving directions, visit Saint Francis Wolf Sanctuary's website at www.saintfranciswolfsanctuary.org