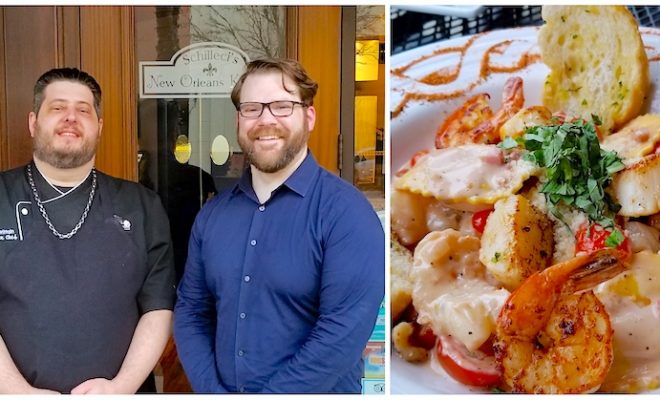 Photo by Nick Rama
Food & Drink
Schilleci's New Orleans Kitchen in The Woodlands
By |
Schilleci's New Orleans Kitchen has been serving classic Cajun/Creole cuisine, seafood, and steak specialties since December 2009. Owned and operated by the Schilleci's family, the local favorite makes its way on "Best of The Woodlands" lists year after year.
Although the restaurant is co-owned by Wayne Schilleci Sr. and his son Zachary, the entire family pitches in to run the restaurant. Schilleci's has many family recipes on the menu and is proud to offer Louisiana classics, from seafood gumbo to crawfish étouffée, shrimp creole and red beans & rice. Authentic New Orleans staples are also served including Gambino's Bread, Community Coffee, Abita Beer, Pat O'Brien's Hurricanes, and beignets made with Café Du Monde's famous recipe.
Schilleci's originally started 5 years prior to their move to their current location at Market Street in The Woodlands. They served their famous po-boys, gumbos, bisques, shrimp and crawfish étouffée, creole, jambalaya with chicken or shrimp, and fried seafood platters. Then, the family entrusted Chef David Brittain to take their restaurant to the next level. In March 2010, Chef David joined the family and showed off his talent by adding creative dishes and specials to the menu. Appetizers include crab and artichoke dip, fried calamari, stuffed crab cakes to crab cakes and crawfish with green onions and a wine butter sauce.
Chef David has an outstanding fish program where fresh fish are flown in from around the world daily. Fish selections such as Australian Barramundi, Chilean Sea Bass, Pacific Yellowfin Tuna, Loch Durat Salmon and more can be prepared blackened or pan seared and topped with a variety of toppings such as:
…mango salsa and mango wine butter, three jumbo shrimp over sautéed green beans
…scallops and artichokes with mushrooms, walnuts and a lemon butter sauce with steamed rice
…served over sautéed hominy, pancetta, red onions, roasted red bell peppers, spinach and cream
…served with Jambalaya, topped with shrimp, tomatoes, asparagus, mushrooms and a lemon butter sauce
…topped with crab meat, mushrooms, tomatoes, remoulade sauce, and green onions over sautéed green beans
Schilleci's is also known for their award-winning smoked crawfish dip, duck and sausage gumbo and New Orleans Bread Pudding. Signature entrees on the menu include Duck St. Charles, stuffed shrimp, barramundi risotto and a grilled pork ribeye.
Chef David will usually have some amazing specials like his recent and back by popular demand special Lobster Ravioli. The special features Maine Lobster Ravioli served with sautéed shrimp, scallops, lobster tail meat, pancetta, walnuts, grape tomatoes and a blood orange butter sauce topped with basil and Parmesan. Another new special is the Lamb Chop and Tiger Prawn: two pan seared lamb chops and a sautéed tiger prawn served over jambalaya topped with a pomegranate bordelaise sauce.
Schilleci's also has an extensive wine list and offers. The restaurants has five Sommeliers on staff who are eager to help in your wine and food pairing in order to make the perfect dining experience. Speciality cocktails and beer are also available.
…and don't forget to end your meal with a dessert trio with some French press coffee!
THE INTERVIEW
Give us a brief history of the Schilleci's family getting into the restaurant business.
Zachary: "I think it was a dream for our family to open up an authentic New Orleans restaurant. We opened up an order at the counter style Po Boy shop in Spring. After five years there, the dream grew to be a more upscale, full service restaurant to really give that true New Orleans experience."
Where did you get your training as a Chef?
David: "I started cooking at the age of 14 in Galveston and went to the art institute of Houston when I was 18."
What made the family move to The Woodlands from the original location on Spring Cypress to Market Street in The Woodlands?
Zachary: "We knew we wanted to evolve our concept to more upscale, full-service dining. With the upscale dining and shopping as well as the close proximity to the Cynthia Woods Mitchell Pavilion, we saw Market Street as a perfect location for us."
How has Schilleci's changed in the past 8 years?
Zachary: "I think we quickly realized how important a quality wine program and a first rate fish and seafood selection was especially in this area. I think those are the two biggest areas in which we have grown over the last 8 years."
What are your best selling regular menu items?
David: "Our best selling items are the fresh fish that we specialize in."
Speaking of Po-boys… good authentic New Orleans Po-Boys are hard to find in the area. Schilleci's uses Joe Gambino's Bakery for their bread. Why was it so important to use them as for your bread vendor?
David: "We use the Gambino's bread and blue plate mayonnaise, Community Coffee, so we can bring the staples of New Orleans to the Woodlands, Texas."
What do you contribute to Schilleci's long term success to?
Zachary: "I think it starts with our amazing staff. We don't have the same turnover rate that a lot of places do. Most of our staff have been with us for two years or more, and some have even been with us since the very beginning. I think that consistency really goes a long way."
Tell us about your fresh fish program.
David: "So I have two vendors that I get fish from one of the local vendor who does almost all my stuff from crabmeat shrimp local crawfish and some of the gulf fish I have another vendor who can get fish from all around the world meld into me within 24 hours right now we are using a lot of South Pacific fish because it is in season."
Any restaurant would be lucky to have one certified Sommelier, Schilleci's has five on staff. What was the reason behind that decision?
Zachary: "As our restaurant has grown over the last eight years, it has become evident just how important a great wine program is. Our wine list is focused on wines which are perhaps not as well known to our guests, so having five sommeliers on staff helps to educate our diners and guide them to an experience we really think they will enjoy."
One of Schilleci's signature desserts is the New Orleans bread pudding. What makes this dessert a top seller and fan favorite?
David: "Our bread pudding which uses the Gambino's bread is a staple food of New Orleans. We like to keep it simple with the raisins and our bourbon praline sauce."
5 words to describe Schilleci's New Orleans Kitchen?
Zachary: "Family Owned, Fine Dining Experience."
Learn more about Schilleci's New Orleans Kitchen by visiting their website at www.schillecis.com and on Instagram at www.instagram.com/schillecis/
Nick Rama is a food writer, contributor of Hello Woodlands, and shares his restaurant experiences on Nick's Local Eats at NicksLocalEats.com and the Q Up The Burgers Facebook page. Nick enjoys helping the small business owner, supporting his community with fundraising for food banks, and plans tasting events with locally owned mom and pop restaurants.