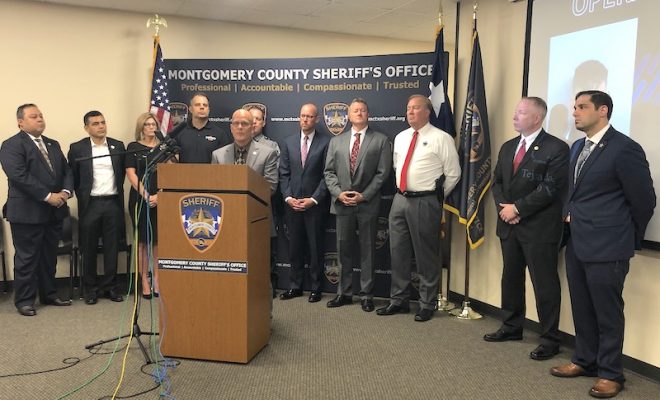 Photo by Rod Prado, Hello Woodlands
News
Sheriff and Partners Complete Operation Labour
By |
The Montgomery County Sheriff's Office, in conjunction with the Human Trafficking Rescue Alliance (HTRA) and law enforcement partners from across our region, conducted a two week operation titled "Operation Labour". This operation targeted prostitution while helping potential victims of human trafficking. The operation took place from August 28- September 6, 2019 in the Kingwood, Texas area. Detectives and agents from multiple agencies worked in an undercover capacity posing as "Johns" and "Prostitutes". Law enforcement partnered with Non-Governmental Organizations (NGOs) who were instrumental in reaching out to potential trafficking victims, and providing them with support services during their operation.
Watch the Hello Woodlands video taken at the press conference held on Tuesday, October 1, 2019:
During this operation, law enforcement officers worked tirelessly to apprehend those persons who were either providing illicit services or seeking the same. The primary goal was to proactively address prostitution and human trafficking activity in this community and surrounding areas. During this investigation, victims who may have been forced into providing illegal services through force, fraud, or coercion were also sought out. At least 6 victims were identified who requested victim services, one of which was a sixteen year old juvenile. A two year old child was also recovered from a vehicle when a female was arrested and placed with family members.
We will continue to send a message through enforcement actions, that we are not going to tolerate this activity in our communities. We will arrest and charge those who engage in this illicit act. We will also continue to identify those who have been forced into trafficking by rescuing them from their situations and connecting them with services to help with their recovery.
Sheriff Rand Henderson stated, "The Montgomery County Sheriff's Office is proud to partner with law enforcement and the Human Trafficking Rescue Alliance in the fight against prostitution and human trafficking. These proactive operations will continue in an effort to deter individuals from purchasing sexual acts from women, especially those women placed into situations by force or coercion. The demand for illicit sexual acts must be addressed to stop human trafficking."
The results of "Operation Labour" are listed below:
Total number of arrests: 79
"Johns" arrested: 37 males charged with M-B Prostitution
"Pimps" arrested: 1 male charged with Promotion of Prostitution
Prostitutes arrested: 34 females arrested, 32 charged with M-B, (2 charged with State Jail Felony for prior arrests for Prostitution)
Miscellaneous Arrests: 7 (For Miscellaneous Narcotics and weapons charges)
Victims Rescued: 6 females, including a 16 year old female
Thank you to all of our Law Enforcement and Non-Governmental Organizations that worked together in this endeavor:
Montgomery County Sheriff's Office
Montgomery County District Attorney's Office
Houston Police Department
Montgomery County Precinct 4 Constable's Office
Harris County Sheriff's Office
Texas Alcoholic Beverage Commission
Department of Homeland Security
Texas Department of Public Safety
Fort Bend District Attorney's Office
U.S. Department of State
DeliverFund
Freedom Restore
The Landing
Love People, Not Pixels

Source: Lieutenant Scott Spencer, Montgomery County Sheriff's Office, Administrative Services