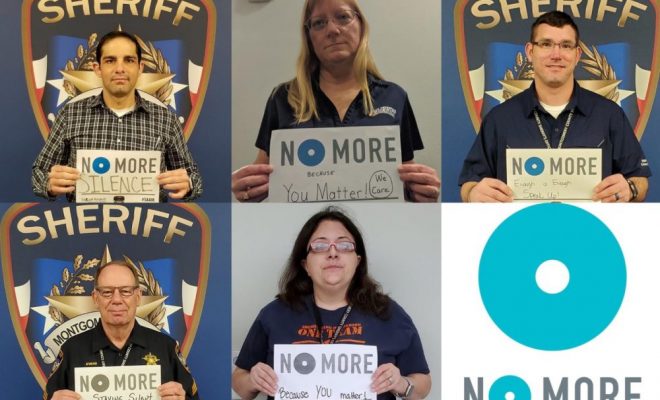 Photos provided by Montgomery County Sheriff's Office
News
Sheriff partners with "NO MORE" Campaign for Sexual Assault Awareness Month
By |
The month of April is "Sexual Assault Awareness Month" and the Montgomery County Sheriff's Office is partnering with the "NO MORE" campaign to raise awareness of sexual assault crimes.
The "NO MORE" campaign is a 501c(3) organization that uses simple methods of publicizing and encouraging victims of sexual assault to speak out. The NO MORE campaign is a highly visible way for Montgomery County Sheriff's Office to make a public declaration against sexual assaults by increasing awareness, inspiring action and fueling cultural change.
As noted on NO MORE's website, currently NO MORE is a global collaboration comprised of a coalition of non-profits, corporations, media, governmental agencies, and private individuals committed to addressing domestic violence and sexual assault. Currently over 1400 organizations support and/or participate in a NO MORE campaign. Learn more by visiting www.nomore.org.
Sheriff Rand Henderson stated, "The Montgomery County Sheriff's Office will remain vigilant in our effort to bring justice to the victims of these heinous crimes. Through partnerships such as these, we will continue to support and educate victims of sexual assault while investigating and arresting those who are found to commit such atrocious acts."
Source: Specialist Thomas Smith, Montgomery County Sheriff's Office, Administrative Services