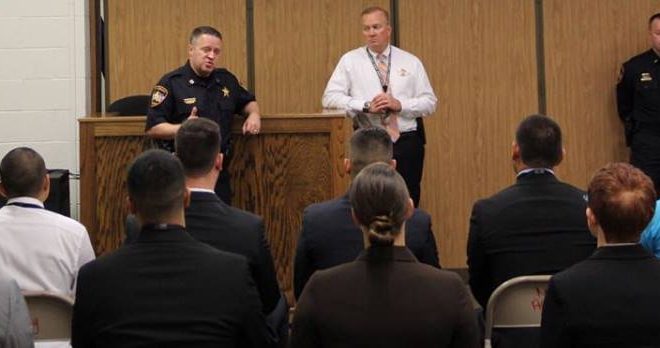 News
Sheriff's Office Launches First, Full-Time, Basic Police Officer Academy
By |
On October 2, 2017, Sheriff Henderson and his Leadership Team welcomed the twenty cadets of the Montgomery County Sheriff's Office Basic Police Officer Course (BPOC). This BPOC is unlike previous Peace-Officer licensing courses in that it is the first full-time law enforcement training academy class comprised of paid cadets that are slated for Patrol Division deployment. 

As outlined in Sheriff Rand Henderson's strategic plan, presented early this year, the need for additional patrol personnel is clearly evident and supported by the Montgomery County Commissioners Court as part of their commitment to public safety. "We were able to articulate the need for these positions to the Court with sound data and a comprehensive multi-year plan. Getting this Academy up and running with a group of motivated cadets who are up to the challenges that they will face in preparation for patrol duties is exciting for all of us," commented Sheriff Henderson. 

This inaugural BPOC class is set to graduate on March 1. These newly minted Deputies will immediately begin the Field Training Program (FTO), being distributed across each of the three Patrol Precincts during an intensive sixteen week training process.

To learn more about the Montgomery County Sheriff's Office and potential career opportunities, please visit  www.mctxsheriff.org
Source: Lieutenant Scott Spencer, Montgomery County Sheriff's Office, Executive Division