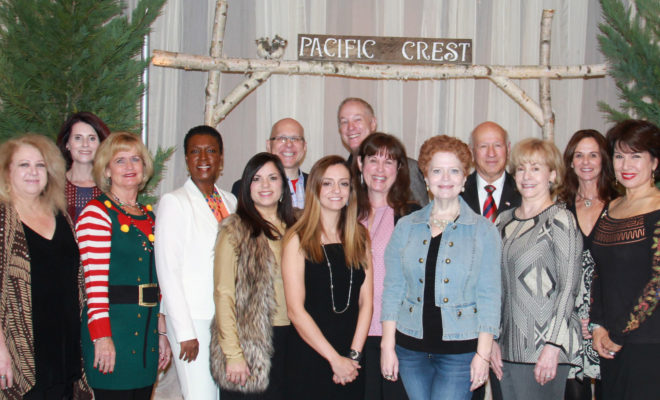 Calendar
Signatures Author Series accepting Applications for annual Luncheon
The John Cooper School will host the 13th Annual Signatures Author Series featuring Paula Hawkins, on Friday, December 8 at The Woodlands Waterway Marriott Hotel and Convention Center. Hawkins is the author of the #1 New York Times bestselling suspense thriller, The Girl on the Train, that was made into a major motion picture. Hawkins released a subsequent thriller, Into the Water in May of this year, that People Magazine said, is "a captivating contemporary whodunit… suspense churns and the plot keeps you guessing." As is tradition at the much-anticipated annual luncheon, the event will also feature a diverse array of visiting authors who are selected through an application process.
The Signatures Executive Committee, co-chaired by Susan DeMarco and Christie Swanbeck, is again offering the opportunity for authors to participate in the Signatures event, sell their books and have the opportunity to engage with attendees at the luncheon, which sells out to around 1,000 attendees each year. Due to space constraints, only a limited number of booths are available, and authors will be selected from an application process.
"Each year, we strive to put together a well-rounded group of visiting authors who represent a variety of genres," said Patricia Black, who co-chairs the Visiting Author portion with Lisa Hollingsworth. "Authors who participate are highlighted in event publicity and will receive a table with signage where they can sell their books and visit with guests before and after the luncheon. This is a highly anticipated portion of our event and we look forward to shedding light on local authors."
The booth registration fee is $150, and the deadline for application to participate is on or before October 27. Specific guidelines, details and application forms are available at www.johncooper.org/specialevents. Updates on the luncheon will be posted on the News portion of The John Cooper School website at www.johncooper.org. Each year, a portion of the proceeds from the Signatures luncheon is given to a local literacy organization and this year's will support hurricane relief efforts.
For additional information and Signatures sponsorship opportunities, call 281.367.0900 extension 2326 or email advancement@johncooper.org. The John Cooper School is a PK-12 independent, college preparatory day school that has served The Woodlands and greater Houston area since 1988.
PHOTO: Pictured are visiting authors from the 2016 Signatures Author Series featuring Cheryl Strayed. This year's co-chairs Lisa Hollingsworth (third from left) and Patricia Black (third from right) are looking forward to working with visiting authors for the 2017 event on December 8. Last year's authors included: Sylvia Casares, C.B. Davis, Pam Franks, Gabriel Garcia, S.A. Hodges, Kathryn Lane, Roger Leslie, Ph.D., Denise Liotta-Dennis, Curt Locklear, Dawn D. Mitchell, Joy Preble, Kristin Rae, Valerie Sweeten and Belle Whittington.
Source: Deb Spiess, The John Cooper School