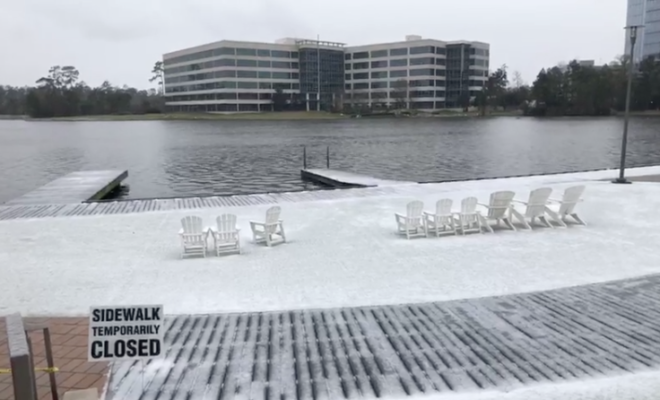 Weather
Snow in The Woodlands, Winter Storm Warning in effect
By |
Snow has arrived in The Woodlands and has been reported throughout Southeast Texas on Tuesday, January 16, 2018. Hello Woodlands captured snowflakes falling upcoming a frozen Hughes Landing this afternoon in a live video on our Facebook page.
The winter storm warning issued by the National Weather Service remains in effect until midnight 12 a.m. tonight.
A Winter Storm Warning means significant amounts of snow, sleet, and ice are expected or occurring. Strong winds are also possible. This will make travel very hazardous or impossible.
Intermittent periods of winter weather across Southeast Texas, including freezing rain accumulation potentially an
eighth of an inch or more but with a tenth or less more likely. Minor ice accumulations possible on power lines. Snowfall
accumulation potentially 1 inch north of Brenham to Livingston. Trace snowfall amounts possible north of Interstate 10 where freezing rain is most likely hazard. Hazardous wind chills falling into the teens areawide by this afternoon.
Impacts of icing to elevated surfaces, such as bridges and overpasses, and road conditions will worsen for areas with temperatures below freezing for a longer period of time. Snow falling on top of any icy surfaces will cause those surfaces to become even more icy.
A hard freeze warning issued by the National Weather Service affecting Montgomery County from 9 p.m. tonight January 16 and expires on January 17 at 10 a.m.
Cold and windy conditions are expected tonight into Wednesday morning. Temperatures should drop below 25 degrees for several hours tonight into Wednesday morning. Hard freeze conditions will kill sensitive vegetation and could cause damage to exposed pipes. People and pets without proper protection and/or shelter will be vulnerable to hypothermia.
Stay tuned for more important updates!