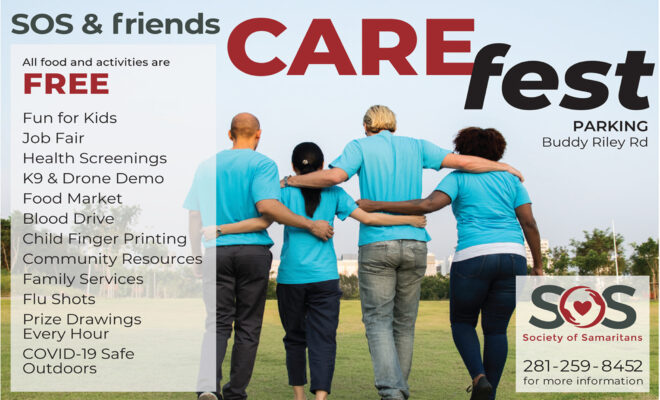 Events
SOS & Friends CAREfest to Provide Free Community Resources, Job Fair
By |
MAGNOLIA, TX – Society of Samaritans will host a free community outdoor event on Saturday, November 14, from 10:00 am – 2:00 pm at the campus of Magnolia's First Baptist Church, 18525 FM 1488 in Magnolia.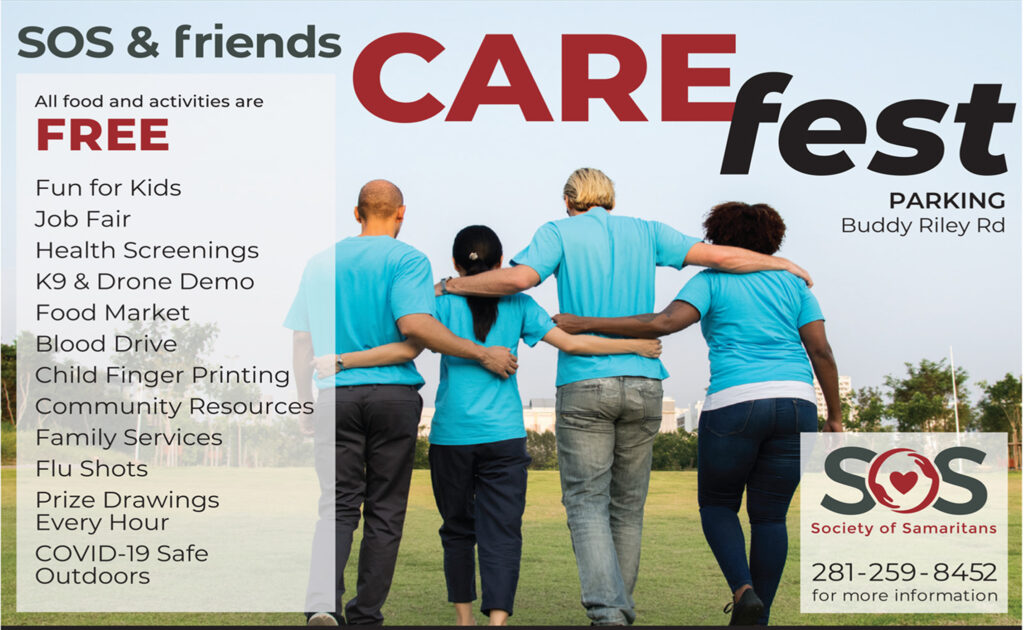 "The campus-wide -free event with over 30 booths and activities provides comprehensive resources for families in our community," shared Shirley Jensen, event coordinator for Society of Samaritans. "There is something of interest, education, and fun for all ages."
A Free Food Fair filled with baskets of fruits and vegetables provided by Montgomery County Food Bank will be given away. Kids Meals will have snack lunches for all the kiddos.
Enjoy face painting, balloon animals, and hot dogs prepared by the Precinct 5 Constables' Office, and snacks, while observing the Magnolia Police Department demonstrating drone skills. Children get 'hands on' with an ambulance emergency vehicle from Republic EMS and a Magnolia Volunteer Fire Department fire truck. High Water Rescue Vehicles will be on site from Commissioner Charlie Riley's fleet and Constable Chris Jones.
Fingerprint ID cards will be completed on children and given to parents by Precinct 5 Constables' Officers.
HEB has free health screenings available. TOMAGWA will provide service information and registration for medical services for those with no health insurance coverage. Lions Club of Magnolia shares info on student eye assistance program and will be providing eye exams at no cost. Interfaith Community Clinic will provide flu shots at no cost. Tomball Pregnancy Center offers support for pregnancy related issues and reproductive health education.
Are you looking for a job? Bring your resume and visit with employers at the JOB FAIR WHO ARE READY TO HIRE for full-time and seasonal holiday positions. Hiring Employers include: Effex Management Solutions, Express Employment Professionals, Gold Star Transportation, Harris County Sheriff's Office, Meador Staffing, Montgomery County Sheriff's Office, Primerica, Renewal by Anderson, Texas Department of Criminal Justice, Whataburger, and WorkForce Solutions. Lonestar College offers technical training and low cost quality education programs info. More companies will be joiningalso.
Meet with agencies including Montgomery County Women's Center, YES to Youth, Affordable Housing agencies, Benevolence ministries from a coalition of Magnolia churches, Intercept, ACA healthcare plans, Texas Social Services benefits, SNAP, Medicaid, CHIP, and Pregnancy Medicaid from Children's Books on Wheels services. Local church assistance ministry teams will be providing information on how they can help your family. More resource agencies will be joining us.
SOS Resale Shop will hold a free clothing giveaway for all ages…. men, women and children.
Prayer partners will meet you at the Prayer Station and pray with you about your heart's concerns.
Register to win door prizes announced every hour! For more information, contact Shirley@SocietyOfSamaritans.org or call 281-259-8452 or visit www.societyofsamaritanstx.org. Check out the event on Facebook where to stay up to date as other agencies and hiring companies join.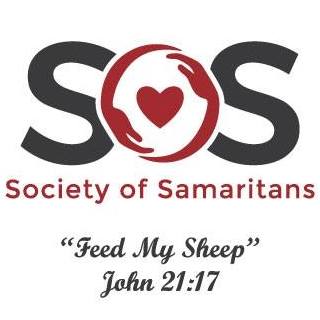 Society of Samaritans Inc. (SOS) has served the Magnolia area for 34 years now, since 1986. Our heart is to communicate the Gospel as we model the love and compassion of Jesus Christ by providing food, clothing, emergency financial assistance, support for youth experiencing abuse, and job assistance services to our neighbors in the Greater Magnolia area. So far this year, we touched the lives of our neighbors with needs over 40,000 times! For more information or to reserve a booth at no cost for your agency or hiring business, contact Shirley@SocietyOfSamaritans.org, 281-259-8452. www.societyofsamaritanstx.org.