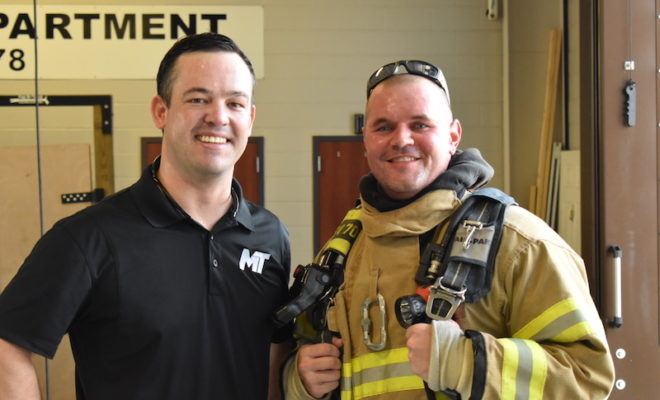 News
Spring Firefighter returns to duty after serious injury
By |
Last summer, Spring Firefighter Jason Randall suffered what could have been a career-ending injury to his back. Today, he returned to work stronger than ever thanks to the help he received from the Spring Fire Department and Metis Tactical.
Randall, who had a preexisting injury from serving in the Navy, aggravated his military injury when pulling a large diameter hose while working as the large apparatus operator for the Spring Engine 73 crew.
At the time, his doctors all agreed that his injury had effectively ended his career as a firefighter.
"All three neurosurgeons that had operated on me said that I need to find a different career," said Randall who was determined to get back in his bunker gear.
Spring Fire recruited the help of Metis Tactical to rehabilitate Randall after his surgeries. An athletic training company, Metis Tactical works to both prevent injuries in first responders and rehabilitate those hurt in the line of duty. Metis Tactical founder Hunt Whitten is a licensed athletic trainer, as well as the Ponderosa Fire Department's fire health and safety officer.
"At Metis Tactical we have a saying, 'Protect your most valuable resource.' Your personnel are always your most valuable resource," Whitten said. "Most of the time, after a significant injury firefighters will get tossed to the curb and seen as a liability, but at the Spring Fire Department that's not how they treat their members."
After three months of training with Metis Tactical, Randall passed the return to duty test with flying colors. In fact, Whitten says Randall is returning to work stronger than before his injury.
"The test replicates essential job tasks," Whitten said. "It's ensures that he is able to perform all the essential functions of a firefighter after coming back from an injury."
Randall is grateful that Spring Fire and Metis Tactical gave him the tools to return to his passion for firefighting.
"I couldn't have been a part of a program like this without Spring Fire, financially or trying to find someone who cared about me getting back to work the way Metis Tactical does," Randall said. "It's more than just being back on the truck, I actually get to do what I love for hopefully years to come."
Learn more about the Spring Fire Department at springfd.org.
Hannah Falcon is a sophomore Communication major at Texas A&M University. A Staff Writer and Life & Arts Editor for the Texas A&M Battalion, Falcon is spending the summer as a volunteer writer for Spring Fire Community News.
Source: Spring Fire Department