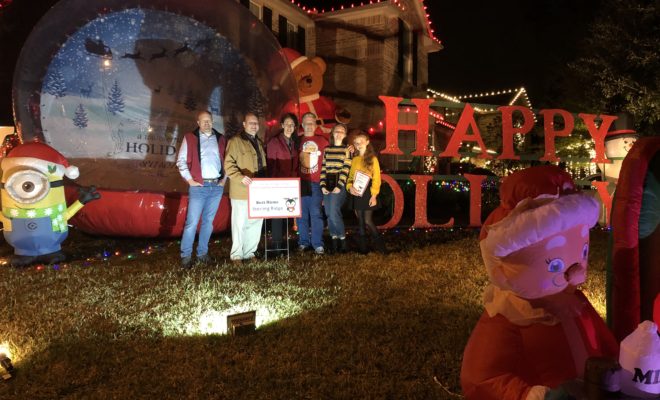 Lifestyle
Sterling Ridge Announces Holiday Lighting Contest Winners
By |
THE WOODLANDS, TX – Every year, the Sterling Ridge Village Association (SRVA) awards a Best Home and Best Neighborhood in its Holiday Lighting and Decorating Contest. The SRVA Board members judged this year's holiday displays the week of December 10.
There are two categories of awards: Best Home in the village and Best Neighborhood in the village. A neighborhood is broadly defined as a few homes located in close proximity, or an entire cul-de-sac or subdivision. Best Home prizes include a yard sign and plaque. Best Neighborhood receives a yard sign and passes to The Woodlands Ice Rink.
The SRVA Board had a difficult time choosing a winner, especially for Best Home, as many homes in Sterling Ridge had creative decorations. SRVA reached its decision and handed out awards for Best Home and Best Neighborhood on December 17, 2018.
Two houses were recognized by the SRVA Board on Sterling Ridge's Facebook Page for creativity. The Gingerbread House in Winterra was noted by the Board for creative decorations with a great theme. Also, special recognition in the Best Home category was given to Planchard Ct., in Montfair by Deretchin Elementary, unmistakeable by its bright blue glow and amazing display of lights.
Although it was a close decision, the winner for Best Home went to the house on W. Archwyck, which has won this award 3 out of the past 4 years.
This year's winner for Best Street went to Player Oaks. The award was presented to a crowd of residents with the fire department on hand. Neighbors enjoyed celebrating their award and got a chance to mingle and share a little Christmas cheer.
Sources: Patrick Graham, President of Sterling Ridge Village Association; Sterling Ridge Facebook Page; Elizabeth Kassan-Bisbee