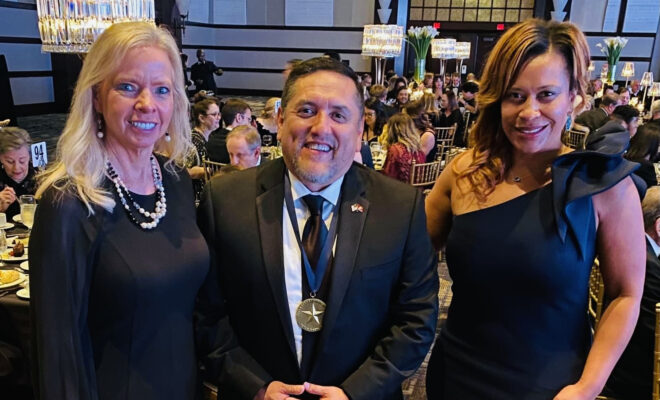 Business
Texas Business Hall of Fame awards Local Veteran Owned Business with the NAU Marine Corps Award
By |
The Texas Business Hall of Fame recently held their annual scholar and veteran awards luncheon. Local veteran business owner Miguel Lopez was one of four veteran business owners from the State to be recognized.
Each year the Hall of Fame selects emerging leaders from higher education institutions as well as four veterans to be recognized for their professional and entrepreneurial excellence. Winners are interviewed and selected by Hall of Fame legends, Directors and distinguished Alumni. In addition to a financial award of $15,000, Lopez and the other recipients are invited to become permanent and active members of the Hall of Fame network. The prestigious luncheon was hosted in Houston on Thursday, November 3, 2022 at Hilton Americas.
Miguel launched CONGANAS in late 2021, as a "small business champion" he works with business owners and entrepreneurs at varying stages of their business cycle: pre-venture, start-up, and existing. "I am incapable of properly conveying what being recognized for this award means to me. Thank you to the Texas Business Hall of Fame, it's truly an honor," said Lopez.
To cap off the day, the Hall of Fame honored six new inductees for its 40th anniversary and Induction Dinner: John Arnold (Houston), Ric Campo (Houston), Whitney Wolfe Herd (Dallas), Thomas O. Hicks (Dallas), Jeffery D. Hildebrand (Houston), and Paul W. Hobby (Houston).The scholar and veteran award recipients were also recognized at the dinner.
Advertisement
The Texas Business Hall of Fame Foundation was created in 1982 by a small group of Texas businessmen and women to focus awareness on the positive achievements made by outstanding business leaders and to honor their contributions to their community and state. They tell their stories to inspire and instill their same sense of enterprise, community, and excellence in all generations of Texans.
Source: Conganas