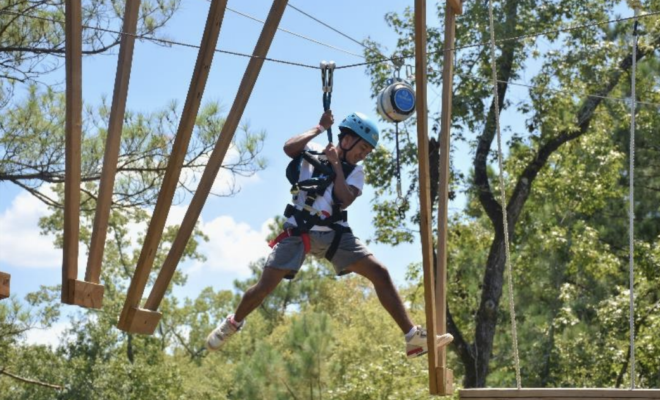 Photo Credit: The Woodlands Township
News
Texas TreeVentures offers summer reservations through August 16
By |
Texas TreeVentures, a challenge-by-choice aerial adventure course in The Woodlands Township, is open for summer reservations. The course is open Thursday through Monday (closed Tuesday and Wednesday) through Monday, August 16, 2021. Reservations are required, book yours online at texastreeventures.com.
Waivers can be found online at texastreeventures.com and must be filled out by each participant prior to arriving. Closed toe, closed heel shoes are required; no hats or loose clothing/jewelry. Personal items must fit into a gallon size ziplock bag in order to be held behind the desk during your reservation. Plan to arrive at least 20 minutes before your reservation time to accommodate check-in, storage of personal items, restrooms, etc. Parking is free and is located at The Recreation Center at Rob Fleming Park. For additional FAQs, please visit: texastreeventures.com/faqs.
Located on the campus of The Recreation Center at Rob Fleming Park, 6464 Creekside Forest Drive, Texas TreeVentures is a challenge-by-choice aerial adventure course for individuals six years and up. This fun environment spans three levels and over 70 challenging elements! There are certain restrictions and supervision requirements. Texas TreeVentures offers general admission, group rates, birthday party options, corporate events and more.
Follow Texas TreeVentures on Facebook, Instagram or Twitter @TXTreeVentures for the latest news and updates. Questions? Please call 281-210-2048 or email info@texastreeventures.com..
Source: The Woodlands Township