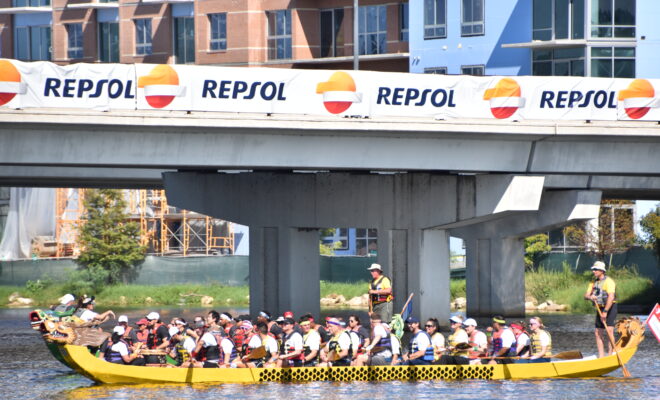 Photo Credit: The Woodlands Family YMCA
Events
The 22nd Annual Woodlands Family YMCA Dragon Boat Team Challenge registration opens
By |
After a one-year hiatus due to the coronavirus pandemic, Dragon Boat races return to The Woodlands! The YMCA is proud to announce that Repsol is returning as the presenting sponsor, a partnership that began in 2015. Together, we strive to create a stronger community and restore hope and well-being to all.
"Repsol is proud to partner with The Woodlands Family YMCA to promote the safety and wellbeing of the community where we live and work," said Ferdinando Rigardo, Repsol's Executive Director for the Americas Region. "This event highlights the value of teamwork and diversity through fun and friendly competition, which our team in Repsol looks forward to every year. Importantly, it also helps provide equal access to wellness and educational programs to build safe and healthy individuals and communities."
Registration is now open for the 22nd Annual YMCA Dragon Boat Team Challenge, presented by Repsol.
The four-day event, scheduled for September 30 — October 3, will be held at Northshore Park in The Woodlands. Teams participate in a single 4-hour bracket, 8 am—Noon or 2-6 pm. Teams are encouraged to register early because limited spaces are available.
Are you looking for a unique, fun and no-hassle team-building outing? YMCA Dragon Boat is for you! The YMCA does all the planning and facilitating. All you do is register, recruit your team and show up full of spirit and ready to play. The event promises teamwork and camaraderie at their best and allows participants to visit and play with old friends and make new ones. Teams work hard and encourage teammates to reach a goal, all while having a blast! Who will take home the coveted "Dragon"?
A team is comprised of a minimum of 20 members but no more than 30. Each team roster must have a minimum of 5 females and participants must be at least 18 years of age. High School teams, 9*—1 2th grade, are eligible to participate in the Sunday morning bracket.
The event features 6 different team activities, but the Dragon Boat races are the main event. The boats, owned by The American Dragon Boat Association, are transported from Cedar Rapids, lowa. Dragon boats are 40 feet long, extremely colorful and weigh over 1,800 pounds each! This exciting team-building event is designed to build community spirit among corporations, civic groups and community organizations. The activities are designed to bring individuals together to achieve a single goal – to have fun and build relationships! They achieve this by becoming a team and working together as a synchronized unit. It's much more than "beating the other team." It is the camaraderie and team spirit, connecting with old friends, meeting new friends and laughing. Along with improving health, whenever teamwork is involved, there's the added benefit of being linked to others. It is adults having the opportunity to play like kids!
Celebrating 22 years rowing for a cause, the YMCA Dragon Boat Team Challenge benefits the Y's Annual Campaign, which ensures the Y can offer unique opportunities for families to come together in a safe place, create a welcoming environment for all, and ensure that everyone has access to our YMCA and its programs, regardless of age, income, background or circumstance. The YMCA is not just a place, but a purpose.
Every dollar raised is an investment in our community and our future. We row so dreams can grow!
Thank you to our generous sponsors whose support has kept the event growing and evolving and helping the YMCA multiply its impact in the community: Repsol, The Woodlands Township, Memorial Hermann The Woodlands Medical Center, Houston Methodist The Woodlands, St. Luke's Health The Woodlands, Raising Cane's, Alight, Charbonneau Industries, Woodforest National Bank, Excelerate Energy, Newpark, and Strike.
Spectators are encouraged to stop by and cheer on their favorite team. Admission is free for spectators.
For more information visit www.ymcadragonboat.org or contact Roxanne Davis at 281-681-6730 or rdavis@ymcahouston.org.
First organized in 1886, the YMCA of Greater Houston is one of the city's leading nonprofits dedicated to strengthening communities through youth development, healthy living and social responsibility. The YMCA, a United Way of Greater Houston agency, seeks to serve all – regardless of age, income, faith or background and we welcome everyone. In the greater Houston area, 25 YMCA centers, one overnight camp and hundreds of program sites nurture the potential of children and teens, improve the city's health and well-being, and provide opportunities to give back and support neighbors. Anchored in the Houston community, the Y has the long-standing relationships and physical presence not just to promise, but to deliver lasting personal and social change.

To learn more, call 713-659-5566 or visit us on the web at ymcahouston.org.