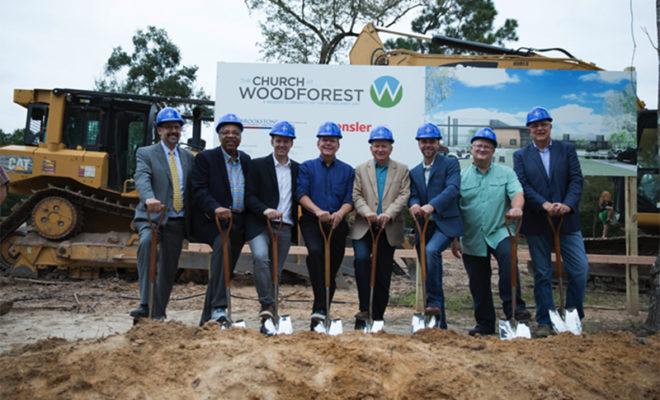 Events
The Church At Woodforest Celebrates Groundbreaking
By |
THE WOODLANDS, TX – The groundbreaking ceremony at The Church at Woodforest on Sunday evening, September 23, 2018 was a time to celebrate the realization of a dream that started several years ago when The Woodlands United Methodist Church began exploring places to start a new church. They settled on the Woodforest community and purchased the land that would become the eventual home of The Church At Woodforest.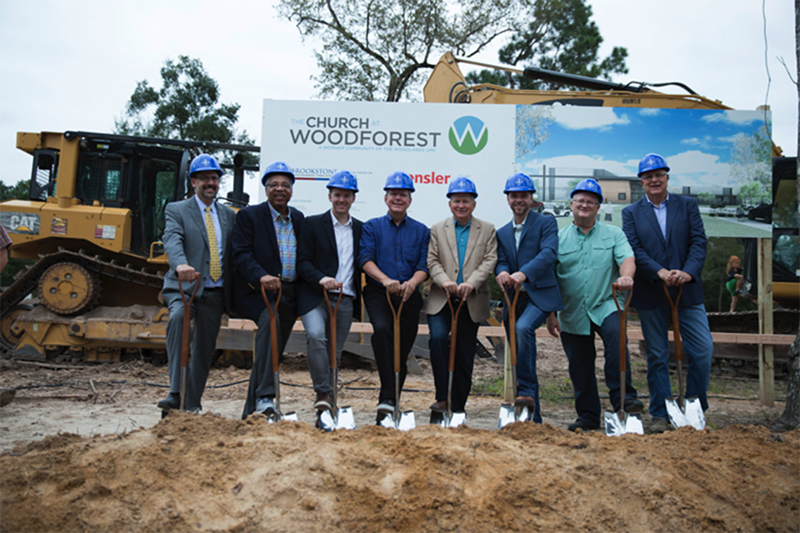 On Sunday evening, church members along with people from the community gathered outside to celebrate the groundbreaking of their first building as part of The Woodlands United Methodist Church REACH building campaign. The celebration started at 5:30 p.m. with an all-church cook out of hamburgers and hot dogs. With bulldozers and piles of dirt in the background, families enjoyed food and fellowship while the kids played around the trees.
The festive atmosphere continued as the Woodforest Pastor, Rev. Brent Parker, opened the ceremony with a warm welcome to all who attended. Dr. Ed Robb, Senior Pastor of The Woodlands United Methodist Church, recognized the developers and the architectural company Gensler for their help in planning the new facility.
Staff members representing different ministries within The Woodlands United Methodist Church turned spades of dirt as ministry leaders spoke words of blessing over the church.
The theme of the evening focused on The Church at Woodforest becoming a beacon of light for the future of the Woodforest community. Rev. Brent Parker shares, "Long before we purchased this land, made plans for the structure we would build, or broke ground, God was preparing the way for His Church. He has been faithful to provide all that we need, and now we are being called to respond by continuing to live out God's call to win people to Jesus Christ, disciple them in the faith, and to help those in need."
The building will be completed in the fall of 2019 and built on the property across the street from Stewart Elementary. It will be a multi-use facility for worship, ministry programs and community-wide events. The facility will include a gymnasium, large group/worship space, nursery and a parking lot.
The goal is for The Church at Woodforest to be a place for the entire Woodforest community to meet, play, fellowship and grow together. Dr. Ed Robb believes, "A building campaign is not about constructing more buildings; it's about building more community and relationships for future ministry that extends beyond the church. And that is our expectation for this church in this community."