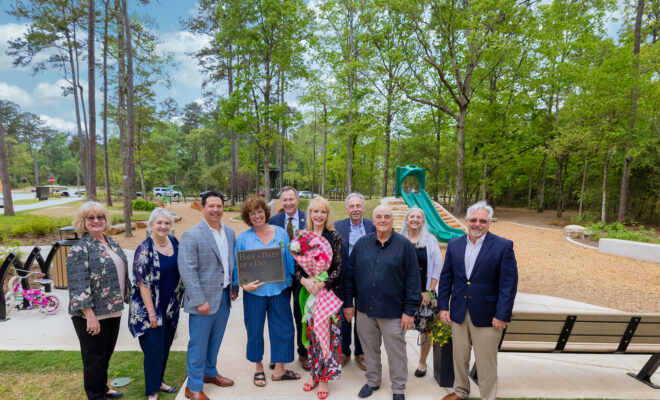 Home & Garden
The Howard Hughes Corporation® Officially Opens New Park and Celebrates New Model Home
By |
CONROE, TX – The Howard Hughes Corporation® (NYSE: HHC) hosted a luncheon for local Realtors® with a ribbon-cutting ceremony for the new Sue Luce's Daisy Park on Wednesday, April 7 in The Woodlands Hills®. Along with the ceremony, Howard Hughes partnered with Perry Homes to celebrate the builder's new, one-story, fully-decorated model home in The Woodlands Hills, one of Houston's newer award-winning master planned communities in Conroe and Willis, located 13 miles north of The Woodlands®.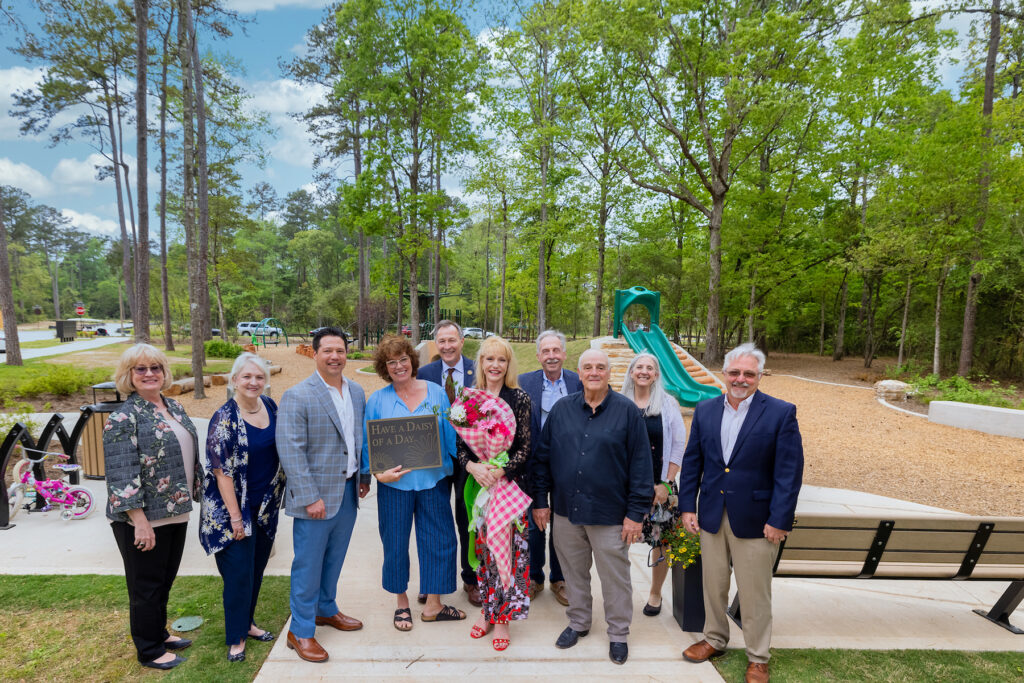 Nestled in the trees, Sue Luce's Daisy Park is a one-acre park, which serves as the social and recreational focal point for nearby neighborhoods. This whimsical activity park utilizes nature as the playground for younger and older children, featuring a giant spider climber, stepping logs and a hill that youth can climb up and roll down. Its playground, called Branch Out, creates a tree fort within the park. It also features ADA-compliant swings. A pavilion serves as an area for gatherings with family and friends. To take in a little more nature, a natural trail bisects the park highlighting the native flora and fauna. A giant 24-foot native white oak tree is a highlight of Daisy Park.
Sue Luce's Daisy Park is named in memory of the late Sue Luce, who was a successful Conroe Realtor and pillar of Montgomery County. Her daughter, Nelda Luce Blair, won the naming rights in a charitable donation bid that benefited the Montgomery County Community Foundation. The auction item was donated by The Howard Hughes Corporation.
Among the dozens of guests were Nelda Luce Blair and her family including her sister Kimberly Dollar, team members from Howard Hughes, Montgomery County Community Foundation, Perry Homes, and homebuilders in The Woodland Hills, and local real estate agents.
"We are honored to commemorate the official opening of Sue Luce's Daisy Park, with her family remembering her legacy in Montgomery County," said Heath Melton, Executive Vice President, MPC Residential for Howard Hughes. "The parks in The Woodlands Hills embrace the natural beauty of The Woodlands Hills and foster opportunities for residents to enjoy health and wellness with neighbors in this wholesome community. Additionally, we are proud to partner with Perry Homes to help debut their stunning model home and showcase the excellence of our newest builder."
Perry Homes recently opened its fully-furnished, beautifully decorated model home on Terralyn Grove Loop, showcasing its excellence in quality homebuilding.
One- and two-story new Perry Homes are available on 75-foot homesites, priced from the $530s and ranging from 3,000 to 4,900 square feet. Diverse, lifestyle-friendly floorplans include up to five bedrooms, four full baths, three-car garages and optional extended covered patios. Popular design features include island kitchens with built-in seating spaces, libraries with French doors, soaring ceilings and game rooms along with smart home technology.
Offering the highest quality and attention to detail with exceptional value, Perry Homes has been a Texas tradition for over 50 years and is recognized for its excellent customer service satisfaction rating in the industry and an industry-leading home warranty.
Perry Homes is among eight popular, local and national homebuilders, which also include Century Communities, Chesmar Homes, David Weekley Homes, Gehan Homes, Highland Homes, Ravenna Homes and Westin Homes. These quality builders offer one- and two-story single-family homes and patio residences, set on a variety of lot sizes including the low-maintenance 40-, 45- and 50-foot homesites, 65-foot sites and spacious 75-foot homesites. Homes are priced from the $240s to more than $600s.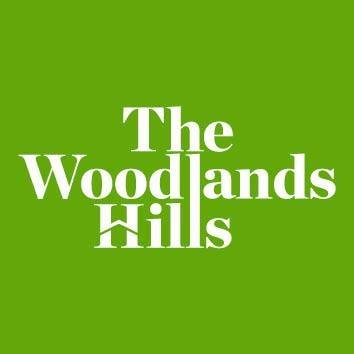 Opened in the summer of 2018, The Woodlands Hills is an award-winning 2,055-acre master planned community offering an abundance of nature-inspired amenities, eventually featuring approximately 112 acres of open space. The acclaimed 17-acre Founders Park provides an Activity Center as its focal point with indoor and outdoor space, a state-of-the-art fitness center and a yoga/events lawn. Founders Park also features leisure and fitness pools, lazy river, sprayground, an innovative playground, a dog park and tennis courts. Forested trails as well as dedicated bike lanes on major connectors are available for the community to enjoy. With the newly-opened Sue Luce's Daisy Park and Rick and Roz Dauzat Peace Park, The Woodlands Hills will eventually be home to 20 neighborhood parks. The Woodlands Hills was recently recognized as a Quality Planned Development™ by the West Houston Association and North Houston Association. For more information, visit TheWoodlandsHills.com and like us on Facebook, Twitter and Instagram.

The Howard Hughes Corporation owns, manages and develops commercial, residential and mixed-use real estate throughout the U.S. Its award-winning assets include the country's preeminent portfolio of master planned communities, as well operating properties and development opportunities including: The Seaport District in New York; Columbia, Maryland; The Woodlands®, The Woodlands Hills, and Bridgeland® in the Greater Houston, Texas area; Summerlin®, Las Vegas; and Ward Village® in Honolulu, Hawaiʻi. The Howard Hughes Corporation's portfolio is strategically positioned to meet and accelerate development based on market demand, resulting in one of the strongest real estate platforms in the country. Dedicated to innovative placemaking, the company is recognized for its ongoing commitment to design excellence and to the cultural life of its communities. The Howard Hughes Corporation is traded on the New York Stock Exchange as HHC. For additional information visit www.howardhughes.com.