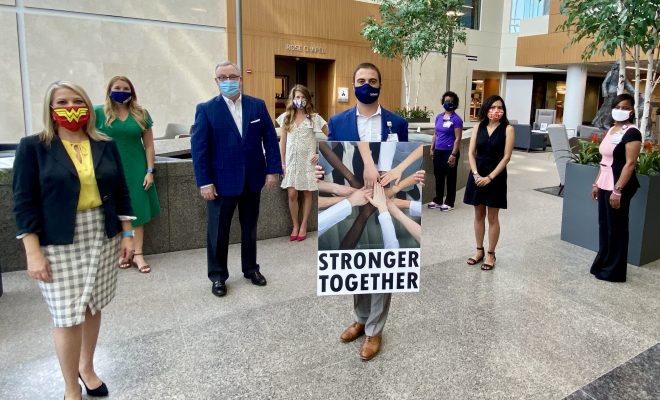 Health
The Woodlands Area EDP Honors Healthcare Workers
By |
THE WOODLANDS, TX – The Woodlands Area Economic Development Partnership (EDP) launched a Stronger Together campaign in May to acknowledge and thank the heroes in various industries serving on the front lines during the COVID-19 pandemic. While local frontline healthcare workers continue to feel the impact of the pandemic daily and with no end in sight, it is more vital than ever that this campaign continue.
On Thursday, on behalf of the EDP Board of Directors and Partners, the economic development team delivered 7,500 multicolored bracelets embossed with the message "STRONGER TOGETHER" to CHI St. Luke's Health The Woodlands Hospital, Houston Methodist The Woodlands Hospital, Kelsey-Seybold Clinic The Woodlands, Lone Star Family Health Center, MD Anderson Cancer Center The Woodlands, Memorial Hermann The Woodlands Medical Center, and Texas Children's Hospital The Woodlands.
The campaign message is to serve as a daily reminder to the frontline healthcare workers that they are not alone, we are stronger together, and we can and will make it through this, united. The EDP challenges local area businesses to also support the hospitals and healthcare facilities throughout our community during this unprecedented time.
"We were inspired that this small token of appreciation was so warmly received by our community partners. It is important to raise the visibility of the critical work healthcare teams do by honoring our doctors, nurses, innovators, and leaders. With nearly 10,000 of them currently serving The Woodlands Area, healthcare remains our community's leading industry sector.
Many are members of hospital staff, but many also serve in our smaller clinics and nursing homes to provide lifesaving services. We persist #StrongerTogether across our communities to create a healthier today and a brighter tomorrow," said Mariana Almanza-Cook, Director of Business Retention & Expansion.
Partners who support the EDP mission and make efforts like this possible include: A Strong CPA, adWhite Marketing & Design, Alight Solutions, Amegy Bank of Texas, American Financial and Automotive Services, Amerprise Financial, Kristin L Young, Avion Wealth, Bank of Texas, BB&T now Truist Bank, BBVA, Black Forest Ventures, LLC, Briggs & Veselka Co., Caldwell Companies, Calvetti Ferguson, Carr, Riggs & Ingram, LLC, Centerpoint Energy, Cherry Creek Mortgage, Chevron Phillips Chemical Company, CHI St. Luke's Health The Woodlands Hospital, City of Oak Ridge North, City of Shenandoah, Commissioner James Noack – Montgomery County Precinct 3, Consolidated Communications, Corporate Incentives, Inc., Cypressbrook Company, D.E. Harvey Builders, Entergy Texas, ET Design-Build, First American Title, NCS, First Financial Bank, Frost Bank, Gallagher Benefit Services a division of Arthur J. Gallagher, Haley Garcia Group, Harman Wealth Management, Haynie & Company, Heightened Leaders, Houston Advanced Research Center (HARC), Houston Methodist The Woodlands Hospital, Jones Walker, Kean Miller, Kelsey-Seybold Clinic The Woodlands, Linscomb & Williams, Lone Star College System, Market Street The Woodlands, Martin Brower, Matrix Technologies – Aqua Auto Wash Detail and Lube Center, McKesson Specialty Health, Memorial Hermann The Woodlands Medical Center, Move Resource Group, Nexeo Solutions, Northwestern Mutual, Occidental Petroleum Corporation, OneSource, Petroleum Wholesale, PlainsCapital Bank, Repsol USA, Rice Business Executive Education, Richmond Realty – RE/MAX The Woodlands & Spring, Riddle & Butts, LLP Attorneys at Law, Robichau Jewelry, Sam Houston State University, Soules Insurance Agency, Stephen F. Austin State University, Stibbs & Co., P.C. Attorneys, Strike, LLC, Texas Children's Hospital The Woodlands, The Blair Law Firm, The Club at Carlton Woods, The Howard Hughes Corporation®, The John Cooper School, The Strong Firm, The University of Texas MD Anderson Cancer Center, The Woodlands Area Chamber of Commerce, The Woodlands Christian Academy, The Woodlands Resort, The Woodlands Township, Tough Law Firm, PLLC, Trustmark Bank, United Way of Greater Houston, Waste Connections, Waterway Wealth Management, Webber, Wells Fargo, Westwood Magnolia Parkway Improvement District, Winstead PC, Woodforest Development, Inc, Woodforest National Bank, Wright Business Technologies, Inc., Wright's Printing & Marketing and Zenith Real Estate.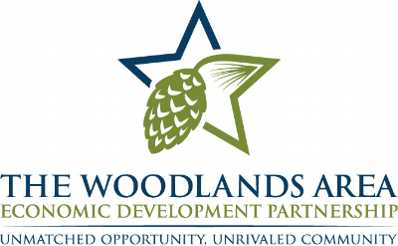 The Woodlands Area Economic Development Partnership (EDP) is a non profit organization dedicated to promoting the economic development of The Woodlands Area through the support of existing businesses and the recruitment of new businesses that can bring job opportunities and capital investment to the area.
The EDP is a public/private partnership with 90 funding partners active in the organization. For further information on the EDP, log on to: www.edpartnership.net or call 281 363-8130.