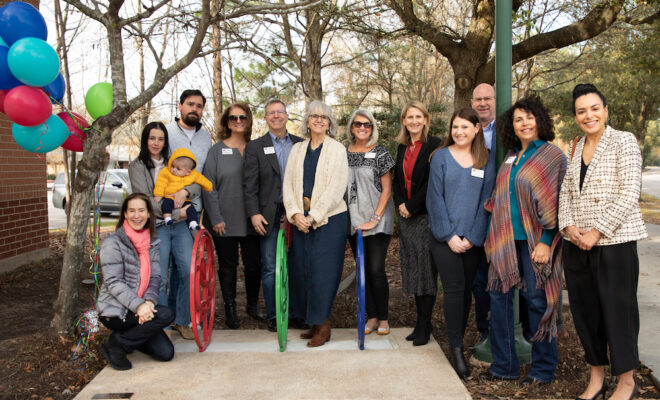 Photo Credit: Rod Prado, Hello Woodlands
Art & Culture
The Woodlands Arts Council presents Public Art reveal of Give Back Bike Rack
By |
On the morning of Thursday, January 12, 2023 The Woodlands Arts Council (TWAC) presented a Public Art reveal of the Give Back Bike Rack "Tokens of Gratitude" located in the front of Town Green Park off Lake Robbins Dr.
View photos taken by Rod Prado at the event on the Hello Woodlands Facebook page:
The Give Back Bike Rack was TWAC's 2021 Giving Tuesday fundraiser. Designed by local artist John Truman, the names of the 50 donors who underwrote the bike rack were inscribed by Marlo Saucedo. The new bike rack complements the 30 existing public art benches located along The Woodlands Waterway and on the shores of Lake Woodlands in Hughes Landing. More bike racks are slated to join the public art collection in The Woodlands in Fall 2023.
TWAC underwriters, patrons, board members, and volunteers were in attendance when TWAC Executive Director Jenny Carattini Wright and TWAC Board Vice President Glen Rector revealed the Give Back Bike Rack. Guests were also encouraged to take photos with the bike rack.
Learn more about The Woodlands Arts Council and the Give Back Bike Rack at https://www.thewoodlandsartscouncil.org/p/programs/public-art/the-give-back-bike-rack.