Photo Credit: The Woodlands Christian Academy
Art & Culture
The Woodlands Christian Academy expands Fine Arts Department with New Director and Staff
By |
The Woodlands Christian Academy (TWCA) is excited to announce that their Fine Arts Department is growing and looks forward to introducing the new Fine Arts Department director, Phil Sweger, to students and the community this fall along with new staff members and arts programs.
TWCA believes that God has shared His divine gift of creative artistry for the benefit of each child; that the Fine Arts are an integral part of a student's well-rounded education and provide a powerful opportunity to glorify God. The goal of TWCA's Fine Arts Program is to prepare students for the 21st century by:
educating each student in creativity, critical thinking, collaboration and communication skills;
empowering each student to discern and express Truth, faith, beauty, meaning and purpose through the arts;
equipping each student with the skills to attain proficiency and pursue excellence in their field;
inspiring each student to explore ways to integrate the Fine Arts with other disciplines.
Hello Woodlands talked with Julie H. Ambler, Head of School at The Woodlands Christian Academy since 2006, about the growing Fine Arts Department in an interview. View the interview questions and responses below.
What makes the Fine Arts Department unique at The Woodlands Christian Academy?
"As a Christian school, we believe that God is a creative being and that he created humans in his image. Therefore, creative expression through fine arts offers a way for our students to discover and express their unique gifts and talents while bringing glory to God."
Why is it important to educate students on the arts and include Fine Arts as part of the curriculum? How many students are involved in Fine Arts programs at TWCA?
"Exposure to the fine arts helps students to appreciate the beauty of God's creations. Learning to play an instrument, perform in front of others or express their thoughts through paint helps students to master difficult skills and develop confidence in their abilities to set and achieve challenging goals. Students learn best when they are physically and mentally engaged and able to express themselves creatively. A well-rounded education in the arts also helps students to appreciate the gifts of others."
The TWCA Fine Arts Department is growing with a new director and staff. What is the cause for this growth?
"The Woodlands Christian Academy is still a relatively young school. Our founders placed a heavy emphasis on developing students spiritually, academically and physically. Therefore, we have focused on building a Christ-centered community, rigorous college-preparatory academics and competitive athletic programs. With these now well-established, we are able to concentrate on building a first-class fine arts department."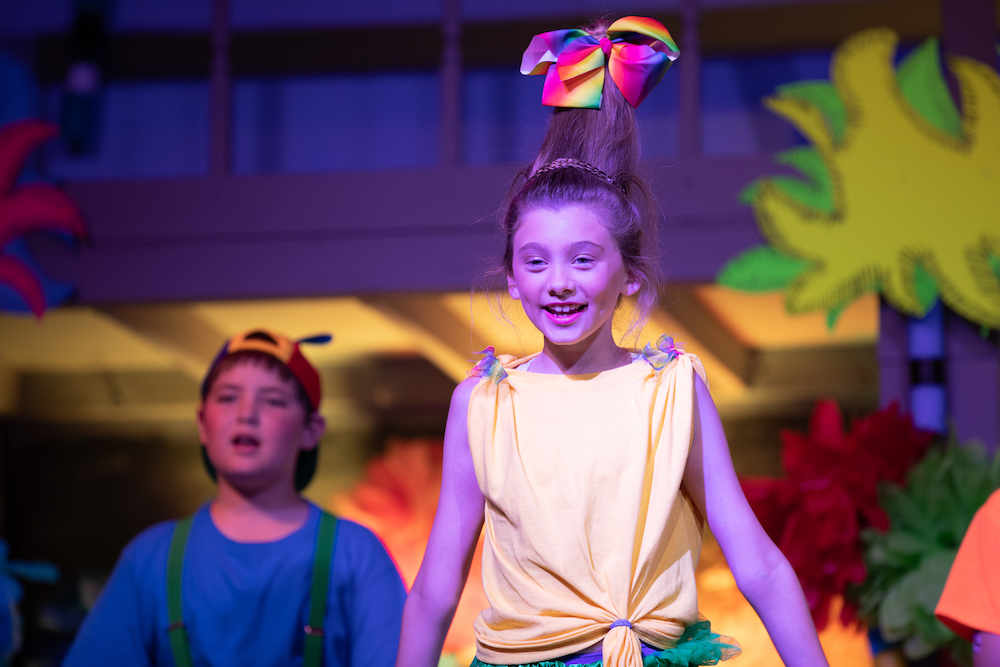 What is the vision for the future of TWCA and the Fine Arts Department. What can current and future students and staff expect?
"We already have excellent teachers leading band, choir, music, theatre and the visual arts. Our first priority has been to unify their efforts under the direction of our fine arts director and to reimage many of our traditional classes and performances. This year, we added classes in worship arts and drum line. Next year, we will be adding a dance program to teach a wide range of dance skills and provide Broadway-style choreography to our annual musicals. We're also adding additional classes in visual and graphic arts. Eventually, we look forward to developing a fine arts complex here on our 40-acre campus to include a performance hall, black box theatre and state-of-the-art classrooms and rehearsal spaces."
Does TWCA's Fine Arts Department get involved in the community and/or host art shows or events that the community can view/participate online or in-person in the near future?
"Our students participate in numerous musicals, concerts and art shows here on campus. They also perform at community events and enter major competitions. Especially this year, many of these performances and shows have been virtual and available to our families via a link with highlights posted on our website. We are also able to live stream events for grandparents and other friends and family who live far away. Of course, we look forward to resuming live events hopefully next year and inviting our school and the greater community back to our campus."
Anything else you would like to share about the TWCA's Fine Arts Department, new director, staff and students?
"In tandem with growing our fine arts department, we are also expanding our STEAM programs through the expansion and addition of labs and faculty. Creative design is an important part of solving problems in science, technology, engineering and math, and we believe the enhancement of both departments will better prepare our students intellectually and creatively."
Advertisement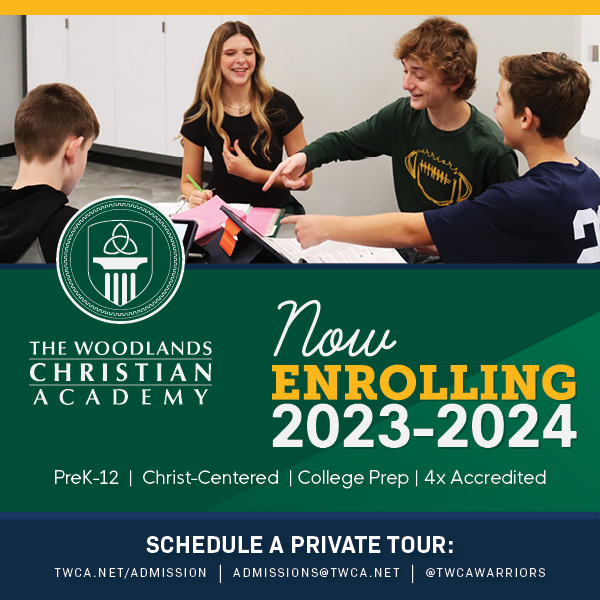 Hello Woodlands also talked with the new Fine Arts Department Director, Phil Sweger. View the interview questions and responses below.
Please share about yourself, your background and experience in teaching and/or directing Fine Arts.
"I have been in Christian education as a teacher and director for the past 17 years. I started teaching band and choir at Christian School of York in York Pennsylvania. I then moved to Texas and taught band at Houston Christian High School where during my time there I became the Performing Arts Department chair. I began working at TWCA in the fall of 2020."
What makes TWCA and the Fine Arts Department unique? Why did you choose to accept the position?
"TWCA is unique in that it is poised for greatness in the Fine Arts. The teachers that are here have done an incredible job laying the foundation for the growth that is coming."
What are you looking forward to in your new role at The Woodlands Christian Academy?
"I love to build teams and collaborate with other 'creators.' This goes beyond Fine Arts. Looking for ways to work with athletics and academics, building relationships with all the people who make the school function is very important. Also finding the gifts that each person has and giving them the freedom they need to use those gifts in their own program as well as the overall department is very exciting. It is amazing what happens when you bring a diverse group of educators together to create an experience for students such as a concert or a musical. There really is no limit to what can come out of those events."
What new programs, changes, and goals can the Fine Arts Department expect under your direction?
"For the coming year we are expanding our FA program to include Dance. We have hired a dynamic teacher and performer who will be able to train our students in all areas of dance at a very high level. This will be a great way for our students who love dance to challenge themselves in their abilities as well as opening new opportunities to perform. We are also adding Graphic Design and Photography as a visual arts elective. We have had those classes before, but are now going to develop those at a deeper level. Finally the overall goal is to add more layers to each of our electives. Meeting the needs of our students where they are and equipping them for the next level of performance/mastery."
Anything else you would like to share about your new role and vision for TWCA's Fine Arts Department?
"I am thankful to be at a school that values Fine Arts equally and understands that is one of the components to making well-rounded students. Many schools say that Fine Arts are important, but at TWCA it is part of the greater mission."
The Woodlands Christian Academy is a PreK through 12th grade college preparatory school that integrates learning with biblical faith and challenges students to reach their highest potential – spiritually, academically, physically and socially. For more information visit twca.net.