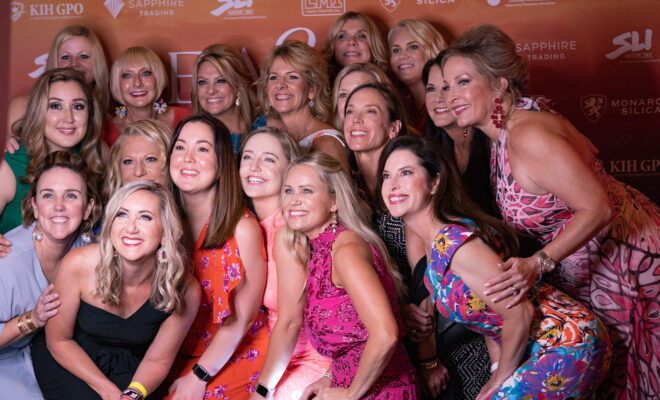 Source: The Woodlands Christian Academy
Events
The Woodlands Christian Gala nets nearly $1,000,000 for expansion of school's STEAM and Fine Arts programs
By |
On Saturday, May 1, The Woodlands Christian Academy held their annual Auction & Gala at The Woodlands Waterway Marriott. Over 300 guests attended the event, with Liberty Materials, Inc. and Monarch Silica serving as the 2021 presenting sponsors. Net proceeds amounted to approximately $866, 841. These funds will be applied toward the expansion of the school's STEAM and Fine Arts programs.
"I give thanks to God for all the blessings He has bestowed upon Woodlands Christian, not just monetarily, but also through the generous hearts and hands of every person who took part in this year!s gala," said Julie Ambler, Head of School.
Dubbed the Seaside Soiree, guests arrived clad in beach wear — the men in tropical shirts and the ladies in flowing, breezy, island-appropriate dresses — while they noshed on charcuterie and enjoyed pre-dinner cocktails during the silent auction portion of the evening. Next came a plated dinner of beef tenderloin and crab cakes before the live auction began. Included among the 12 live auction items were a dove hunt in Cordoba, Argentina, a luxury stay at The Post Oak Hotel, complete with an arrival by helicopter and spa credits, and a private dinner with bourbon
pairings from The Refuge Steakhouse.
TWCA has pledged to offer more opportunities for students to tap into their gifts of creativity. So much so that they recently adjusted their mission statement to better reflect this commitment and have already expanded course offerings beginning in the fall. Mrs. Ambler believes that "by creating world-class STEAM and fine arts programs, students at The Woodlands Christian Academy will be inspired to develop their God-given gifts and talents and
to appreciate God!s beautiful creations."
The success of the Seaside Soiree will allow for more long-term goals to begin. Along with offering more STEAM experiences for students in all grades, TWCA plans to complete the buildout of a high school STEAM lab with a state-of-the-art broadcasting studio and expand the existent STEAM lab that currently serves students in kindergarten through 4th grade. Within fine arts, the school plans to further enhance the 350-seat Ruth Auditorium performance space with upgraded sound systems and lights and add portable staging.
The Woodlands Christian Academy is a PreK – 12th grade college preparatory school that integrates learning with biblical faith and challenges students to reach their highest potential – intellectually, creatively, physically and socially. They are now accepting applications for the 2021-2022 school year. For more information visit twca.net.