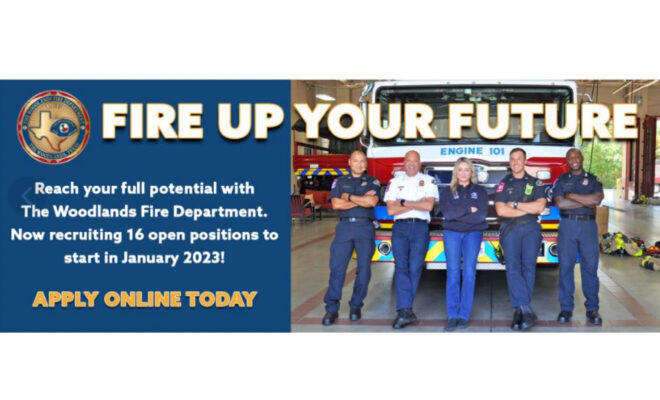 Business
The Woodlands Fire Department Opens Recruitment for New Fire Company
By |
THE WOODLANDS, TX – Are you interested in becoming a firefighter in The Woodlands? Do you know someone who is looking for an exciting career at a great department? The Woodlands Fire Department has opened recruitment for a new fire company to serve western portions of The Woodlands.
The recruitment requires hiring of 16 new cadets by the end of January 2023. Candidates must hold a Structural Firefighter Certification from the Texas Commission on Fire Protection and must be certified as an EMT-B or higher by the Texas Department of State Health Services.
Cadet firefighters protect life and property through firefighting and EMS activities and through participation in supervised drills and training. Starting salary is around $67,000 with opportunity for additional incentives, merit increases and promotions.
Those interested will be required to fill out an application and pass a physical and written test. Testing is scheduled for the weekend of Nov. 11-13, 2022, and will be conducted in The Woodlands area.
Potential cadet firefighters may apply directly online at www.thewoodlandstownship-tx.gov/jobs, or learn more at www.thewoodlandstownship-tx.gov/fire.
The Woodlands Fire Department is committed to providing superior emergency service and life safety education to the community, utilizing a highly skilled, professional workforce demonstrating care for our citizens and each other. The Woodlands Fire Department has an excellent team of deputy chiefs, battalion chiefs and professional firefighters who provide outstanding fire and life safety services to the residents of The Woodlands while maintaining the highest level of certification in the industry. The Woodlands Township Fire Department is rated ISO 1, the highest in the industry.
For additional information, please visit www.thewoodlandstownship-tx.gov/fire, or call 281-367-3444.