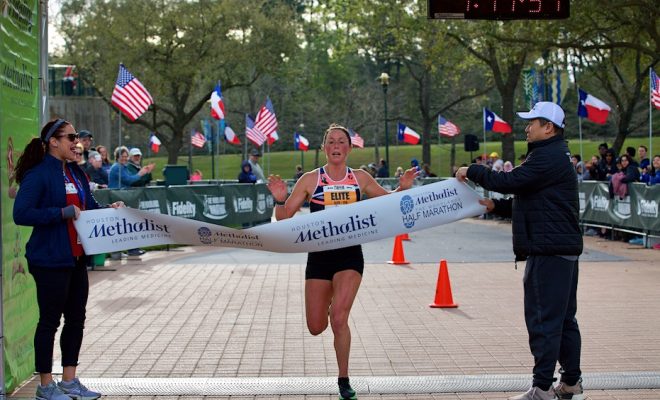 Photography by Rod Prado, Hello Woodlands
Fitness & Sports
The Woodlands Marathon Winners and Photos
By |
The 9th Annual Woodlands Marathon and Half Marathon was held on Saturday, March 7, 2020 with around 8,000 registered participants in The Woodlands, Texas.
The Woodlands Marathon is a Boston Marathon qualifier, the fastest course in Texas on average and one the top 25th fastest courses in the country. The race qualifies close to 11% of its registered runners in the marathon for the Boston Marathon. The marathon, half marathon, 5k, relay and 2k Fun Run traverse the streets of Town Center and the community on a pretty flat course, finishing on the scenic The Woodlands Waterway.
Friends, family and spectators lined the streets at various cheer zones in the Cheer Challenge and encourage athletes along the way, and participants had the opportunity to run for charities in the Charity Challenge. To date, over $1.2 Million has been raised for and donated to charities and volunteer organizations.
The winners of the 2020 Houston Methodist The Woodlands Half Marathon were Kiya Dandena and Allie Kieffer.
The winners of the 2020 Fidelity Investments The Woodlands Marathon were Benjamin Zywicki and Emily Parker.
View photos taken at The Woodlands Marathon by Rod Prado of Hello Woodlands on our Facebook page!
Learn more about The Woodlands Marathon and sign up for the 2021 race at thewoodlandsmarathon.com.