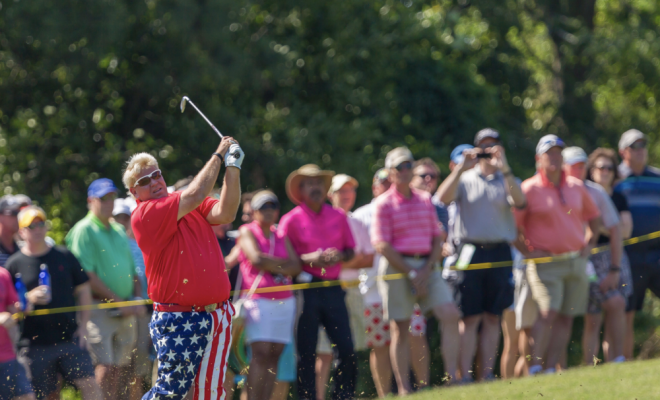 Photo Credit: Insperity Invitational
Fitness & Sports
Qualify to Outdrive PGA TOUR Champions Star John Daly at Insperity Invitational
By |
THE WOODLANDS, TX – The Insperity Invitational presented by UnitedHealthcare is encouraging Houston area golf fans to head to one of four qualifying locations to grip it and rip it for a chance of a lifetime to try and outdrive PGA TOUR Champions star, John Daly.
Coined Fuzzy's Ultra Premium Vodka Outdrive John Daly, the Insperity Invitational will host a Grip It and Rip It Long Drive Competition – giving up to 12 people the chance to outdrive John Daly following the first round of the PGA TOUR Champions tournament on Friday, May 1 at The Woodlands Country Club Tournament Course.
Participants will have the opportunity to qualify to compete against Daly at four public events held throughout Houston.
Public Qualifying Events
March 14 – Blackhorse Golf Club / 10 a.m. – 2 p.m.
March 19 – April 19 – PGA Tour SuperStore in The Woodlands and Katy / Can go anytime during regular store hours
March 21 – Atascocita Golf Club / 10 a.m. – 12 noon
March 28 – April 11 – Swing Zone in Tomball / Can go anytime during regular hours
Emceed by Fuzzy Zoeller, the 12 qualified contestants will each have three chances to outdrive John Daly on the driving range immediately following the first round of play at the 2020 Insperity Invitational. The contestant with the longest drive, who outdrives John Daly, will win a trip for two to play golf with Fuzzy Zoeller at his home course in Southern Indiana. The trip includes airfare, lodging, golf and dinner with Fuzzy.
Note: Contestants must be of USGA amateur status. Contestants must have a USGA handicap of no more than 18. Proof of handicap will be required.Contestants cannot have competed in a long drive contest, competition or exhibition beyond the local level. No regional, state, national or international competition allowed.
For more information on the Fuzzy's Ultra Premium Vodka Outdrive John Daly, please visit into www.insperityinvitational.com.
Source: Insperity Invitational