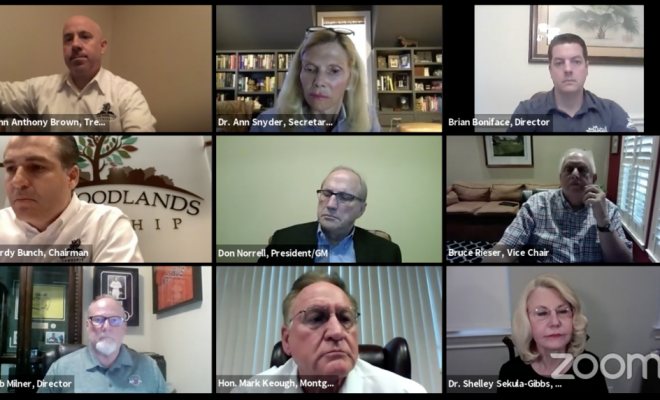 News
The Woodlands Township Board of Directors Meeting April 2
By |
The Woodlands Township Board of Directors held a Special Board Meeting on Thursday, April 2, 2020, at 6:00 p.m., via video conference within the boundaries of The Woodlands Township in The Woodlands, Texas, which may be viewed online at https://www.thewoodlandstownship-tx.gov/778/Meeting-Videos
Highlights of the Meeting include:
Montgomery County Judge Keough gave an update and answered the Board's questions.
Board of Directors approved the re-opening of the Community Gardens, including the Interfaith Veggie Village, while abiding by social distancing, scheduled rotations, and being monitored by staff.
Medical Supply Drop-off Program to launch Monday-Thursday 10am-2pm at Central Fire Station in The Woodlands.
Call Montgomery and Harris County COVID-19 Hotlines for questions: Montgomery County 936-523-5040 and Harris County 713-634-1110
The Woodlands Express reduced scheduled runs from 41 to 20 runs, but not reduced locations, as of April 6.
Funding of Local Nonprofits is critical. Monetary donations are needed and accepted online.
Mental Health Support Line for all Texans: 833-986-1919
Board approved Fourth Amendment to the Host Venue Sponsorship Agreement with World Triathlon Corporation for Ironman Texas
The Board remembers former Board of Director, Mike Bass, and shares condolences to the Bass Family
…and more (see details below)
Public Comments were received by phone:
Mark from Cochran's Crossing: Surprised that the 2 years of work on Incorporation can end so quickly and so little input by residents. Understand the crisis, but need a short term and long term focus. Hope for residents to provide feedback.
Jennifer from Panther Creek: Condolences for Mike Bass and family. Complemented Board for work, leader, and take COVID-19 seriously. Asked about signage and plans for parks, public areas for teens.
The Board Receive, consider and act upon emergency authorities related to the Coronavirus (COVID-19) epidemic, and authorizing the President/General Manager to act in connection therewith
Update from Montgomery County Judge Keough to the Board who appeared on the videoconference:
Numbers as of 3 p.m. Total 119 total cases, 100 active, hospitalized 17, 16 recovered, 83 in self-isolation, 3 deaths
First action on March 12. Listened to President, Governor, and CDC and made order according to recommendations. Order asked and urged residents versus demanded. Protecting people's civil liberties and 2nd amendment issues, while protecting against the virus.
Order on churches: Montgomery County reviewed with attorneys and on the same page with the Governor's order
In recent list, the 40 of 119 cases under 49 years old. Not just for elderly. Continuing to push stay at home if don't need to be out.
Questions from Board to Judge:

Estimated Peak? Planning for Mid-month (April), but could be May. Planning and working with Medical Centers.
Testing Sites? Testing at Hospitals and ER's right now. But, checking for certain symptoms and must answer questions, meet prequalifications. No sure if we will have pull up testing available in the future. Most are self-isolating at home after test. Hospitals expecting and planning for surge. The County and Public Health District is not recommending one ER or Center over another.
Tests coming next week, can they test antibodies? Correct. Quick response tests. Distributing and performing tests based on number and going through test rapidly.
In the Judge refers to conversation with Randy Johnson: Expected tests next week. In the test, prick finger, going through process, 10-45 minutes look at levels, look at levels, less than hour to possibly get a result. Don't want to give community false hope on rapid tests and testing at Woodforest Stadium.
Montgomery County residents can go to Harris County test centers, drive through centers? Judge confirmed yes.
Hospitals have supplies for testing, but will not administer tests unless patient has symptoms, meets criteria.
Synder expressed appreciation from Nonprofits and answers received promptly by the Judge.
Testing first responders since they cannot isolate for antibiotic? Yes, can do right now. Need to come to Montgomery County Public Health Clinic.
Desired way to approach testing? 1) Montgomery County Online COVID-19 test tool 2) Call COVID-19 hotline? First contact health care provider and call COVID-19 hotline for any questions.
Judge encouraged people to visit Montgomery County website and read the order. Have questions? Call the COVID-19 hotline and the team will answer questions.
Dr. Sekula-Gibbs Health Liaison Report: The Woodlands is under Harris and Montgomery County counties
Sad reality: Cases are expected to increase, as deaths. Goal is to flatten the curve, and decrease the number of critical cases and have fewer deaths.
80% cases in U.S. show mild to no symptoms.
Complications come with pre-existing conditions. The very young and elderly have difficulty getting those virus with antibodies intact and healthy.
C Track coverage: 917 hospitalizations. 1200 ventilators available, 775 times those have been used.
View tools on Montgomery and Harris County websites and call hotlines for questions: Montgomery County 936-523-5040 and for Harris County 713-634-1110
Beginning to be shortages for PPE. Supplies are needed.
At home disinfection: There have been no official approved disinfectants, however, EPA broadened approval for items such as Lysol, Clorox, etc.
Adhere to guidelines: Stay Home, Stay Safe, and Stay 6 feet apart if outdoors or shopping for essential goods
Has Coronavirus already been here since January, December? We don't know and a wide-spread/antibody testing of the community would provide more information. You really can't tell when – but the testing capabilities are there yet. But, just because you had/have a symptom, doesn't mean had/have COVID-19. Tests are specific, symptoms are non-specific.
President/GM Don Norrell: March 16 Closures and Ongoing Issues
March 16 – Board decided to have emergency meeting on operations. Township events cancelled thru May 10; public parks, restrooms, rec centers, etc closed; Trolley suspended; Public Meeting rooms closed; Property Inspections; most staff working remotely.
The Woodlands Express: As of April 6, change of service and schedule. This will be the 2nd service reduction to Park and Ride. Initially, Sawdust and Sterling Ridge park and rides shut down, those went to Gosling Rd and reduced to 41 runs. 41 will go to 20 runs on April 6. Riders can go to same locations, but with less frequent runs. Services will continue, but may need to make adjustments in the future. Evaluating needs and have about 100 riders per day.
Alpha and Omega Service changed as of Monday. 387 hours per week, down from 606 previously. Focus on law enforcement, and strategic placement on locations. Focus on 6 locations. Walmart 242 and 2978 have mounted patrol.
Community Gardens – request for action: Areas have not been an issue in the past. Stagger amount of people and social distancing but allow areas to be open.
John Powers joined videoconference on Community Gardens: Community Gardens are fenced in, could have staff to monitor. Have 140 plots, 161 renters, Interfaith has Veggie Village and can manage people.
Board of Directors approved motion to approve opening of Community Gardens.
Medical Supply Drop-off Program: Montgomery County Emergency Operations Center requested urgent need for PPE. Conference call was held 4/1. Collection will be set up in The Woodlands – to be held at central Fire Stations on Monday through Thursday from 10am to 2pm. Program to be called "Help Our Heroes." Individuals, Medical officials who have items to donate, The Woodlands has a collection point. Note: Supplies that may have expired, may still be usable.
Board of Directors approved to incorporate the Help Our Heroes Program, open until PPE is no longer needed.
Ann Synder Update as Nonprofit Liaison:
Interfaith of The Woodlands: Actively following guidelines, served 3000 families with food, 600 families with financial assistance, 100% increase in comparison to 2019. Open Tuesday and Thursdays for food assistance, financial assistance – meeting clients by phone or email. 200 seniors served. Conducting Food Drives. Strictly staff, no volunteers being used. Funding is critical – donations being accepted
Montgomery County Food Bank: Distributes food to 60 pantries. Utilizing staff and volunteers, screening each day. Doing Buddy backpack program. 16 Mobile Markets in March, plan to have 16 in April. Has had 40% increase in requests. Every $1 donated matters.
Census – importance of completing Census this month. Vital for funding and communities.
Meals on Wheels: Adapted to changes: transporting only 1 individual, client at a time, those receiving dialysis. Currently cannot receive new clients. Only using staff to deliver meals.
United Way: Call 211 for help including food and financial assistance
Judge Mack statement read: "Anytime there is an economic downturn, we are always wanting to remind people to be mindful of those who could be impacted. While the CDC and the county is encouraging people to social distancing, we are encouraging people to not socially disconnect. We ask people to stay in close contact with their family, their friends and their loved ones. We ask everyone to remember the task force battle cry. If you see something, say something. Together we will get through this crisis, but we need to be mindful of our friends, family and loved ones who may be impacted both medically and financially as a result of the covid-19."
YMCA: Blood Drives in April cancelled. Childcare for Essential Personnel available.
Chairman Gordy Bunch on Mental Health: Covid-19 mental health support line. The Texas health and human services commission has launched a state wide mental health support line to help Texans experiencing anxiety, stress or other emotional challenges due to the Covid-19 pandemic. The resource offers support for all Texans and can be reached any time day or night. This phone number is 833-986-1919. If you're having any issues at all or know of anybody having issues at all, we encourage you to be their advocate or be your own advocate, if you can. They offer trauma informed support and psychological first aid to those experiencing mental health symptoms related to Covid-19. All counseling services are confidential and free of charge.
Daily Newsletter: Nick Wolda and team is gathering information to share updates every day from counties, The Woodlands Township and community resource.
The Board acted upon the agenda item regarding the Fourth Amendment to the Host Venue Sponsorship Agreement with World Triathlon Corporation for the Ironman Texas event. The Board approved the item.
Per the agenda, "The Fourth Amendment retains all provisions and obligations contained in the original and subsequent Amendments, with the additional provision that any fees and in-kind services charged or provided by The Woodlands Township associated with the use of Township facilities and other in-kind services will be paid to the Township by The Woodlands Convention and Visitors Bureau (TWCVB)."
The agenda also stated that "the schedule of proposed Ironman Texas event dates would be amended to include the following five (5) additional Ironman event dates, which shall occur during the Renewal Term:
Saturday, April 24, 2021
Saturday, April 23, 2022
Saturday, April 22, 2023
Saturday, April 27, 2024
Saturday, April 26, 2025″
The Board reviewed and approved the process for the 2021 budget review and the Budget Task Force, related to the COVID-19 public health emergency.
Chairman Gordy Bunch shared condolences to the family on former Board of Director, Mike Bass: "Our prayers are with his family. We know Mike was significantly committed to our community, very engaged since he moved here. Mike and I came on board together in 2012. This is probably the first public comment we didn't have Mike Bass participating in. He was here just last week with us on this first virtual meeting. Mike will be missed. To Georgie and Darcy and the rest of the Bass family, our prayers are with you."
The Woodlands Township Board of Directors will meet again virtually on Thursday, April 9 at 6 p.m. Read more about the new Board of Directors meeting schedule every Thursday during the COVID-19 crisis here.