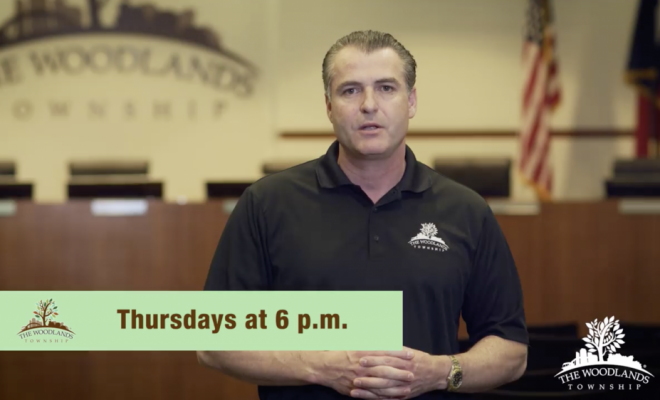 Photo/Video by The Woodlands Township
News
The Woodlands Township Board of Directors to meet weekly, Thursday at 6 p.m.
By |
The Woodlands Township Board of Directors will hold a Special Board of Directors Meeting via videoconference tonight Thursday, April 2 with a scheduled time to begin at 6 p.m. The meeting can be viewed online at https://www.thewoodlandstownship-tx.gov/778/Meeting-Videos. View the agenda here.
During the April 2 videoconference special Board meeting, members of the public may provide public comment by calling 877-853-5247 (toll-free), then enter ID 530 613 342 #. Calls will be taken in the order the calls are received and only during the "public comment" agenda item. This phone number is active only for the April 2, 2020 Board meeting. New phone numbers will be issued for each future meeting during the public health pandemic emergency.
In a video shared today, April 2 by The Woodlands Township, Chairman Gordy Bunch shared an update stating the Board of Directors will continue to meet virtually every Thursday at 6 p.m. The meetings will allow the public to participate and get an update what the Board and staff will be doing to help the community during the COVID-19 crisis. The Board of Directors meeting will go from twice a month to weekly at this time. Watch the video below and here.
The Woodlands Township is also sharing a daily update with consolidated data from the Township, Counties, and Community Resources. Read the yesterday's daily update released yesterday on April 1 from The Woodlands Township here.
Source: The Woodlands Township