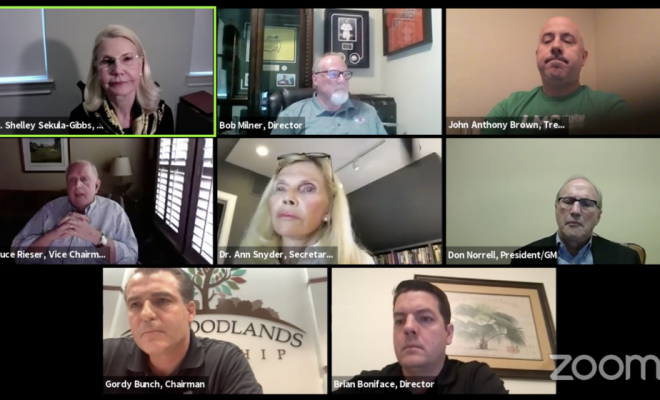 News
The Woodlands Township Board of Directors Meeting March 25
By |
The Woodlands Township Board of Directors held their Regular Meeting on March 25 at 6 p.m. via videoconference for the first time. Read the agenda here.
Public Comments were accepted during the meeting. Residents had the opportunity to call a toll free number and :
Fred from Alden Bridge: Offered words of advice from lessons of the Great Depression, growing food in backyard
Mark from Cochran's Crossing: Thanked Board for communication and safety, hopes for continued planning of online/digital format would be useful in the future
Mike from Herald Oaks: Thanked Board for leadership, Nonprofits on food supplies are having difficulties – can Township look at funding?
Brett from Sterling Ridge: Concerned for COVID-19 cases 77382, at what point does the county get concerned at a particular location?
Jessica from Grogan's Mill: Location of Agenda? Montgomery County orders were amended – what restricts residents from other counties from coming into and spreading into our community?
Claude from Alden Bridge: Thanked Board for work, referred to Incorporation being tabled for rest of year, Set aside $16 million to help citizens and businesses
The Board approved the use of Lake Woodlands for the YMCA for the Dragon Boat Team Challenge Event. Noted in the agenda, "Per the terms of previous agreements, The Woodlands Township has provided the use of Northshore Park and Lake Woodlands for four days each year and in-kind services including a WFD chase boat with crew, tables/chairs, restroom servicing and staff to assist in the set-up and take down of the tents and tables."
The Board approved the motion to reconsider the Interlocal Cooperation Agreement by and between Harris County, Texas, and The Woodlands Township regarding the transition of roadway responsibilities and funding at Incorporation (C-2020-0045). Ann Synder voted against. As written in the agenda, "The Woodlands Township has been working with Harris County Commissioner Jack Cagle and the county attorney's office on an agreement to outline the transition of roadway responsibilities and funding related to the potential future incorporation of The Woodlands."
The Board discussed the Anadarko Tax Abatement Agreement (C-2013-4582A) being affected by Occidental Petroleum Corporation's (Oxy) acquisition of Anadarko. Oxy has advised the Township that it will be unable to comply with the Agreement's job creation obligations and requested release or withdrawal from the Agreement. The Board approved the Agreement changes. Ann Synder voted against.
Incorporation Planning Study matters (as requested by Chairman Bunch) was discussed and suggested to defer discussion at this time due to the COVID-19 crisis. The suggestion was made to finish working with consultants without public forums to complete an executable plan (and condition where could be updated) to be available for a future board, placing the priority of the Board to COVID-19. Novak Consulting Group made a statement, proposed to make updates and working model to be used at a future date. The recommendation was moved to completing a viable model/plan that can be used and carried forward by a future board. The Board approved the motion.
On March 16, 2020, The Woodlands Township Board of Directors authorized the President/General Manager Don Norrell to cancel all Township events; close all Township parks, including dog parks, park restrooms, spraygrounds, pools, boathouses, recreation centers and Texas TreeVentures; suspend Sportsfield reservations; suspend Town Center Trolley service; restrict use of public meeting rooms; suspend in-person intake of property improvement applications at Town Hall; suspend property inspections; and suspend staff attendance at meetings outside of the Township organization through May 10, 2020.
President/General Manager Don Norrell gave an update on Township operations: There is a strong need to maintain connection to the medical center through Park and Ride, The Woodlands Express. Personnel shifted in to important areas in working with the Sheriff. Daily Updates are being shared by The Woodlands Township on the website. The Woodlands Fire Department continues at full operations and Emergency Operations Center continues at full operations.
Chairman Bunch refered to the Public Comment, how to manage situation when Harris and Montgomery County orders differ? Judge Keough reviewed the orders, stating the similarity of orders in Harris and Montgomery County. Bunch asked Law Enforcement to step up at local parks. Disappointing to see teams and residents using courts, playgrounds and hard surfaces. Sheriff will be reinforcing park closures.
Chairman Bunch referred to the Public Comment, stating that Food Banks are looking for funds versus donations due to contact. The daily update and the Township COVID-19 page includes more information on how to help.
Bunch requested that Dr. Ann Snyder be nominated to be the Board's official Nonprofit Liaison and coordinate/share information with Nick Wolda for updates and communications. Snyder accepted.
Bunch requested that Dr. Shelley Sekula-Gibbs be nominated to be the Board's official Public Health Liaison and coordinate/share information with Nick Wolda for updates and communications. Sekula-Gibbs accepted.
Bunch discussed the review of the Board budget during the summer and requested to nominate Budget Task Force Committee Chairs Rieser and Milner and include Brown on the committee. Boniface may need to focus on his role as a Nurse to help the community instead of participating on the committee.
Dr. Sekula-Gibbs talked with Montgomery County Health Authority Charles Simms regarding the 31 Cases in Montgomery County. Out of the tests; 11% positive; 89% negative and had other viruses. Adequate testing is available in Montgomery County at all 7 Hospitals and Personal Physicans that meet certain criteria. Patients are recommended to stay home if have symptoms, very few have to be treated at a hospital. The Z-pack and other similar medicines are FDA approved; however, they are not FDA approved for COVID-19. They are seeing treatments for COVID-19 in the hospitals are working and adequate ventilator support. Suggestion to continue washing hands, avoiding touching your face, use santizers with 60% or more alcohol, cover sneeze/couch, maintain 6 feet or more apart from others, stay home if you are sick. Support local businesses by get takeout and buy gift cards; with hope more federal funding for local businesses.
Boniface reported they have received pictures of grocery stores with lines, customers not practicing social distancing.
Milner reported that H-E-B Creekside are spacing individuals apart, have distancing markings in checkout lines, staff is sanitizing carts, asking customers to space apart, offering senior hours, and Favor Delivery for seniors.
Bunch reviewed the Family First COVID-19 Response Act that goes into affect April 2 and provide funds for families that have contracted COVID-19 or has children home due to school closures, and also to help Businesses and Employees. Bunch also mentioned that the Township has 30 year capital reserves. There is not a Food Supply shortage, we have all the amenities to sustain life.
Dr. Sekula-Gibbs reported that in Montgomery County, 3 cases have been hospitalized and one has been released.
Bunch recommended that the Board of Directors continue to meet weekly.
The Nonprofit and Public Health Liaisons and Budget Task Force was approved by the Board.
The Board reviewed and approved the President/General Manager Employment Agreement Addendum, extending employment by 60 days (June 30, 2020). The Board expressed their thanks to President/GM Don Norrell to lead the Township in a time of crisis.
The IRONMAN Texas Agreement may be available to review at the next meeting, next week.
The Board thanked William and Karen at the Township for coordinating and making the videoconference happen and technology available for the meeting. The videoconference format will continue until it is safe to meet in person again.
Watch the video of the Board Regular Meeting at https://www.thewoodlandstownship-tx.gov/778/Meeting-Videos