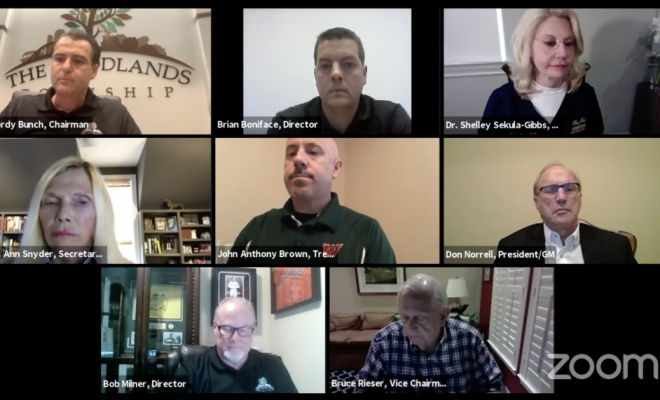 News
The Woodlands Township Board of Directors Special Meeting April 9
By |
The Woodlands Township Board of Directors held a Special Board Meeting on Thursday, April 9, 2020, at 6:00 p.m., via video conference. The meeting video and agenda can be viewed online at https://www.thewoodlandstownship-tx.gov/778/Meeting-Videos.
The Board welcomed public comments and including the following calls:
Jennifer: Thank you for leadership. Noticed signs up. Concerned since Montgomery County asked to wear masks, some not wearing masks. Would the board consider promoting wearing masks by sharing photos, videos? Provide awareness about wearing masks?
Mark from Cochran's Crossing: Addressed incorporation concerns. Study has a time span. Residents haven't had a chance to provide feedback. In waiting, wasting $1 million of research and planning of the study. Request to focus back on the study versus day to day activities focusing on COVID-19.
As noted in Agenda Item 5, the Board was called to "receive, consider and act upon emergency authorities related to the Coronavirus (COVID-19) epidemic, and authorizing the President/General Manager to act in connection therewith."
Dr. Charles Sims, a local board-certified infectious disease specialist, reviewed the COVID-19 case data and testing for Montgomery County, Texas, U.S. and world-wide and answered questions from the Board.
On Local Cases: No new cases today were posted for The Woodlands. There have been 4 deaths in Montgomery County and of those patients 3 were in their 80's and one was in their 90's, and considered high risk patients. Montgomery County's total case number is up to doubling time of 7 and a half days which is the longest it's been running in the range for the last two weeks. It is difficult to know the exact number of tests because so many private ER's and labs are able to test.
Drive By Testing Clinic: Dr. Charles Sims stated, "Next Monday April 13th, the Lone Star Clinic supported by the Montgomery County Public Health District will start a drive by testing clinic and more information will come out over the next day or so about how patients will be able to access that clinic. They are planning on being able to screen about 100 patients a day. Again they are going to have to have a virtual visit in the doctor to make sure there is a reason for them to be screened. We don't want to waste valuable tests on people who are asymptomatic. Not because they can't be positive but because we want to be able to determine the people who are positive and symptomatic to make sure they are getting appropriate care, appropriate quarantining and long term care." Dr. Charles Sims confirmed that the drive by testing clinic will be located at Lone Star Clinic located off of 336 (605 S, Conroe Medical Dr, Conroe, TX) but patients will first have to virtual visit in the doctor to make sure there is a reason for them to be screened.
On ICU beds and ventilators: "Right now I haven't seen a model in 5 to 7 days that showed we would over-utilize our resources… The hospitals since the outbreak have ramped up their ability to convert other rooms to ICU beds so we have more."
On treatments of COVID-19: "There is not there has not been any definitive information on absolutely sure data that any treatments are effective. The most commonly talked about treatment is chloroquine which has been used in a lot of patients and is being hoarded and used inappropriately." Dr. Sims discussed various treatments that are currently under study.
On the anticipated peak in Texas: "The models do show a peak around the 23rd or 24th dropping on the model. It's moved around a little bit. It had to have been in that range and had extended to May and now it's back this that range as the curve has flattened here… You have to reach a certain amount of density of immune people in the population for a disease not to spread epidemically. Until we have a vaccine that can prevent or grant immunity to a large number of people in the county to keep them from spreading the disease, we're going to see it flare back up if we back off restrictions too early."
Testing Backlog Decreasing: "Two and three weeks ago when testing just started – they were taking five days to report a positive and ten days to report a negative. For the least week and a half or two, they were down two to three days on backlog. A lot of the ones that are using the in-house labs at the hospital are getting 24 hour return. Our clinics are getting a 24 hour return or faster."
Practice Social Distancing: How do you protect your families and children? "By socially isolating them. You have to do it. It's hard. Socially isolating doesn't mean that you never leave one room of your house. It is OK to go outside and go for a walk and do the things within your family group. Your family group is not socially isolated from each other because you live in the same house. It's difficult over 10 week period to isolate within a house. But that family one unit and if they go on a walk or go do things, that's fine. You have to find activities for them to do they are interested in and keep them away from other people."
Wear a Mask, Wash your Hands, Don't Touch Your Face: "You don't have to be afraid but you should take precautions of washing your hands, not touching your face, use alcohol hand sanitizer and wiping down your high touched surfaces in your house like your door jobs and handles and things like that too in case someone has become sick."
The Smart Health Podcast: "I record a podcast for CHI last week and it's actually a pretty good discussion for lay people. It's not real technical. It's light hearted. We didn't make it doom and gloom. The vast majority of people are not going to see the doom and gloom. And it gives out a lot of information. We also entitled it wash your hands, don't touch your face is the name of the podcast. I stated 'I'm probably going to say that 50 times during this podcast' and my kids counted and I did it 12 times. You can't say it enough." Listen to the podcast here.
A recorded message from Judge Keough was shared during the meeting. In the video, Judge Keough reviewed the cases in Montgomery County and stressed the importance of social distancing. The hospitals are not seeing the surge as expected; however, that does not mean surrounding counties will see a surge and need to use the hospital beds. Judge Keough confirmed Montgomery County has ample supple of hospital beds and ventilators, but they are still looking for additional PPE. The Judge asked the community to please abide by the stay at home order this weekend during the Easter holiday. There is a severe thunderstorm warning for this evening – the Judge asked residents to please use caution, bring in pets and plants, and please stay alert.
Chairman Bunch gave an update:
Faith Based Leaders were invited to be on a call with the President who gave an update.
Lieutenant Governor Dan Patrick created a task force of business leaders to start advising the state of Texas on how we can open Texas. "We have seen dramatic reduction in death rate predictions on the in the model and that I think has created some optimism that has energized the federal and state government to start looking at what are the conditions that would need to be in place to start communicating how do we open up and when do we open up."
Businesses in The Woodlands: "We are still working with the essential businesses that are on the authorized list. We are still doing to go ordering with restaurants. A lot of people are supporting that."
"Our parks and pathways remain open for walking, jogging, bike and I'll reiterate not using the hard surface playground equipment. Not congregating for sports unless you have a large family and it's just your family. The order we have in place does not allow for team sports unless it's your own family."
SBA Loans: Local businesses are eligible to apply for a PPP loan and financial assistance with the SBA.
Harris County Case Information: Letter sent to Harris County and received affirmation that the Township should receive cases (in Creekside and Harris County that is located in The Woodlands Township) within a couple of days.
Dr. Shelley Sekula-Gibbs, Healthcare Liaison, shared an update:
A large number of donors at the Help Our Heroes PPE Drive this past Monday and Thursday. Donations received: 4,000 gloves, 35 face shields (homemade with 3D prints), 1000 masks (medical and homemade), wipes, isolation gowns, cleaners, soap, etc. Items will be taken to the Emergency Operations warehouse in Conroe to be distributed to those in need for medical supplies. Endorsements from Memorial Hermann, St. Luke's CHI, local hospitals, and local officials. FEMA is able to bring in large quantities of materials but make take awhile to receive supplies – this drive will help fill the gap.
Blood Donations: We need blood now! Upcoming donation drive on April 23. Visit giveblood.org to view more information and how to make an appointment.
Dr. Ann Synder, Nonprofit Liaison, shared an update on behalf of local nonprofit organizations:
Interfaith of The Woodlands: In March, they saw over 1300 families, 3000 individuals for food assistance. In March saw 30% increase for crisis assistance. In the first week of April, saw an increase. Accepting food donations.
Montgomery County Food Bank: Meals provided with Partners – Interfaith of The Woodlands 10000, St. Padua Catholic Church 8000, YMCA 17000, CAC 17000
Crisis Assistance Center: Hosting Weekly Food Distribution. For crisis assistance, have seen over 1000 families.
Meals on Wheels has a waiting list of 400 seniors – more than doubled since 2 weeks ago. Working with nonprofits to fulfill this need.
United Way received over 1,000 calls in Montgomery County.
Mosaics of Mercy providing Mental Health resources.
Judge Mack shared a message including, "If you see something, say something," and encouraged residents to connect and talk about mental health.
Since March 23, 11 deaths by suicide in Montgomery County.
Need for all Nonprofits: Funding is a challenge. Donate on the nonprofits' websites and help make a difference.
Feeding the Frontlines: Buying food from local restaurants and providing meals to first responders and healthcare workers.
Rotary Club of The Woodlands taking meals to Fire Department and Law Enforcement.
Mental Health Hotline (not cost) 833-986-1919
Bob Milner shared an update from residents who sent in social media screenshots and rumors on a "Safe Social Circle Coronavirus Program" in Montgomery County and The Woodlands. This is false.
President/General Manager Don Norrell shared an update:
Board Meetings: Every Thursday the Board is scheduled to have a meeting. The next meeting is a regular scheduled meeting. Discuss options to have two meetings in one week: one regular meeting, one COVID-19 meeting. Board agreed to meet next on April 16 and April 22.
Chairman Bunch shared an update regarding the announcement and possibility of Auto Insurance companies to be refunding premiums.
The updates from the meeting were approved by the Board.
Brian Boniface, effective immediately, announced he is stepping down from the board due to being activated by the U.S. Army Reserve to provide aid to areas affected by COVID-19. Boniface shared, "While this is a challenging time for our community and nation as a whole, the Township Board needs to be fully staffed to handle the upcoming challenges. It's been an honor and privilege [to serve] what I consider the greatest community in the world. I want to thank our residents for confidence in me allowing me the opportunity to everybody is them for two terms. I'd like to thank the Township staff, first responders and fellow directors. You are the center of what make this is community great. May God bless you and keep you safe."