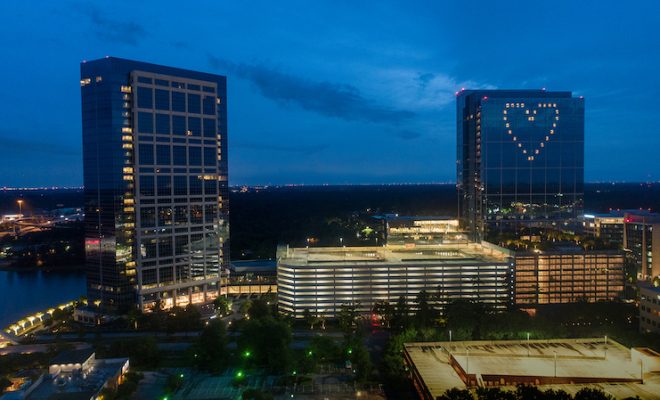 Photo Credit: Howard Hughes Corporation
News
Woodlands Tower lights up to share Message of Thanks and Support
By |
The Woodlands, TX – The Howard Hughes Corporation® displayed its support to medical personnel and first responders on the front line of this current pandemic by lighting up the night sky at 9950 Woodloch Forest Drive, part of The Woodlands Towers at The Waterway, with a message of gratitude.
Reinforcing that we are "standing strong together," The Howard Hughes Corporation has adorned the 31-story, 595,000-square-foot tower at 9950 Woodloch Forest Drive with a large illuminated image of a heart.
"Our community is exceptionally strong, and we owe so much to our healthcare workers and first responders for their unwavering dedication," said Jim Carman, President, Houston Region for The Howard Hughes Corporation. "These heroes are on the job every day, and our team at The Howard Hughes Corporation wanted to find some way to show our debt of gratitude and shine a light on all of their efforts to help keep us safe."
The tower lighting, a simple expression to share the compassion, respect and sincere appreciation the community feels towards the healthcare personnel and first responders, will continue throughout the current situation.
Source: Lorrie Parise, The Howard Hughes Corporation