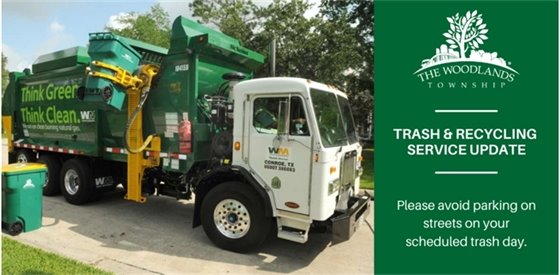 Photo provided by The Woodlands Township
News
The Woodlands Township COVID-19 Update April 16
By |
On Thursday, April 16 at 5 p.m., The Woodlands Township shared the following updates regarding the COVID-19 crisis.
Today's County News
Montgomery County COVID-19 Case Count
Montgomery County Public Health District, in conjunction with Montgomery County Office of Homeland Security and Emergency Management, confirms there are now 350 total positive cases of COVID-19, up 19 cases from yesterday. 100 people have recovered from COVID-19. If you would like to be tested for COVID-19, please contact the MCPHD/MCHD COVID-19 Hotline at 936-523-5040. Our center has a list of testing sites to share with those who are interested.
 
Details on Montgomery County cases can be found here: https://mcphd-tx.org/coronavirus-covid-19/confirmed-cases/.
 
Montgomery County Office of Emergency Management updates a dashboard for the cases here: https://coronavirus-response-moco.hub.arcgis.com/.
Harris County COVID-19 Case Count
As of April 16, 2020 (4:00 p.m.), Harris County Public Health (HCPH) has 84 new cases of COVID-19, which brings the total to 1,850 positive cases. HCPH also confirms that 578 of its patients have recovered.
On April 13, 2020, Harris County began making case data available by range of positives cases and zip code. Data indicates there are between 11-20 positive cases in zip codes covering the vicinity of the Village of Creekside Park in The Woodlands and the Augusta Pines/ Auburn Lakes/West Rayford Road areas in northwest Harris County.
There have been 34 total deaths of COVID-19 in Harris County. None of these numbers include the City of Houston. A full description of the numbers can be found here: https://tinyurl.com/tzymvk5
Statistics from Johns Hopkins University
For additional updated interactive graphics on cases in Harris and Montgomery Counties, please visit the links below:
Montgomery: https://bao.arcgis.com/covid-19/jhu/county/48339.html
Harris: https://bao.arcgis.com/covid-19/jhu/county/48201.html
Two Mobile Testing Sites Coming to Precinct 4 Harris County
Tomball, Humble to Be Home to COVID-19 Testing Sites Within Week
Harris County Commissioner R. Jack Cagle announced the opening of two
COVID-19 testing sites in Precinct 4 within the week at locations in Tomball and
Humble.
 
Harris County Public Health opened the first testing site in Tomball on Tuesday, April
14. That site will perform testing on registered visitors from April 14-16 and April 27-29.
A second Public Health testing site will open in Humble on Monday, April 20. The
Humble location will test registered visitors from April 20-22 and May 7-9.
 
Each site is expected to handle as many as 100 tests per day, with that number increasing daily. The addresses of the sites will be provided to those successfully completing their registration, but will otherwise remain undisclosed to discourage unregistered visitors. Unregistered visitors will not be tested and will be turned away by security officials.
 
To determine whether you should be tested for COVID-19, please visit
https://checkforcorona.com/harris-county#/welcome. Those deemed to be at risk for coronavirus will be given a code and phone number to call. After a telephone consultation, those still deemed to be at risk will be given another unique code and information on where and when they are to be tested. Those assigned for testing should bring a photo ID and any other information requested by the phone screener. Walk-ins will not be tested.
 
Those with questions may call Harris County Public Health at 832-927-7575 for more information. Commissioner Cagle thanks Harris County Public Health officials for working with Precinct 4 staff to make both sites available as soon as possible.
 
COVID-19 Testing in Montgomery County
Please read the latest information on testing availability in Montgomery County.
Township News
Trash and Recycling Service Update
Parking on the street is sometimes necessary, especially now that many of us are home during the day during this time. However, to ensure uninterrupted service for you and your neighbors, please avoid parking on the street on your trash day. If a service or contractor truck is due to visit your home on your trash day, please notify the company and ask that they park in your driveway or in an area where they are not obstructing passage.
 
Conroe Independent School District (CISD) Update
Conroe ISD has given an update today on the following items: Graduations, Grading Guidelines, Free Meals, and Facebook Live. Please view the update letter for specific details.
Board of Directors Meeting
The Woodlands Township Board of Directors will hold a regular meeting via videoconference at 6 p.m. Thursday, April 16, 2020. Watch the video at https://www.thewoodlandstownship-tx.gov/778/Meeting-Videos.
View the full April 16 update by The Woodlands Township at https://www.thewoodlandstownship-tx.gov/CivicAlerts.aspx?CID=1
Source: The Woodlands Township