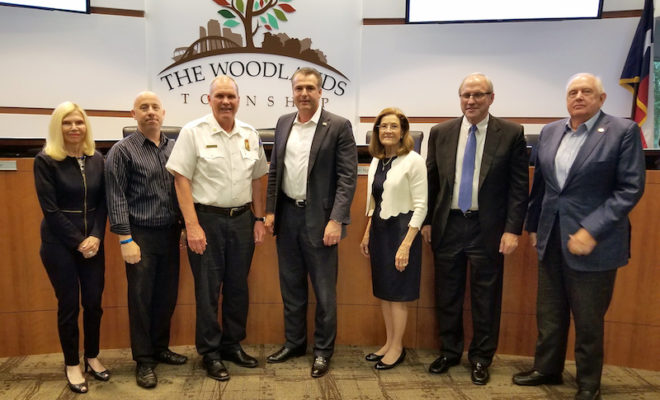 News
The Woodlands Township Fire Chief Alan B. Benson set to retire
By |
THE WOODLANDS, TEXAS – After more than 14 years of service to The Woodlands Township, Fire Chief Alan B. Benson has announced his retirement, effective May 2, 2019.
With more than 39 years of experience as a firefighter and chief, Chief Benson has played an integral role in the success of The Woodlands Fire Department. He joined the department in January 2005 after a 25-year career with the Oklahoma City Fire Department, where he served as the Fire Chief for more than three years. Chief Benson holds degrees from Oklahoma State University in secondary education and engineering technology. He has extensive experience serving as an instructor for the Federal Emergency Management Agency, Emergency Management Institute, Oklahoma State University and Oklahoma State Fire Service Training.
"His leadership for The Woodlands has been extraordinary and he will be greatly missed by the organization and The Woodlands," said Township Chairman Gordy Bunch.
Chief Benson led the fire department through many natural disasters in The Woodlands including Hurricane Ike and Hurricane Harvey. In a career that has spanned four decades, Chief Benson's work has included a number of leadership roles during major disasters and events. During the Oklahoma City bombing in 1995, Chief Benson served as the Operations Chief within the multi-agency coordination center and in the same capacity during the 1999 F5 tornado in Oklahoma City which was considered one of the largest tornadoes ever recorded.
Chief Benson's accomplishments at The Woodlands Fire Department include improving the department's Insurance Services Office (ISO) rating from ISO 3 to ISO 1. Less than a quarter of 1 percent of fire departments achieve this rating nationwide. Under his leadership, the department achieved four person staffing and constructed Fire Stations 6, 7 and 8, including the state of the art Emergency Training Center through the establishment of an Economic Development Zone Partnership. Central Fire Station was built and a major renovation of Fire Station 2 was completed.
"Chief Benson has done an excellent job over the past 14 years managing and leading The Woodlands Fire Department," said Township General Manager and President Don Norrell. "He has been a key member of the Township's executive management team and he has provided exceptional leadership to the community during numerous emergency events. He will be missed by the Township organization and the community."
PHOTO: The Woodlands Fire Department Fire Chief Alan B. Benson has announced his plans to retire on May 2, 2019. Pictured left to right: Township Board Secretary Dr. Ann Snyder, Treasurer John Anthony Brown, Fire Chief Alan B. Benson, Township Board Chairman Gordy Bunch, Director Carol Stromatt, Township President/General Manager Don Norrell and Director Bruce Rieser.