Art & Culture
The Woodlands Waterway Arts Festival Returns Live and In-Person April 10 & 11
By |
THE WOODLANDS, TX – This weekend, April 10 & 11, The Woodlands Waterway Arts Festival returns LIVE AND IN-PERSON! Held completely outdoors along the scenic Woodlands Waterway and in Town Green Park, this colorful gallery features the original art of nearly 200 juried fine artists in mediums including painting, drawing, clay, metal and wood works; jewelry, leather and fiber; mixed media, and photography. A weekend pass is now $17 online, with ticket prices increasing to $20 at the gate. Children 12 and under are admitted free. 
"We are so thrilled to be able to return to a live format this year, with all CDC, state and county COVID safety measures in place," said Jenny Wright, Executive Director of The Woodlands Arts Council (TWAC). "This family-oriented event features activities for all ages from Artopoly hands-on arts activities hosted by The Woodlands Children's Museum and the Early Inspiration Gallery where kids can start their art collection for $5, to our Seniors Art Rock Painting Community Art Project." 
Throughout the weekend, a lively and fun vibe will be provided by talented local musicians on the Palette Café Stage on The Waterway. Make time to enjoy the live music lineup featuring many musical genres including country, blues, jazz, folk, bluegrass, rock, hip hop and R&B. For a complete schedule of performances, visit www.thewoodlandsartscouncil.org/p/festival/festival-information/live-music.
While listening to live music, you can find delicious food, wine and beer from local restaurants, breweries and wineries throughout the festival site. At the Palette Café, Russo's, Fieldings, and Stella Artois will present their tasty offerings. Or visit the food trucks at Watercolor Terrace, Wine on the Water or Craft Beer Row on the West End of the festival site. Wherever you stop, you'll find a tasty bite or yummy sip to savor! And to make things touchless and more convenient, the festival has a new cashless payment system for food and beverage called BlastPass. Purchase passes online in advance or on-site with your credit or debit card.
As a prelude to the weekend's festivities, the eagerly anticipated Art Dash Party sponsored by The Woodlands Compounding Pharmacy is set for Friday, April 9 at The Woodlands Waterway Marriott. Come mingle with our incredibly talented artists, dash for your own piece of art donated by festival artists, and enjoy small plates and signature cocktails.
Other highlights of the evening include a Live Auction for the Featured Art piece created by 2021 Featured Artist Yoram Gal of Tel-Aviv, Israel. His colorful and exuberant style of art is typified by this original painting entitled "YAY"! Celebrity auctioneer Nelda Luce Blair will add her usual flair to the live auction.
Another high note will be musical performances by Houston-based vocalist/saxophonist David Caceres, who offers a rare combination of a soulful, emotive voice with the potential to go toe-to-toe with some of the best alto saxophone players of his generation.
Chair Haley Garcia, member of The Woodlands Arts Council (TWAC) Board of Directors, is thrilled to be chairing this popular event. "The festival artists are amazing, and have continued to collaborate with our staff to produce one of the top fine arts festivals in the country, even through this challenging year," Garcia said. "We are excited to celebrate with them at the Art Dash Party and thank them for their incredible talent and ongoing support. We also thank our presenting sponsor, The Woodlands Compounding Pharmacy, for being a steadfast and dedicated partner to TWAC for many years."
Tickets are now on sale to attend the party and participate in the Art Dash at 2021 Art Dash Preview Party at www.thewoodlandsartscouncil.org/p/festival/art-dash-party. Tickets for the party are $150 per person and "dash" tickets are $250 each. A limited number of VIP tables are also available. The festival is a major fundraiser that allows TWAC to continue to impact the community through educational scholarships, outreach programs, and public art acquisitions. To date, more than $300,000 has been awarded in scholarships to talented high school students to pursue their education in the arts.
All festival proceeds go towards educational outreach programs. Major sponsors of the festival include The Woodlands Township, The Howard Hughes Corporation, Stella Artois, The Woodlands Compounding Pharmacy, and The Woodlands Waterway Marriott Hotel & Convention Center.
Like all non-profits during this challenging time, donations and sponsorships are needed to continue The Arts Council's events and community programs. To join Friends of the Arts Council or make an individual donation, visit the website at www.thewoodlandsartscouncil.org/p/getinvolved/friends-of-the-council. Hundreds of volunteers are needed during the festival. To sign up, go to www.thewoodlandsartscouncil.org/p/getinvolved/volunteer.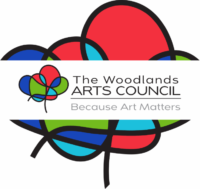 The Woodlands Arts Council provides regional, cultural, and educational enrichment opportunities that encourage, support and promote the visual and performing arts in our community. From the award-winning Woodlands Waterway Arts Festival to public art installations and the year-round community and educational outreach programs of Because Art Matters, the council has one primary goal….making our community better, Because Art Matters!