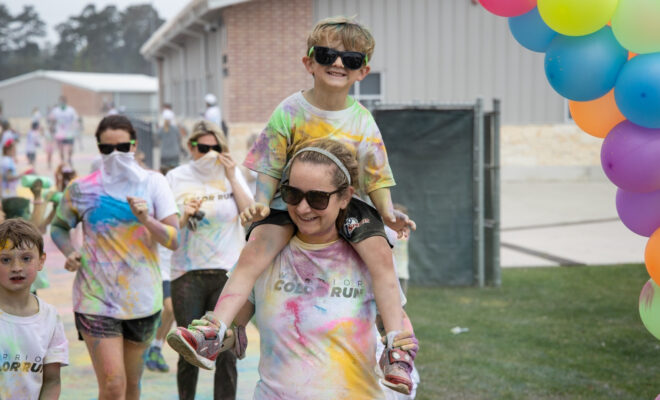 Events
Woodlands Christian Color Run Attracts over 400 Runners
By |
THE WOODLANDS, TX – The Woodlands Christian Academy (TWCA) held its 2nd Annual Warrior Color Run on March 27, 2021. The event was sponsored by Hunter Family Orthodontics and Parke & Rogers Dentistry and attended by over 400 guests from both the TWCA school family as well as the greater Woodlands community.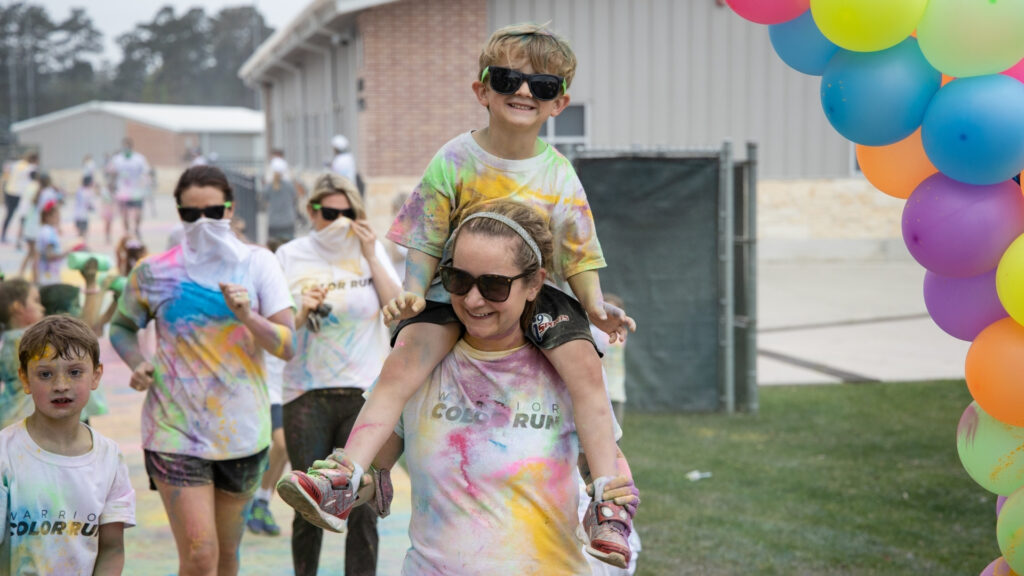 "We treat so many students at this school and in this community," Dr. Ross Hunter said. "After last year's event was canceled, we were approached to come on board as a sponsor again this year and we said 'absolutely.'"
For Dr. Renee Rogers, this was the first year of being involved with the Warrior Color Run. "When we saw this opportunity, we know we love TWCA. [They] just do great stuff here," she said. "We were so happy to be involved."
Proceeds benefit Warrior Boosters, a parent-run organization that exists to further opportunities within the school's Athletics and Fine Arts programs. Booster member and Color Run co-chair Nicole Murphy approached the school with the idea as a way to invite the greater Woodlands community to be involved. "We talked about doing a fun run, and we thought, why not make it a more fun, fun run and so we did a color run. The first year was a hit so we are excited to be back at it again." 
The day's activities started with breakfast and coffee before attendees took their marks to begin the race. Runners had the option to complete a 1K or a 5K. The two paths sent participants around the TWCA campus and into Jones Forest which lies at the border of the school's 40-acre campus. TWCA staff and volunteers were stationed throughout each route and armed with colored powder to spray on the runners as they passed.
"We have an absolutely beautiful campus to run through," Head of School Julie Ambler said. "One thing we always wanted to do was share this beautiful gift we've been given with our community. The Warrior Color Run is a great opportunity for our students to interact with their families and our community here. It's just so much fun."
As runners raced toward the finish line, they were greeted one last time with a line of people ready to douse them with colored powder to finish off their new look. 
For second-grader Eleanor Azios, getting sprayed with blue powder — her favorite color — was the best part about this year's Color Run.
"My favorite part is just seeing all the kids everywhere having so much fun," Dr. Hunter said. "That just brings me so much joy – to see the kids smiling and getting exercise at the same time. It's a win-win situation."
The Woodlands Christian Academy is an independent, PK-12 Christian school The Woodlands Christian Academy is a PreK – 12th grade college preparatory school that integrates learning with biblical faith and challenges students to reach their highest potential – creatively, academically, physically and socially. For more information visit twca.net.